Winner
FleishmanHillard and Gatorade
Gatorade Recover Locker Room Makeovers
Last year Gatorade entered the fiercely competitive protein-based recovery product category with the launch of its Recover Whey Protein Bar. Judges were wowed by this campaign that differentiated the product by emphasizing its "pro-caliber" differentiation through surprise locker room makeovers for three worthy high school athletic programs.
"This was simple, yet brilliant," one judge noted.
The Recover Whey Protein Bar became Gatorade's best selling recovery product. Sales for the overall Recover portfolio doubled. Media, which included more than 264 million impressions in outlets such as USA Today, Sports Illustrated, and ESPN, was identified as a key contributor to growth.
Judges also praised this team's insight, creativity, and execution. FleishmanHillard reported that Gatorade's consistent contact with athletes, coaches, trainers, and dietitians provided insight into the recovery habits of the target audience of 13- to 17-year-old athletes and the fact that recovery typically begins in the locker room.
"This target not only aspires to be like their idols while competing, but also emulates their post-game rituals, which provided a believable connection to the pro-caliber message," an agency representative said.
The makeovers included new top-notch amenities for high schools in Chicago, New Orleans, and Washington, DC.
The New Orleans event occurred during the 2014 NBA All-Star Weekend at a school with a varsity boys' locker room that had not been updated since the 1970s.
Gatorade reps snuck into the locker room at halftime and conducted an hour-long revamp – including installation of new lockers, flooring, and Gatorade products and equipment. Miami Heat star Dwyane Wade unveiled the new locker room after the team's hard-earned victory.
Chicago Blackhawks captain Patrick Kane and Washington Nationals All-Star Bryce Harper participated in events in their respective cities.
---
Honorable Mention
Weber Shandwick and Anheuser-Busch
America's Beer Celebrates America's Pastime: Budweiser Sends Mr. (Ozzie) Smith to Washington to Make Opening Day a National Holiday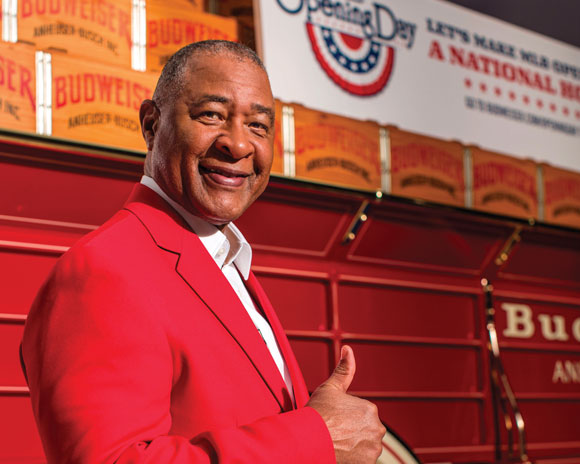 This campaign included a petition to make Major League Baseball's Opening Day a national holiday, which garnered 102,919 signatures in 26 days. Overall, the effort contributed to a 46.1% sales volume increase, a $13 million revenue gain, and 12-point category share increase for Budweiser.
"This was authentic and engaging," noted one judge. Hall of Fame shortstop Ozzie Smith served as ambassador. Tactics included events, a national media tour, and a video series that attracted 3.1 million views, among others. "This was a great idea with a lot of different legs," a second adjudicator said.