Winner
Allstate Insurance
Allstate America's Best Drivers Report Celebrates 10 Years of Ranking the Safest Driving Cities
Leveraging new analytics and socialization tools helped Allstate Insurance create fresh insights and the most robust edition of its annual America's Best Drivers Report, which ranks drivers in 200 of the country's largest cities.
Released on August 26, 2014, it featured new content, a landing page on Allstate.com, as well as a suite of media assets.
Judges felt the company made very strong use of analytics to breathe new life into a long-standing asset. They were also impressed by creative execution and excellent results.
"This was a nice refresh of data that drove great results," noted one adjudicator.
Use of geolocation helped more accurately reflect each city's drivers. Allstate analysts created a trend line predicting where cities should fall when population, city density, and precipitation come into play. Rankings were then created based on how far the cities' drivers were from the trend line.
The landing page on Allstate's website included an interactive map and a timeline to access previous reports. The page also provides easier direct access to the report and features numerous safe driving resources.
Media relations, internal relations, and social media outreach, including sharable content and localized posts for regional teams, helped increase engagement and website traffic.
The effort garnered 1.6 billion earned media impressions – the goal was 500 million – with stories appearing in outlets including Forbes, The New York Times, and USA Today.
The effort's website attracted 45,000 unique visitors, more than double the goal. Social media reach exceeded 317,000. The 2014 report was the most results-driven media campaign in the company's history and it engaged 5,636 Allstate employees, more than double the original target.

Preliminary results for Allstate's Reputation Scorecard indicate that the company's perceived standing among agents increased significantly by 8.2 points in 2014.
---
Honorable Mention
Ogilvy Public Relations and BP America
The Advocacy Index: Activating Passionate Fans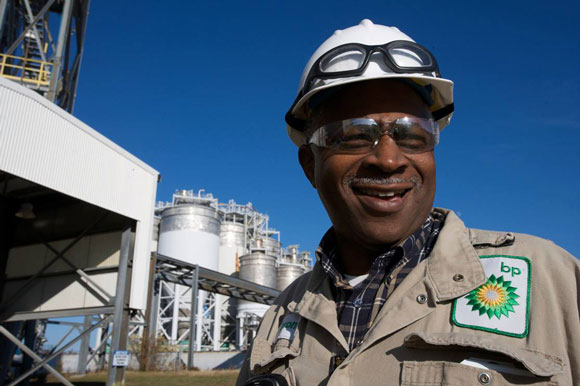 To effectively measure the reputational impact of social media efforts and help increase public support in social media for brands, Ogilvy developed its proprietary Advocacy Index. For BP, the tool revealed employees and family members were active advocates – especially on Facebook.
Ogilvy then crafted content that resonated and prompted them to engage, including a time-lapse video of BP's Houma Heliport that garnered more than 170,000 impressions. Public support for BP in social media jumped 11% and advocacy increased to 7.3% of total conversations.