Winner
Mullen and American Greetings
World's Toughest Job
Dubbed "clever, moving, and relevant" by one judge, this campaign set out to honor the important role moms play in their children's lives and increase sales on Cardstore.com.
With Mother's Day fast approaching, American Greetings and Mullen aimed to eliminate the one-dimensional stereotypes associated with the holiday and instead get their target audience – women aged 35 to 45 – to see hard-working moms in a different light.
Together, they created a fake job description based on everything moms do and posted it in national newspapers and online. Videoconference interviews were then held with potential applicants to get their honest reactions to the somewhat ridiculous – yet accurate – requirements of the role. For instance, candidates were told they would only get to eat when the "associate" was finished eating and that there were no vacation days.
At the end of the interviews, stunned applicants were then told the position was already held by millions of people – moms – which triggered an emotional response.
The interviews were subsequently turned into a YouTube video, which was released in a tiered rollout to key media outlets in the weeks leading up to Mother's Day.
Backed by a social effort that leveraged #worldstoughestjob and targeted influential bloggers in the sector, the shareable piece of content quickly went viral, garnering mainstream attention on top-tier outlets such as Good Morning America, Today, and Time, among others.
The video was viewed more than 21 million times and its content inspired viewers to send e-cards to their mothers via Cardstore.com. Moreover, Mother's Day card orders increased by 20% and net sales grew 16% year over year largely due to increased rankings in natural search and the viral video.
"This was exceptionally creative," said a second judge. "It really tugged at the heart strings in a way everyone could identify with. And it also drove sales to double-digit increases."
---
Honorable Mention
MSLGroup and P&G/Bounty
Ken Delmar – The Paper Towel Picasso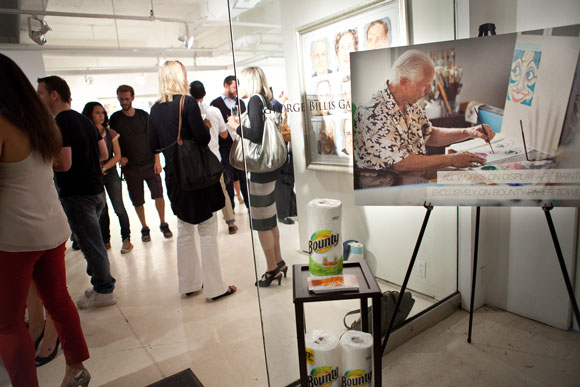 Bounty set out to win the hearts of consumers by leveraging a story that appeared in the Stamford Advocate about an unknown painter, Ken Delmar, who discovered the absorbent properties of paper towels were literally sucking the paint off his brushes.
P&G, Bounty's parent company, and its agency partner MSLGroup christened Delmar the "Paper Towel Picasso" and made his dreams come true by giving him his own gallery show in New York. The event garnered 655 million-plus media impressions, while a documentary accompanying it attracted more than 755,000 YouTube views.