Winner
MSLGroup and P&G/Always
Always #LikeAGirl: Turning an Insult into a Confidence Movement
After 30 years in the feminine care market, Procter & Gamble's Always brand struggled to connect with a new generation of consumers because it was still talking about pads. The brand's challenge was to become more relevant in a girl's life while remaining authentic.
Hoping to create an emotional bond with consumers, Always charged MSLGroup with launching a global campaign that would build a more meaningful brand message.
The agency's research discovered that more than half of girls experience a drop in confidence during puberty.
Always had traditionally talked about confidence as it related to its products' performance, but the brand realized it needed to redefine that term to resonate among a new generation of girls. Always decided to take back the phrase "like a girl," which had become an insult, and turn it into an empowering message for young women.
To achieve that, a video featuring people of various ages interpreting "like a girl" was created, which became the centerpiece of the campaign, along with the hashtag #LikeAGirl, which acted as a rallying cry for empowerment.
Prior to launch, the agency shared the video with select bloggers and influencers and asked them to post about it on their social channels.
After the video premiered, it sparked organic tweets from celebrities including Melinda Gates, Sarah Silverman, Maria Shriver, Cher, and Chelsea Clinton. The campaign was covered in media outlets such as Good Morning America, BuzzFeed, and Time.
Far surpassing the brand's expectations, the effort garnered 76 million views on YouTube, making it one of the top viral videos of the year; 4.5 billion global media impressions; and more than 133,000 social mentions of #LikeAGirl in the US alone.
"This campaign is beautiful and stays with you for months after," one judge said. "A real triumph. It made me proud to do everything #LikeAGirl."
---

Honorable Mention
Coyne Public Relations and The Goodyear Tire & Rubber Company
Goodyear Joins Ice Cube to Make it a 'Good Day'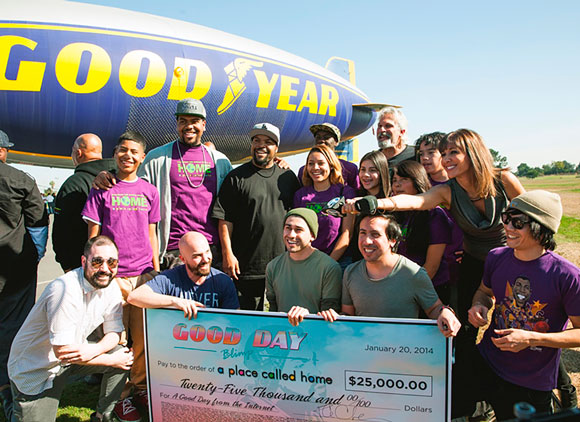 Last year, a group of people sought to commemorate Ice Cube's 1992 song "It Was a Good Day" while raising $25,000 for Los Angeles-based charity A Place Called Home. The catch: Goodyear had to fly its blimp over LA with a sign reading, "Ice Cube is a Pimp" for it to get the money.
With only four days before the fundraising deadline, Goodyear tweeted a letter to the actor/rapper's Twitter account. Ice Cube tweeted his support, which garnered thousands of Twitter and Facebook mentions. The blimp also did its part, resulting in national attention and a notable shift in brand perception.