It's too expensive. It doesn't fill a customer need. It's unnecessary. Yet despite criticisms of the tech giant's latest product, Apple Watch, marcomms experts say brands should dive into how they can use the product.
The trendsetting company lifted the veil on the long-awaited Apple Watch on Monday, revealing all the bells and whistles of the gadget before it officially becomes available on April 24.
Communications experts who specialize in tech and mobile engagement say they are optimistic about Apple Watch's promise, saying it's more than just another mobile device with a smaller screen, but has unique capabilities when synched with the iPhone.
Cohn & Wolfe is recommending all clients investigate possible uses of the device, says Kristine Newman, SVP of mobile engagement. The WPP firm is already developing an Apple Watch strategy for one CPG client.
"We saw this with the tablet. As soon as Apple gets into a space, we get past the early adopters and closer to a mass adoption," she explains. "We certainly expect that with watches."
She adds that one of the most promising areas for brands is push notifications, such as news headlines and bank statement alerts that are already popular on mobile phones – but those could go to another level with Apple Watch.
"We will see a lot more notifications on the watch, because it's not always just on, but always present," says Newman. "It will allow consumers to quickly glance at different notifications and push it away."
She notes that brands also need to consider its interconnectivity.
"Consumers will walk into a store, home, or an event, and their Apple Watch will potentially trigger other actions with devices or screens around it," Newman notes, adding that its ability to measure physical movement also offers brands another interesting data point. "We just heard about it a few days ago, and it was really interesting. Now we're trying to figure out how does that impact what a brand knows about its consumers? How can we leverage that information?"
Like most Apple product reveals, Apple Watch received mostly positive reviews from critics, though not without criticism. The Independent said in a bold headline that the device "isn't just ahead of the times...it's the future." In a more nuanced view, The New York Times predicted its success will mostly depend on the apps available. However, Business Insider panned Apple Watch, saying it was not the paradigm-changer that the iPod, iPhone, and iPad were before it, and Mashable said the device won't be worth it.
Scott Friedman, global technology practice chairman at APCO Worldwide, agrees "that there are a lot of opportunities for a variety of brands."
He says travel and health companies are most likely to benefit in the short term, given that their existing apps are most easily transferable to smaller screens. Starwood Hotels & Resorts, for instance, has developed an app that will allow guests to use their Apple Watch as a room key at more than 150 W Hotels, Aloft, and Element properties. The company already lets guests use their phone as a key by using the Starwood Preferred Guest iPhone app.
American Airlines has also developed an app it hopes will make getting through airport security easier. It shrinks the boarding pass down to a readable size, and will also deliver flight status notifications to Apple Watch. The airline has a similar app for the iPhone.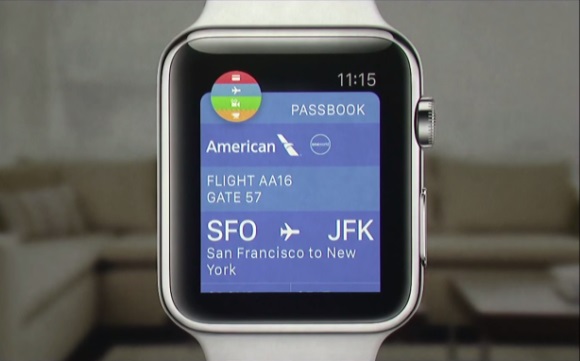 "For those kinds of brands, there will be an immediate impact. The degree of that impact depends on how the watch sells," Friedman explains.
Yet other brands should monitor whether the watch emerges as "the fourth screen," as many have predicted.
"We've lived in this sort of three-screen world: TV, computer, and smart phone. Will the watch become the fourth screen where there is a significant subset of activities that consumers will want to accomplish on their watch as opposed to pulling out their smart phone?" he asks.
There's considerable doubt as to whether that will happen, Friedman says.
"It really comes down to consumer behavior, and whether it will change is still very much a question," he notes. "Personally, I am sceptical about whether this will be a mass product in a way the iPod and iPad have become. If it does, it would require radical change in consumer behavior."
Many critics have cited Apple Watch's cost as a factor that could limit mass-market appeal. The Apple Watch Sport, geared towards fitness enthusiasts, starts at $349, while the Apple Watch versions with a steel case start at $549. However, high-end "Edition" versions of the device will cost users up to an eye-popping $17,000.
Henry Hwong, senior strategist at SeriesC, counters that if anyone can break open the wearable technology segment, it's Apple.
"No single vendor is in the position that Apple has with its demographics and market share to be able to push something out like this," he says. "This is a market-maker for the wearable industry."
Yet he recommends it will immediately be the best fit for brands that already have a good handle on their iPhone strategy.
"If you haven't figured out the iPhone yet, it will be even more challenging to figure out what to do on a much smaller screen," he explains. "But for those who have been successful in engaging their fan base on the iPhone, the Apple Watch is the necessary next step for brands because of the synchronicity," he says.
Beyond notifications, Hwong sees a lot of upside for watch faces as well. He says consumers may want to personalize their Apple Watch from month to month, and maybe even week to week, by downloading different faces depending on what's going on in their lives.
"It is an interesting area for promotion. I could see a watch face for the new Star Wars movie, for instance," he notes. "It could even include a countdown clock to the premiere of the movie."
And what if Apple Watch should fizzle and go the way of Google Glass?
"Even if the Apple Watch represents Apple's first major misstep in years, the lessons learned in the process of developing for the wearable will no doubt be applicable in other emerging areas of mobile," says Todd Defren, CEO of Shift Communications. "It's never a bad idea for a major consumer brand to follow Apple's lead."