Winner
Share Our Strength
Save Summer
Millions of kids in the US struggle with hunger at home, so the free or reduced-price meals that eligible students receive at school are critically important. But when school breaks for the summer, those meals vanish, making it the hungriest time of the year for about 18 million children.
Meanwhile, there's no overreaching quick fix by the government in sight. With a modest budget of $25,000, Share Our Strength set out to bring more nourishing dishes to children, while simultaneously stacking support and funds for summers to come.
The organization promoted its mission with an inaugural National Text for Summer Meals Day, which included a social media blitz with celebrity advocates. Digital tools were distributed to hundreds of community organizations.
Text for Summer Meals information was placed on bus ads, in grocery stores, and utility bill inserts. With input from celebrities such as Kourtney Kardashian and Chelsea Clinton, the text event reached 19 million people on social media and 50,000 families used the service to find a summer meal site by the end of the season.
Arby's, the group's corporate partner, promoted material in 950 restaurants. In addition, The Arby's Foundation matched donations [up to $100,000] – a goal that was later passed.
"Creating awareness of how kids and families can find meals in the summer is a great testament to the power of PR," said one judge.
Jeff Bridges, national spokesperson for No Kid Hungry, promoted the effort on outlets including The Ellen DeGeneres Show and NBC Nightly News.
Expanding food sites to trusted places such as libraries and schools or leveraging mobile meals led to 8 million dishes being served in New York City; a record number of schools in North Carolina serviced summer meals; and it was the first time every county in Arkansas had a summer meal site.
"Excellent work," noted a second judge. " The outstanding results speak for themselves."
---
Honorable Mention
Jasculca Terman Strategic Communications and The Chicago Community Trust
On the Table 2014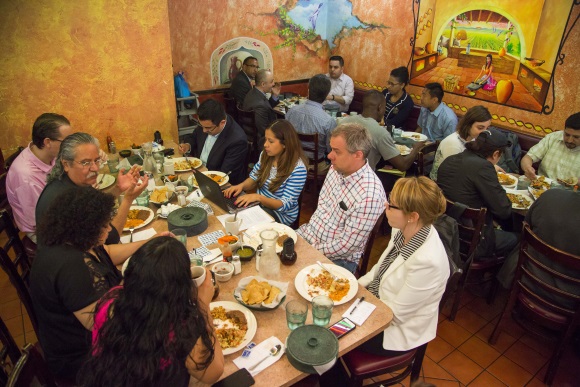 The Chicago Community Trust celebrated 99 years with On the Table in May 2014, its biggest-ever civic engagement effort where Chicago residents discussed ways to create and sustain better communities over dinner. After eight months of outreach, more than 11,500 participants attended the event.
The hashtag #OnTheTable garnered about 17 million impressions, catapulting it to number one on the trending topics list on Twitter on May 12. "What a great way to drive engagement around the nonprofit's mission to strengthen Chicago – breaking bread at dinner," said one judge.