Winner
Edelman and CVS Health
CVS Quits Campaign: Repositioning a Leader in Healthcare
After announcing in February 2014 that it planned on pulling all tobacco products from its shelves by October, CVS Health worked with its integrated agency team on a rebranding campaign to highlight its dedication to healthcare.
Edelman, along with BBDO, Matter, The Marketing Arm, Mindshare, (add)ventures, and Siegel+Gale, launched the effort in September across a variety of channels.
With CVS already in the media spotlight from its announcement about ending tobacco sales, September was focused on influencer engagement and social media. Edelman engaged top-tier media with stories about CVS' new journey and custom hashtags were created, such as #cvsquits.
Overall, CVS Health earned 347 million media impressions, and, in the first week of February alone, the brand saw 200,000 social media mentions. The effort's launch garnered 129 million print and broadcast media impressions, along with more than 117,000 social media posts.
Some other key campaign moments included having CVS CEO Larry Merlo ring the opening bell at the New York Stock Exchange and hold interviews with financial news outlets. Edelman also helped launch an event to drive consumer buzz in New York City's Bryant Park with on-camera availability from the brand's executives. The event included a 50-foot cigarette being extinguished.
The effort led to politicians and officials seeking change from other companies. Eight US senators, 12 House members, 26 public health and medical groups, and 28 state attorneys general issued letters challenging other companies to follow CVS Health's example.
Following the news, one in four non-CVS customers surveyed said they were likely to switch their prescriptions to the brand. The organization also saw a 9.2% stock price increase following the announcement.
"Wow," one judge said about the campaign. "It was comprehensive and the results it garnered were very impressive."
---
Honorable Mention
Edelman and Gap
Taking a Stand When It's Right for Your Brand: Why Gap Does More Than Sell Clothes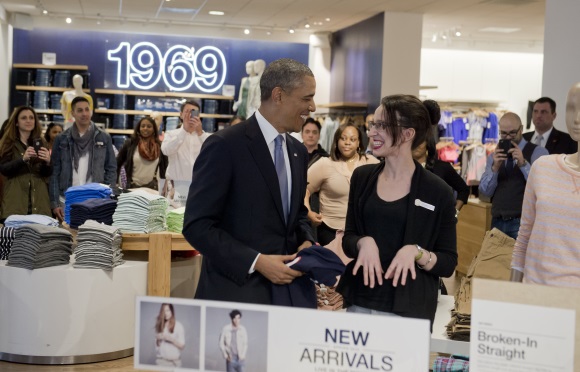 To celebrate its 45th anniversary last year, Gap launched its Do More platform by raising its minimum hourly wage to $9 in June and $10 in July. Edelman secured stories in The Wall Street Journal and The New York Times, among others. Within the first 10 days, more than 1,000 broadcast outlets mentioned the news and it earned 10,000-plus social media mentions.
Gap CEO Glenn Murphy did his first TV interview with Gayle King on CBS, leading to an additional 22 million impressions. In addition to a 151% increase in Facebook followers, the company saw job applications rise by 24%.