Winner
Advanced Micro Devices
GPU14: The Launch of Next Generation AMD Radeon Graphics Cards
The 2013 launch of Advanced Micro Devices' new generation of Radeon graphics cards helped re-ignite customer passion and drove enthusiast graphics card sales up more than 200%.
"This was a very creative campaign in a difficult industry," explained one judge.
Additional adjudicators applauded the team for running a strong, multi-faceted campaign that leveraged solid research and insights and all judges were impressed by the campaign's outstanding business outcomes.
A live GPU '14 Product Showcase event, which was streamed live across the Internet from Oahu, Hawaii, to consumers, influencers, investors, and AMD employees, was the initiative's centerpiece.
Top-tier technology press, analysts, and reviewers attended the event in person. They were encouraged to post live using the hashtag #GPU14. AMD's social media team also engaged live on social media channels.
AMD executives and legendary game developers spoke during the event. Previews of eagerly anticipated game titles leveraging the technology were given, and key product details were released, but other news and performance data was held to align with product reviews and ship dates.
An extensive worldwide sampling program for media and influencers followed the event as each of the graphics cards in the series (10 in total) launched. A digital campaign called Join the AMD Red Team, executed primarily on Facebook and Twitter, helped generate buzz.
Detailed and targeted press and analyst briefing sessions ensured accurate messaging about AMD's new products and technologies. Nearly 120,000 people viewed at least part of the live event, and #GPU14 trended nationally that day on Twitter.
AMD reported positive social sentiment hit an all-time high of 46%, and negative social sentiment reached an all-time low of 1%. By the time the full product stack launched in early 2014, about 2,000 stories had run, creating 1.5 billion impressions.
---
Honorable Mention
Ogilvy Public Relations and LG Electronics USA
The Art of the Pixel: Powered by LG Ultra HD and OLED TVs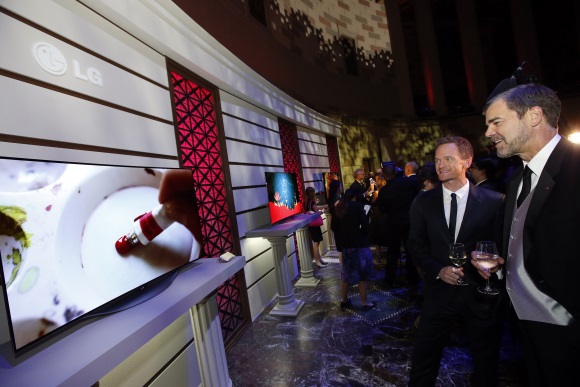 Challenging students at nine top art schools to create digital art for display on LG's Ultra HD and OLED TVs helped drive an increase in sales and more than 342 million impressions. Actor and art collector Neil Patrick Harris served as program ambassador and artistic adviser to students.
A video featuring Harris and other digital assets drove broad awareness. Student finalists attended a gala product-unveiling event. The program awarded more than $250,000 in technology and cash grants. "A highly creative approach to bringing a technology to light through art," one judge said.