Winner
Edelman and Juniper Networks
Introducing Hackonomics: Juniper Networks Sheds Light on the Cyber Black Market
In the days before the Sony Pictures Entertainment cyberattack grabbed ahold of the news cycle through much of the 2014 holiday season, many companies looked at IT security as just another box to tick.
In an effort to change that – and to turn around its direction in a market where it was losing share of business and voice – Juniper Networks launched the Introducing Hackonomics campaign to regain a foothold in the sector.
Its goal was to take a very complex conversation about protecting a business from hackers, cyber criminals, and other risks, and make it something business managers feel comfortable talking about – not to mention driving sales leads.
The effort started with research. Juniper conducted a comprehensive audit of industry studies to define the risk that companies face, interviewing ethical hackers, government officials, investigators, and leaders in the field in an effort to define what the cybersecurity black market is exactly.
To build its case, the organization built an integrated campaign that leveraged media, marketing, PR, government relations, sales, and digital and social media. Specific tactics included global webinars, a dedicated website, targeted online ads, and social media initiatives.
The team also put the brand in front of VIPs in both the public and private sectors. It briefed policymakers, translated the presentation materials into 10 languages, and made a report, which was freely distributed by Rand Corp.
Juniper's share of voice nearly doubled to more than 20% for a three-month period and a webinar received more than 1,120 registrations from potential sales leads.
The report's summary was downloaded 1,100 times and was viewed by some of the most influential people in the country. It was presented to House and Senate committees that oversee security and intelligence.
"To focus on what hackers do rather than solely on the issue of the data breaches was great," said one judge.
---
Honorable Mention
PPR Worldwide and Dell
Dell Breaks Down Barriers for Female Entrepreneurs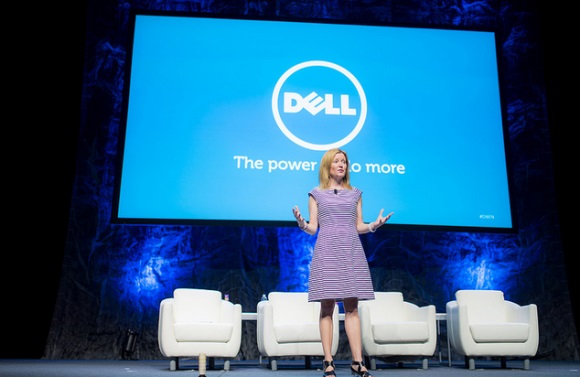 Empowering women in the workplace and elevating their roles as entrepreneurs isn't just the right thing to do, it also makes good business sense. Realizing that women are the largest marketing segment for companies, the tech giant created the Dell Women's Entrepreneur Network in 2010.
In 2014, the organization deployed network alumni as evangelists to recruit other women in 15 countries. It also partnered with the UN Foundation and groups including Endeavor. Media visibility that positioned Dell as a trusted adviser was a part of 224 articles and more than 6,500 tweets.