Winner
Mullen and American Greetings
World's Toughest Job
Dubbed "the clear winner" by one judge for being "breakthrough and brand-defining," World's Toughest Job rose above the competition and made Mother's Day even more special for consumers around the country.
With a budget of $800,000, Mullen and American Greetings set out to prove just how challenging a mother's job is in a fun, yet accurate, way.
The agency developed a fake job description based on the everyday lives of moms and posted it online and in 14 US newspapers. For some people who applied for the position, Mullen conducted online interviews and taped their hilarious reactions to some of the job demands. A compilation of the best responses was then posted on YouTube.
To build excitement leading up to Mother's Day, the video was released four weeks before the holiday, and to continue the buzz, consumers were encouraged to tweet using the hashtag #worldstoughestjob.
On April 15, 2014, the video was the number one trending video on YouTube with more than 21 million views. It also was one of the top 10 national Twitter trends on the same day, garnering 80,849 tweets.
"I saw the video online long before judging, and I thought the idea was just brilliant," noted a second judge.
The fact the judge saw the film makes sense since the campaign was mentioned in more than 363 media outlets, including Today, Time, Good Morning America, The Wall Street Journal, and CNN. Mullen's president Kristen Cavallo and American Greetings' CMO Christy Kaprosy, who are both mothers, also made an appearance together on Fox & Friends on the Friday before Mother's Day.
Overall, the campaign also helped generate consumer conversations about American Greetings, as well as a 37% increase in online traffic to Cardstore.com, a 20% jump in orders, and a 40% boost in new customers. The brand also saw a 16% increase in net sales year over year.
---
Honorable Mention
Edelman and Unilever/Axe
Axe Inspires Action with its #KissForPeace Campaign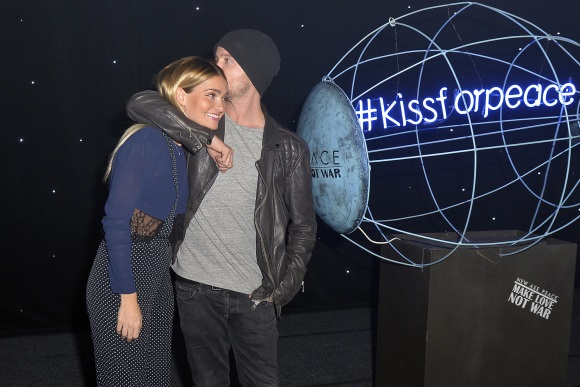 The goal of Axe's #KissForPeace campaign was to engage consu-mers and drive conversation around the topic of peace and the brand's new product line without offering any incentives. Axe and Edelman achieved their objectives by amplifying a Super Bowl ad with a Times Square billboard takeover in February.
More than 18,000 photo submissions were posted on the billboard, and the brand created a hub site to house all #KissForPeace content. The effort, which "brought consumer engagement to an ad campaign," according to one judge, garnered more than 112,000 shared photos.