According to sentiment analysis from social media monitoring firm Talkwalker, negative sentiment towards Clarkson was at 22.5 per cent last week, and has risen to 36.2 per cent this week.

The BBC has since reported that it will not be showing the remaining two episodes of the current series of Top Gear, in light of the incident. Positive sentiment towards Top Gear has dropped by seven per cent, with negative sentiment increasing from 20.6 per cent to 37.6 per cent.

Talkwalker found that there are hardly any mentions of Clarkson's Top Gear co-hosts, Richard Hammond and James May, in relation to the incident.

Some people are pushing for Clarkson to be reinstated at the BBC, with the hashtag #BringbackClarkson and an online petition, which has been signed by more than 350,000 people.
After the BBC referred to the incident as a "fracas", The Mirror produced a rumpus scale of how the term relates to other types of disturbances: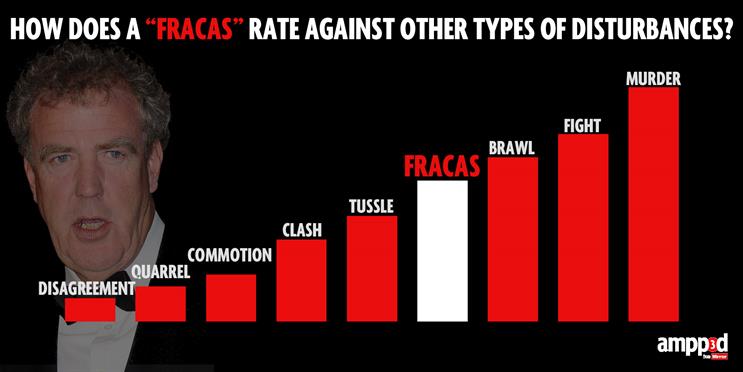 Talkwalker CEO Robert Glaesener said he found the sentiment analysis results surprising: "Huge numbers signing petitions to keep Jeremy Clarkson on Top Gear fly in the face of global social reaction, which is much more critical of his actions.

"Given that Clarkson only had a positive social sentiment of 36 per cent before the latest fracas, however, it seems that social sentiment towards him was never as high as the exuberance of his devoted fan base would suggest."