Two years ago a book set tongues wagging across the globe when it asserted that 'feminine' values could be the answer to many of humanity's woes.
The Athena Doctrine: How Women (and the Men Who Think Like Them) Will Rule the Future based its premise on a worldwide piece of research with 64,000 people. The study highlighted a growing dissatisfaction with what many perceived to be masculine values and traits dominating global business and politics. The book's broad conclusion was that if men thought and acted more like women, the world might be a better place (see separate text box).
The Athena Doctrine is not alone in driving the debate around masculine versus feminine in the world of leadership. There has been a plethora of publications, studies and media focus around similar issues.
2013 also saw publication of Lean In: Women, Work and the Will to Lead, authored by Facebook CEO Sheryl Sandberg, which acted as a siren-call for women to embrace their skills and challenge perceptions about what they can and cannot achieve.
Last year Ketchum's Leadership Communication Monitor, a survey of 6,500 people in 13 countries examining the link between effective leadership and effective communication, revealed that globally female leaders were deemed to perform best on the most important leadership attributes: leading by example; communicating in an open, transparent way; admitting mistakes; bringing out the best in others and handling controversial issues or crises calmly. However, survey respondents still looked to men (54 per cent) to navigate the world through challenging and rapidly changing times. In the UK that number rose to 60 per cent of respondents thinking male leaders were best placed to do this, despite also believing women outperformed men when it came to the most important leader attributes.
And so the discussion rages as to what ­masculine and feminine qualities are, whether they are exclusive to each sex and how businesses might benefit from better understanding of how to tap into the best of both.
Certainly, when it comes to the PR industry, it is no secret that it is dominated by women until it comes to the boardroom – a predominantly male domain. So is there a case for app­lying more feminine traits, as outlined in The Athena Doctrine, to PR leadership and is it only women who can do this?
The answer, it seems, is a resounding yes and no. Psychologist and hypno-psychotherapist Hope Bastine, who runs her own company Fresh Perception, says: "There's no denying men and women are fundamentally different. Most men are prone to be logical and objective, while women tend to be empathetic and subjective. Men appear to work well with facts. Women appear more relationally driven.
"However, what is interesting is that res­earch is showing that, given training, so-called masculine traits are learnable by women and so-called feminine traits learnable by men. This is further supported by neuro-scientific research that shows that our IQ inc­reases through group collaboration: We are our best selves when we work together."
Bastine says this underlines the argument that in order to meet the demands of our evolving society, the need for integration and balance is tantamount: "Balance is about two things/people coming together to create something they couldn't normally create alone.
"In order for any business to be the best it can be, it has to not only optimise from each of the sexes' traits, but also learn and grow from what each has to offer."

Building relationships
Heather Baker, founder and CEO of TopLine Communications, a £1m-turnover agency emp­loying 15 people, says: "I hate the term 'feminine values', but I guess there are some qualities more common to women than men." Empathy and emotional intelligence are just two traits identified by Baker, and everyone else PRWeek interviewed, as typically feminine and essential to building and then maintaining relationships with clients.
However, Baker is quick to disabuse any not­ion that feminine traits or values are exclusive to women. "Besides vaginas, nothing is exclusive to women. I know lots of men with great empathy and high EQs, but also encounter many women who wouldn't be able to identify another person's emotions if they were distributed on a newswire and published on the front page of the FT." She adds that to be successful in PR, and in business, men and women must be able to make an impact and influence people: "Being able to relate to their pain and unique experiences makes this easier."
Rebecca Oatley, MD of Cherish PR, an all-women boutique agency specialising in digital businesses and brands, argues that perhaps one of the main reasons women have gravitated towards PR is because traditionally the skill set needed was that of many women: "Half those traits identified as feminine in The Athena Doctrine are those that you really do need in PR, but I think it would be simplifying things too much to say that any particular traits or skills are exclusive to men or women.
"A good PR leader will be able to look at a situation and make a decision about the style of consultant best suited to working with that particular client."
But Oatley says she is now noticing an increasing number of men applying for positions that might once have only attracted women, driven by changing media dynamics that call for broader comms skills.
"Traditionally a PR consultant sat between the client and the media owner – understanding and listening from a client point of view, but also understanding what the journalist needed. Keeping both sides happy is a feminine trait, but the media landscape is changing and PR is now more about mobilising groups of people in your clients' interests. That needs a different skill set and plays to more masculine traits." But Oatley again comes back to identifying the right 'human' traits for the job rather than specific to gender: "We can't choose people by gender; it's more a question of what traits we should foster or nurture."

Collaborative working
The idea of using both feminine and masculine skills to navigate the changing comms landscape is also championed by Weber Shandwick MD Rachel Friend: "As our work bec­omes increasingly integrated, we need to work more closely with our sister agencies and show one another respect for the new skills and exp­ertise we can each bring to the table without being threatened or aggressive. The same app­lies to our changing talent pool, where we must embrace people entering our agencies, find out what they can do and how we can use them, while nurturing our existing talent."
She stresses that while doing this will take open-mindedness, empathy and flexibility, it is "absurd" to isolate feminine values as exclusive to women: "I know many men who naturally display female traits and, no surprise, they often end up in leadership positions. Equally I know many women in PR who have tried to suppress their feminine values and, to be honest, it's to their detriment."
Julia Meighan, CEO of VMA Group, a rec­ruitment company specialising in the comms industry, says while we should not need to talk about 'feminine' or 'masculine' values, those labels are still necessary, particularly in corporate comms leadership: "Although PR teams are usually female dominated, our Business Leaders in Communications study found 82 per cent of organisations with revenues of £15bn or more had a male lead in corporate comms.
"Females are under-represented in management and leadership and yet all evidence points to the fact that the most successful organisations have more diverse leadership teams, which fully exploit the most valued traits of both females and males."
Meighan says one of the barriers traditionally in the way of women achieving top management positions is a lack of confidence: "It is a proven fact that a woman's upbringing is more likely to impact levels of self-esteem and confidence throughout her life compared with her male counterparts. This can make it more challenging to do equally well in a senior role, despite talent and ability." This lack of confidence is certainly a trait noticed by Denise Kaufmann, CEO of Ketchum London, who leads a team of 250 men and women.
"I honestly believe that masculine and feminine traits are equally important in business leadership," she says. "Being empathetic and compassionate is important but at times you have to be tough. But a part of me hates to think of things as either masculine or feminine. Well-rounded leaders exhibit both."
However, she adds that a "big" difference bet­ween men and women is in the conversations they each have when it comes to discussing salary, career advancement and their amb­itions. Men, says Kaufmann, are likely to be more confident in understanding their worth to an organisation and what the compensation should be in return for that worth.
Kaufmann's answer to this is for women to be more supportive of each other, but more
importantly for organisations to foster greater diversity and harness the best traits in everyone. "It's about enabling everyone to be their best self, whether that happens to be a man or a woman," she concludes.
What is the Athena Doctrine?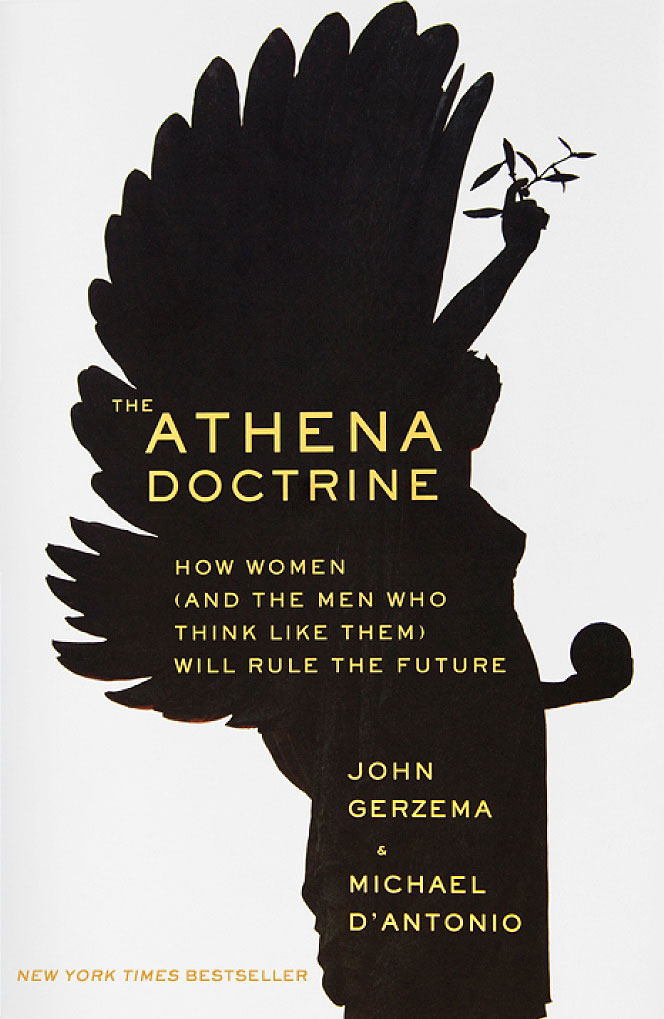 The Athena Doctrine: How Women (and the Men Who Think Like Them) Will Rule the Future was written by John Gerzema – an expert in using data to identify social change and helping companies anticipate and adapt to new interests and demands – and journalist Michael D'Antonio. It is based on an in-depth survey of 64,000 people in 13 countries across a range of social, cultural and political diversity.
The authors interviewed a range of people, from world political leaders to villagers in Northern India. The study found what they call "a world of extended anxiety" where 86 per cent agreed there was too much power in the hands of large corporations and 51 per cent did not trust life would be better for their children.
They found many people were dissatisfied with the conduct of men, including 79 per cent of people in Japan and South Korea and two-thirds of people in the US, Indonesia and Mexico. Men were associated with "codes of control, aggression and black and white thinking" causing wars and inequality. It revealed that 66 per cent of people agreed the world would be a better place if men thought more like women.
The authors set out to define masculine and feminine traits in a simple way and then measured public attitudes towards them. They asked half their survey sample – 32,000 – to classify 125 human behaviour traits as either masculine, feminine or neither. Forty traits were labelled as masculine. They included positives such as being analytical, logical and focused but also arrogance, aggression and stubbornness.
Just a handful of traits (13) were given neither a masculine or feminine bias including authenticity, tradition and fun. However, 68 traits – the majority of them positive – were given a feminine label. These included being articulate, reliable, intuitive, patient and emotional.
They then gave those same 125 traits, without the gender assignment, to the other 32,000, asking them to rate them in terms of importance to leadership, success, morality and happiness.
The authors drew the conclusion there was a strong consensus on what is feminine and masculine and that feminine thinking is vital to making the world a better place. They assert people seek more expressive styles of leaders, and while masculine qualities such as decisiveness and resilience are important, so too is flexibility.
The authors also assert feminine values create more effective organisational strategies and can underpin change management.
The Athena Doctrine's conclusion is that feminine thinking is the "operating system" for 21st century progress and women, or men who think like them, are the key to the future.
athenadoctrine.com
Comment: The Athena Doctrine and the focus of long-term thinking and business values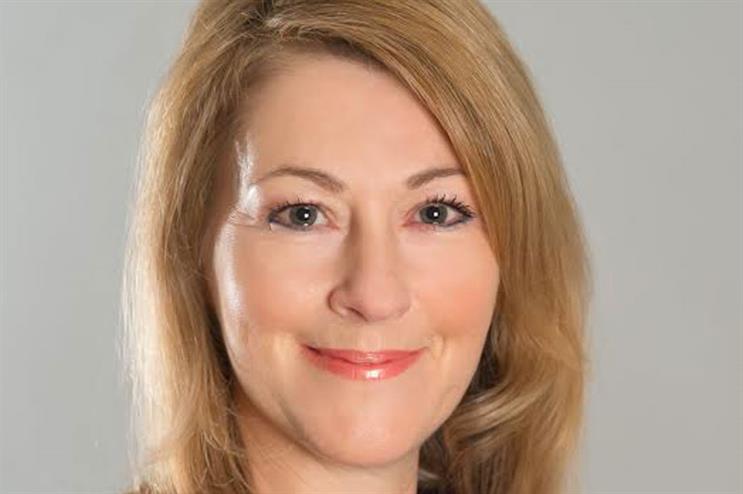 Sarah Locke, Global Brand Ambassador, MWW
As we celebrate International Women's Day and consider The Athena Doctrine, I have been reflecting on 'female values' and how being a woman affected my own career journey, culminating in the sale of my business four months ago.
I was fortunate to meet an extremely inspirational woman at the start of my career whose vision, values and dynamism as an MD gave me the determination to set long-term goals early on.
My early experiences laid the foundations of wanting my own PR agency to have a distinctive offer and clarity on how that agency would build its business, its reputation and its value to clients. With that vision, I knew the path I needed to take to gain experience and to learn from business leaders that I represented and worked with.
The value of having your long-term goals and objectives for your business set down at a very early stage enables you to consider the structures you need to put in place to future-proof your business.
These include positioning of the business, the values you express, the structure of your management, the confidence to bring senior people in and pass on business responsibility and, most importantly, being true to your own strengths and knowing your weaknesses as the owner/founder.
I knew I wanted to find a larger home for my business. It wasn't really about money. The challenge was always to find a business that shared the same values, respected how the senior management worked and valued collaboration. The most important thing was being able to sit at the same table and work well together.
It took several years, many conversations and much hard work to find the right partner. But eventually I did.
I would encourage anyone who has the desire to build their own business to really understand their goals from the outset, to know if it is a business you want to build and sell or take some other route. You must truly understand the drivers of your business and the values you have. You need to know how you work best and who with, to build the best relationships with your teams, clients, suppliers and your potential business partners.