Click here for the Salary Survey Premium Edition.
In terms of career prospects, PR professionals are in the driver's seat. That confident stance is validated by statistical and anecdotal evidence indicating numerous jobs in the marketplace, salaries escalating at many levels, and hiring managers sweetening packages with perks and candidate-friendly working terms. If communications practitioners are "sellers" of capabilities and employers are "buyers" of those skills, it is clearly a seller's market now.
This conclusion is supported in the 2015 PRWeek/Bloom, Gross & Associates Salary Survey of 1,002 communications professionals across the US. While only 15% of respondents reported they changed employers in the 2014 survey, 21% did so in the past 12 months.
The primary motivations for leaving their previous employers are positive: The opportunity to take on new challenges/responsibilities (29%), more money/better package (15%), and promotion to a higher-ranking position (13%). Meanwhile, only 12% cited laid off/downsizing at former employer, down from 16% in 2014 and 21% the year prior.
These figures are indicative of the increasingly strong economy in which PR pros ply their trade. Moreover, organizations of all kinds are intensifying efforts to pursue talent as compared to just three years ago. In this year's survey, 73% of respondents say they were approached by a headhunter in the past 12 months, up from 70% last year, 69% the year before, and 64% in 2012.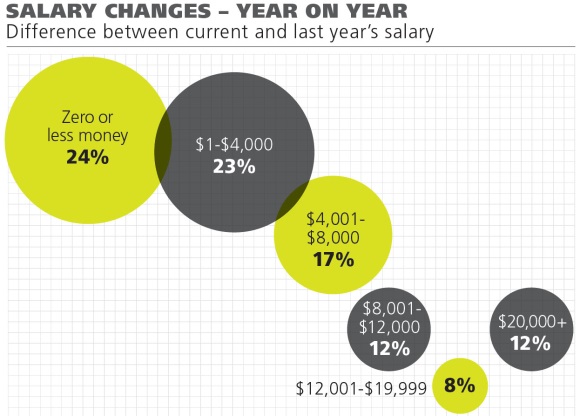 Karen Bloom, principal at recruitment firm Bloom, Gross & Associates, says demand for high-quality talent is so robust that the communications side of her business accounted for about 75% of its bottom line last year. That is up substantially from past years, when PR was neck and neck with the firm's marcomms division.
Much of the business came in the second half of the year, Bloom reports. She theorizes it has been spurred by sustained confidence in the economy, PR's growing leadership role within marcomms, and an effort by agencies and in-house arms alike to flesh out their capabilities in response to rapid changes in media.
The impact this has on hiring parties, adds Bloom, is that talent is less available now because rival organizations are going full-bore to woo and reel in the best people. Elaborating further, she notes many employers are losing desired hires to aggressive counter-offers.
"Companies are not messing around," says Bloom. "They're coming in with offers that have pretty substantial pay increases, as long as it's fair and equitable within their organization."
Agency upswing
The median salary at PR firms was $90,000, a 5.9% increase from $85,000 in the 2014 survey. These results did not surprise the agency CEOs and hiring managers PRWeek interviewed.
At Fahlgren Mortine, for example, the median salary jumped by 7% last year, explains Neil Mortine, president and CEO of the Columbus, Ohio-based integrated marcomms firm.
"We saw salary increases with new hires, particularly at the mid to senior level because the supply of those candidates is more limited," he adds. "Client budgets have opened up across the board, so we have open positions at all levels, the most we've seen in a while."
Stephanie Howley, SVP of HR at Cohn & Wolfe, says compensation hikes underscore the fact certain skill sets are harder to find than others.
"We're seeing that, especially in healthcare and technology," she notes. "Those industries require specific knowledge, whereas in consumer and corporate PR we see a greater pool of people who have those skills."
Seema Kathuria, MD at executive search firm Russell Reynolds Associates, says compensation packages have also been improved for the number-one and number-two in-house communications positions.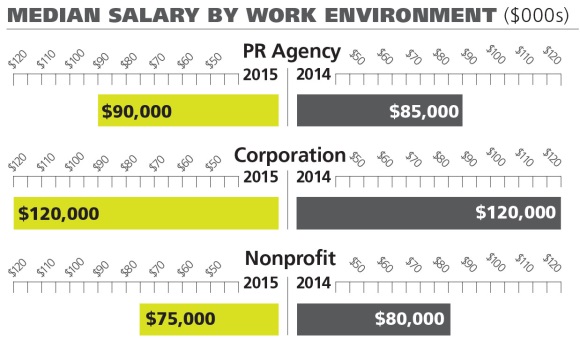 "Before, maybe they were two or three layers below the CEO," she explains. "Now it's only one or a direct report. CCOs are also being asked to take on broader skill sets, so in addition to handling media relations and internal communications, it's also reputation management, brand identity, and stakeholder positioning."
"Organizations want a more skillful CCO," summarizes Kathuria. "And that is being reflected in compensation packages."
Indeed, the survey indicated that many PR professionals are performing a broad range of functions as part of their overall responsibility, ones that might not have been part of their remit a few years ago. Among respondents, 78% cited strategic planning and research as key parts of their jobs now. Other key areas included content creation (77%) and digital/social media marketing (68%). These joined more classic PR functions such as media relations/external communications (76%), marketing comms/product PR (71%), crisis management (65%), corporate comms (64%), and brand management (60%).
Benefits of flexibility
A competitive salary is table stakes to stay in the game with employees. However, money alone isn't satisfying occupants of today's PR workforce, nor is it enough to ensure the attraction or retention of talent. And as the battle for that talent intensifies, so must employers' focus on such matters.
The necessity of doing so is only magnified as this year's data found employers falling short in providing some of the non-salary benefits practitioners desire. For example, while 70% of respondents want flex time, only 33% say it is currently included in their employment package.
Julie Hamp, CCO at Toyota North America, says flexible work arrangements will be a key component of the company's job offers. This is very much top of mind for her as the automaker expects two years of significant hiring as it prepares to relocate its US head office to suburban Dallas by 2017. This will affect approximately 4,000 employees – including those in the communications function – at offices in Torrance, California; Erlanger, Kentucky; and New York City.
Some of those PR staffers have opted against relocating, thus creating new opportunities, adds Hamp. Meanwhile, new positions have been created in areas such as content generation and social media.
In addition, some regional offices will remain in Los Angeles and New York, and Toyota will hire personnel in those locations, too.
"Providing flexibility is almost reaching the same importance as compensation levels in attracting candidates because it allows them to balance their lives, stay healthy, and work more productively," she observes.
While some companies offer flexibility on an ad-hoc basis, Toyota has built the benefit into its HR policies.
"You want to avoid having too much differentiation in how flexibility is applied from one person to the other," Hamp advises. "You want it equitably available."
Toyota allows full-time employees to work from home two days a week, and, if someone works from home more than that, their compensation changes to a part-time structure.
Bloom has also seen candidates making flexibility a sticking point during job negotiations.
"New hires want to walk in the door with the same flexibility they have now," she explains. "They don't feel they should have to wait and prove themselves all over again."
"This is where the real talent war is being waged: Between hiring parties who realize they must be innovative to be an employer of choice," continues Bloom. "That may mean companies alter their expectations of how people work."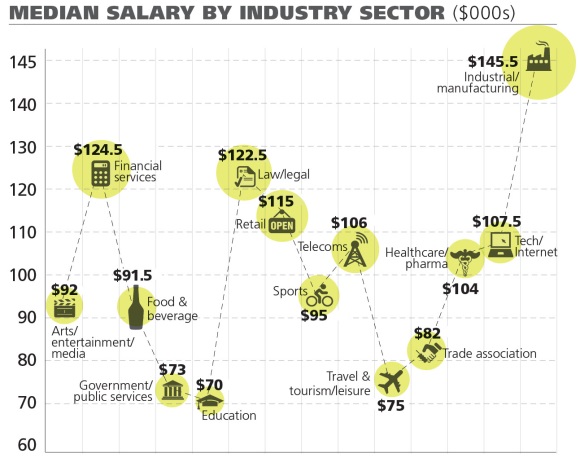 Recognition and reward
Gaps were also evident when the focus turned to financial incentives such as performance-related bonuses, profit sharing, share options, and guaranteed bonuses. Regarding all four offerings, what PR pros want varied notably from what they were currently receiving. On the surface, this might tell a tale of candidates motivated strictly by financial remuneration. Golin CEO Fred Cook, however, feels the results underscore the importance of employee recognition.
"People want to be on a winning team. What attracts people most to an employer is the belief they will be successful," he explains. "They feel a by-product of those achievements should be financial incentives. It is as much about the recognition of a winning team as it is the actual money."
Employee recognition figured prominently among survey respondents, with 97% characterizing it as an important employer attribute and 69% deeming it "very important."
Paul Gennaro concurs as both an in-house leader and someone who recently began a new job. This past January, he joined Voya Financial as SVP of corporate communications and CCO, a role he previously held at AECOM for almost nine years.
"There is a good amount of activity out there, more than I've been aware of in the past few years," says Gennaro of the bustling PR job market.
However, in making his transition, he plans to use some of what he learned at his previous company about employee recognition. Internal surveys at AECOM revealed how much corporate communications staffers wanted their good work to be recognized in an internally public way.
"In any organization where I've worked, there is a limited pool available for compensation each year," he explains. "What you can do other than pay increases to make people fulfilled is recognize their work throughout the year. It not only makes that person feel good, but also lets other staffers know you value them."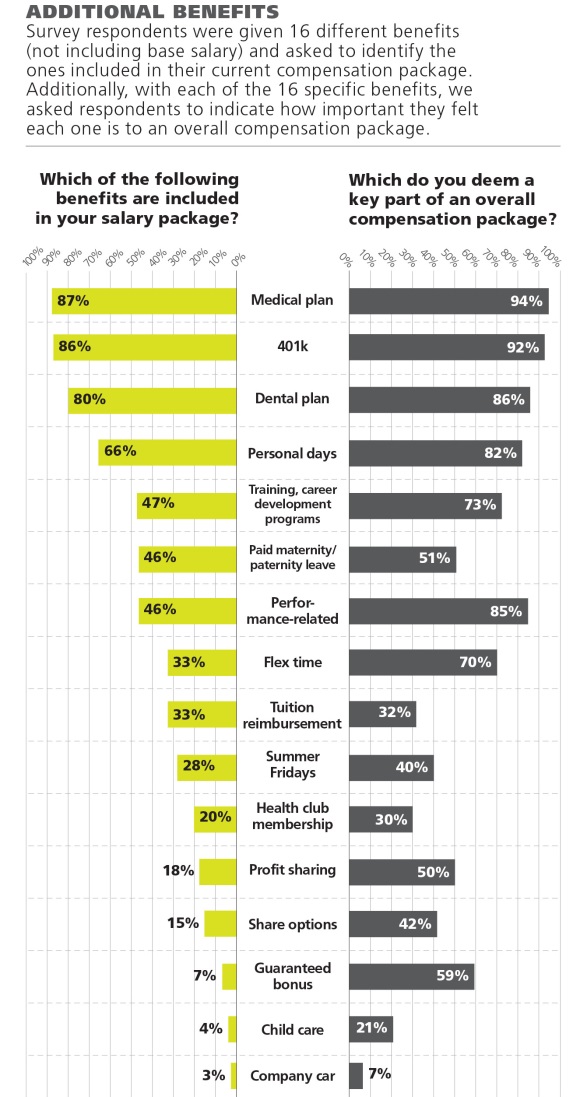 The non-traditional route
This battle for talent is not restricted to current PR practitioners. As companies round out their communications capabilities, top talent from non-traditional sectors are squarely on their radars.
"We're looking for people with specialized capabilities in areas such as digital storytelling, mobile design, and insights and analytics," notes Maggie FitzPatrick, CCO and VP of global communications and public affairs at Johnson & Johnson.
This has been fueled by a restructuring that took place at the start of the year, in which J&J's global communications function – made up of about 400 employees – was centralized under FitzPatrick. The arm is now investing in a content lab, among other projects.
J&J's corporate communications department has recruited talent from major TV broadcast networks, as well as sectors such as politics, HR, and technology. "We're assembling a dynamic team made up of people with different capabilities, experiences, and perspectives," she explains.
The 2015 survey sheds light on this trend. Eleven percent of respondents said they had left another profession in the past five years to join the PR industry, up from 8% last year.
And while journalism (19%) remains the industry from which the highest percentage of people have entered PR, education (7%), TV/radio production (7%), financial services (6%), and social media (5%) all have representative numbers in the PR workforce now.
Hiring decision-makers say they haven't found salary expectations a barrier to recruiting talent from other sectors, noting compensation is comparable and, in some cases, better in PR. Survey respondents support that assertion, as 74% said salary was an important consideration in changing careers, suggesting they were looking to improve their take-home pay when entering communications.
Chicago-based Henson Consulting recently hired a former teacher and political campaign manager who have both proved amazing hires, says Kathleen Henson, founder and CEO of her 25-person eponymous firm, which brought on eight new people last year.
"We also once hired an attorney because they are typically great writers and strategic thinkers," she explains. "She didn't work out, but I believe in exploring different candidates because you needn't be a PR person originally to bring great value."
Given some of those hires are untested in an agency setting, she typically asks them to first prove they fit by completing a 12-week paid internship.
"I told them I'd compensate them accordingly in a position once they proved themselves," notes Henson. "They have revealed no qualms about doing the internship and we have found many great people that way."
This changing makeup of the industry workforce indicates a constant desire to keep learning, which only amplifies the importance of training and career development programs. Seventy-three percent of respondents cited them as important to their overall compensation, although only 47% said they were receiving it.
"Employees want their skills to evolve and remain attractive on the market," says Kate Richmond, SVP at Waggener Edstrom, who oversees recruiting and training. "That means offering training that is relevant for different points in someone's career progression."
"It allows us to promote from within and ensure employees who joined us in an earlier point in their career are able to progress in leadership roles," she continues. "We're also spending a lot of time on the training of the craft, which allows folks who have come to us with skills from one channel or sector to broaden themselves and enter new client situations."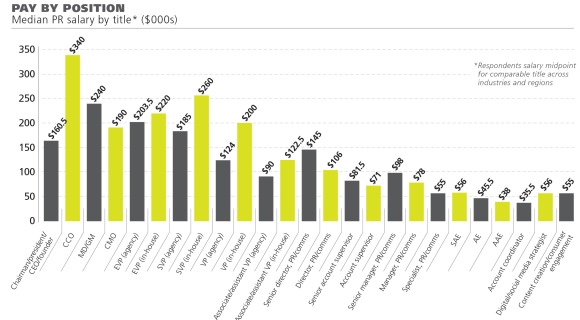 CSR's recruitment allure
While CSR's value to a company's reputation and bottom line are more broadly recognized than ever, its role in attracting and retaining talent has been less clear.
For the first time, this survey sought to answer that query and found it a legitimate acquisition and retention tool: 44% of respondents said they would be willing to make concessions on salary to work for a company they consider a good corporate citizen.
"Candidates we interview almost always bring up our charitable work," says Fahlgren's Neil Mortine. "They have often seen what we've done and show genuine interest. It goes a long way to making us a desirable place of employment."
To that end, the agency plans to launch a program this year that combines charitable giving with a sabbatical. The program will also allow employees to do societal good while on a few weeks of paid leave.
"We had been looking at sabbaticals for a long time, studied best practices, and launched it now because of the competitiveness for talent in the market," he notes.
Russell Reynolds' Kathuria says CSR is also an important consideration for very senior candidates.
"A noticeable shift in the past couple years is people wanting to know what an organization stands for," she explains. "Today's talent is really drawn to purpose-driven companies."
"I am working on three very attractive roles and there's such an interest in them because these companies have a broad global impact on societal issues that the CCO can be part of shaping," adds Kathuria. "We also have another client deeply embedded in CSR, but you really have to search to learn about it. For recruitment and retention purposes, companies can and must do a better job of bringing their CSR to the forefront."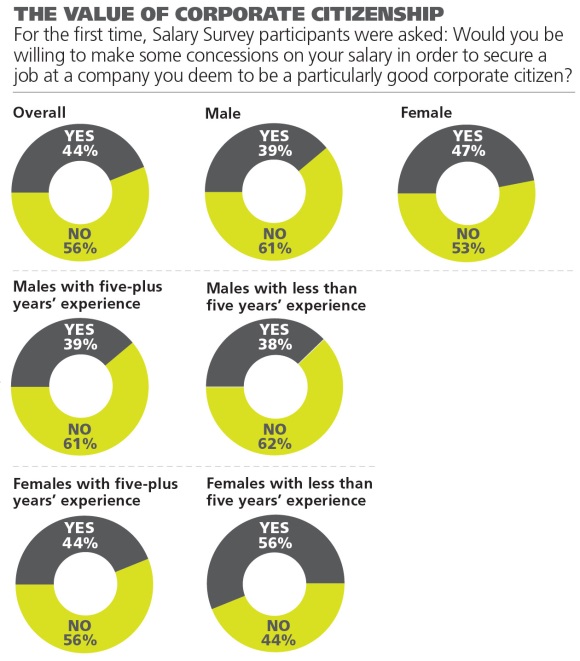 Making Millennials take notice
It is perhaps not surprising that 26- to 30-year-olds were the most willing to make concessions on salary in exchange for employment at a good corporate citizen (49%). After all, various studies have shown members of this generation are also likely to factor it into purchasing decisions.
Heather Harder, national president of the Public Relations Student Society of America, recently started her first job as PR coordinator at Capstrat, where she had interned. One of her key reasons for joining the Ketchum-owned Raleigh, North Carolina-based firm was its commitment to CSR.
"When it came to salary, all I needed to know was I could pay the bills. I really wanted an opportunity to work for a company that gives back," she emphasizes. "Our generation is on social media. We want to be able to say great things about the companies that employ us."
Harder explains it was also important to find an employer that recognizes staff in a tangible way. This helps young people get to know and earn the respect of more senior colleagues, she adds.
"I had an internship at one company where the leaders told me, 'Everyone works hard, so we don't give specific recognition to employees.' That didn't help sell me," she admits. "It is important for Millennials to be recognized in the office."
Keith Burton, who started his own PR consultancy, Grayson Emmett Partners, last summer after departing Brunswick Group, says his firm is in the midst of a multi-country study looking at generational differences in terms of employee engagement.
Burton adds that the findings show young people want to be part of the solution in their work, rather than waiting until they have more seniority, which, he notes, may not come at a single company, since turnover rates among this age group are high.
He advises employers to empower those workers to make worthwhile contributions in the office. One way to do that, he suggests, is through mentorship, "which is one of the lost assets, particularly within communications firms."
"People still want that guidance, whether it is two generations removed or within their own generation," explains Burton. "Companies must really think about having a strong induction and onboarding program for Millennials."
To help attract bright young talent, Golin has launched an "unternship" program. For three months, new hires are paid not to come into the office.
"They can do whatever they want to get some fresh ideas, which they can then bring back to the agency and put to work," says Cook. The firm received hundreds of applications and will choose one winner to start.
"It tells young people we understand they are under pressure to start on their career path right away, even though they want to get some life experience," he explains. "This gives them a chance to get that experience while getting paid."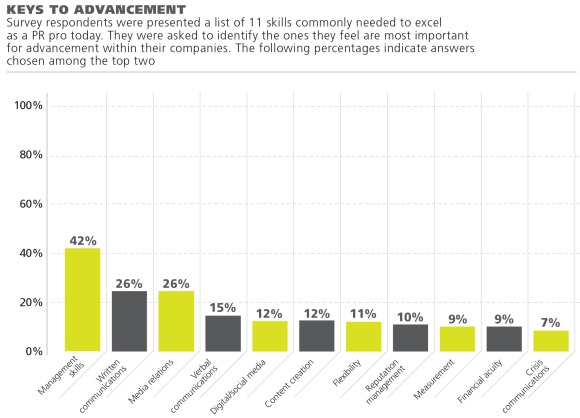 Onus on employers
While the prevailing tone is optimistic, troubling issues still exist industrywide, with the continuing chasm between male and female salaries being, perhaps, the most glaring. Survey data reveals a $46,500 gap overall, $42,000 for those with more than five years' experience.
"We have long been concerned about this wage gap," acknowledges Bloom. "However, as the war for talent intensifies, it would be in companies' best interests – more than ever – to ensure wage equality between men and women. This is exactly the sort of thing that can establish a company as an employer of choice."
The talent war Bloom references amplifies the fact that employees are in an enviable position at present.This is actually true across the entire US business landscape. CareerBuilder's 2015 hiring forecast predicts more than one in three US employers expect to add full-time, permanent staff this year – the best outlook from its annual survey since 2006. It is a market that certainly favors jobseekers.
In turn, adds Bloom, it is also an environment in which employees increasingly expect to be valued for their contributions in terms of competitive compensation, benefits, work-life balance, and opportunities to give back. They also want their employer to go above and beyond in their offering.
"Compared to other professionals, communications practitioners are more willing to listen to a possible opportunity," she explains. "However, they still want to size it up beyond compensation: Will I grow, advance, and create new skill sets for myself while having work-life balance?"
An affirmative answer to the above query will put employers in a better position in today's talent battle. So while salary remains a key factor of consideration for anyone in the PR workforce, more than ever employers who want to retain and attract top-shelf talent will have to sell them on so much more.
Click here for the Salary Survey Premium Edition.
The PRWeek/Bloom, Gross & Associates 2015 Salary Survey was conducted by Bovitz Inc. Email notification was sent to 62,916 PR professionals and a survey link was posted to PRWeek's website and various social media channels. A total of 1,002 PR professionals completed the online survey between November 19 and December 17, 2014. Results are not weighted and are statistically tested at confidence levels of 90% and 95%. This article offers only a summary of findings. Additional charts, information, and findings are available for purchase in the premium edition of the Salary Survey, which will be available this month at prweek.com/us/salarysurvey.