Ray Kerins refers to Bayer as a "trusted brand." After all, the company celebrated its 150th anniversary back in 2013. But to keep the brand's legacy intact, Kerins, in his role as Bayer's SVP, head of comms, government relations and policy, must watch the company's reputation like a hawk.
To do this, he begins each day with conference calls to his global counterparts and business leaders in Bayer's headquarters in Leverkusen, Germany. He carries out these calls during his lengthy commute from his home in New York to Bayer's North American HQ in Whippany, New Jersey. When he isn't on the phone, Kerins uses his travel time to check in on the morning's news to see if there is anything impacting the organization. By the time he arrives at the office, he says the company is usually dealing with some policy issue from the state, county, or federal government. At any given time, Bayer is contending with a laundry list of new and ongoing lawsuits and allegations.
Kerin's career timeline
2013-present
Bayer, SVP, head of communications, government relations, and policy
2007-2012
Pfizer, VP, policy, external affairs, and worldwide communications
2006-2007
Merck, executive director, public affairs
1998-2006
GCI Group, EVP, MD, corporate communications and media relations
The company took on a host of issues when it acquired permanent birth control implant Essure in 2013, for instance. The FDA released a statement around the same time, noting that since its approval of the product in 2002, 943 customers had reported adverse side effects – mainly pain caused by coils breaking and perforating internal organs. And the problem isn't going away. A Facebook group called Essure Problems was created and, as of December 2014, the page had amassed more than 13,000 members.
Celebrities are also getting involved. Last summer, environmental activist and law clerk Erin Brockovich created a website so women could share their stories and concerns about the device. But Kerins, who has led communications for pharmaceutical giants including Pfizer, Merck, and now Bayer, is no stranger to litigation and scrutiny from regulators, NGOs, and consumers.
'Be transparent and engage'
Having been in the pharma industry for close to a decade, Kerins understands the impact litigation can have on a company's reputation, and views these situations as an opportunity to engage and educate.
"Engagement of the stakeholder, regardless of who they are, should be your first move," he explains. "When we are not engaging, we don't know what stakeholders are thinking."
In response to the Essure dilemma, Kerins' comms team immediately sprang to action, creating a video featuring Edio Zampaglione, VP of US medical affairs, women's healthcare at Bayer, who provided important safety information about the product and contact information for affected or concerned consumers.
"If you have someone claiming they have been harmed," Kerins adds, "I would rather get as much factual information into the marketplace as possible, rather than offer no comment."
On a regular basis, his team makes sure the "right information" about Bayer is promoted through video, historical views on a particular product, and by publishing research on products in question.
"As litigation comes at us, we aim to be transparent and engage as often as we can," he says. "We do our best to get back to reporters, and work hand in glove with our medical, regulatory, and legal teams."
He adds that, when responding to a problem, the comms strategy does not change, no matter how uncomfortable the situation.
In terms of Bayer HealthCare's ongoing, proactive engagement efforts, the Essure issue inspired Kerins to invite Bayer's medical team to directly communicate with patients on social media such as Twitter and Facebook and report back to him.
"It doesn't take much to go online and see patients' positive and negative comments about their experiences," he says. "So we work with our medical team to identify people who are making comments."
Bayer's main communications objective is to let people know it is there to help them.
"We listen to people, but we want to hear more from them about how our products are impacting lives, and what more we can do to help them," he adds.
Not just an Aspirin company
Bayer's mission is Science for a Better Life, meaning that the company translates science into the benefit it brings to society, such as helping farmers grow better crops, Kerins explains.
In addition, Bayer is focused on advancing science literacy across the US with its Making Science Make Sense program. The companywide initiative involves employee volunteerism and public education. More than 1,000 staffers have participated, engaging and helping more than 200,000 teachers to educate students in science.
Kerins is promoting the program – which celebrated its 20th anniversary in 2015 – as part of a five-year approach to help the public understand the benefits Bayer brings to society and why the brand should be trusted.
Keeping the message consistent
Aside from Bayer's HealthCare division, Kerins also oversees communications, government relations, policy, and advocacy for Bayer's agriculture unit CropScience and plastics division MaterialScience.
Prior to his appointment in 2013, each of these departments had its own comms and government relations function, but now they are all integrated under his leadership.
"Putting together the reputation-driven corporate affairs groups under one person allows us to have a better view of service," he adds. "We wanted to make sure there is a consistency in message and approach to the way we engage legislators and reporters."
The "engage-and-educate" approach Kerins uses within Bayer's HealthCare division translates across the company's other business units, which are equally as regulated. The CropScience division, for example, has come under fire in recent years for its production of neonicotinoids, a type of pesticide the European Union says is killing honey bees in North America and Western Europe. The Environmental Protection Agency has also expressed concern, calling the product "highly toxic" in a leaked internal document from 2010.
The EPA is being sued by a coalition of beekeepers and environmental groups, which are pressing it to ban Bayer's alleged bee-killing products.
In response, Bayer is studying the situation with beekeepers and scientists. It set up a Bee Care Center in Germany in 2012 and opened one in Raleigh, North Carolina, last year to research honey bees.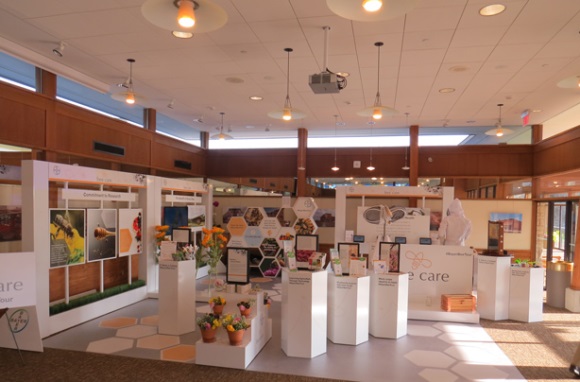 "We're committed to ensuring we do not harm bees and we have education efforts underway to support our products," he says.
A team of internal staffers holds regular events throughout the country. Last year, the team brought a mobile Bee Care Center – showcasing the importance of bees to society – to Congress, Grand Central Terminal in New York City, and the US Botanic Garden in Washington, DC. The company launched a special website and BEENOW, its first magazine focusing on bee and pollinator health, in December 2014.
"Actions speak louder than words," Kerins says. "Rather than just complaining about a problem, it's our aim to find a solution."
Although he only heads up comms for the US, Kerins regularly discusses strategies and programming ideas with his counterparts in Germany, China, and Brazil.
"We share experiences and challenges we may be facing and talk about internal policies and whether or not there is a difference regarding how we should handle something based on country-specific laws and governmental regulations," he explains.
As a global brand, Bayer's comms leaders in different countries must regularly keep each other in the loop on issues by sharing a situation analysis if something arises.
"If you have a product shortage in one country or electrical fire in a plant that supplies a global footprint of products, the ability to alert the rest of the organization is important," Kerins says.
To gain trust from the outside world, a company must first focus on its staffers, according to Kerins.
"When you can formulate a level of trust and respect internally, anything is possible, even in this crazy, regulated environment we are dealing with," he says.
This is why Kerins, who oversees a team of about 80 employees, prefers to be picky when hiring. In December, Bayer brought on former Food and Drug Administration acting associate commissioner for external affairs Steven Immergut as VP and head of pharmaceutical communications. Kerins says it took 17 months to fill that position.
"I would rather keep it open, with my team accepting a higher level of responsibility and work than make the wrong hire," he adds.
"Ray has built a great team that reflects his passion and professionalism," says Bayer Corp. president and US senior Bayer representative and HealthCare representative Philip Blake, Kerins' boss. Kerins also has a dotted line into Herbert Heitmann, EVP, global brand, communications, and government relations in Germany.


W2O Group president Bob Pearson, who Kerins previously reported to at GCI Group, concurs.
"He knows how to look around the corner to find what's next and, at the same time, is building the best team in the industry over and over again," Pearson says.
After a number of recent internal changes, a large part of Kerins' focus has been on keeping Bayer employees informed. In October 2013, for example, Bayer opened the doors to its Whippany location – which cost $250 million – consolidating operations that were previously spread out across New Jersey facilities in Morristown, Montville, and Wayne, and Tarrytown, New York. All but 100 of the 2,400 Bayer employees this move impacted now report to the new office. Last May, Bayer agreed to pay $14.2 billion for Merck's consumer care business. Whether or not Merck's comms team will be merged with Bayer's is to be determined.
Building internal trust
In addition, Bayer announced plans in September 2014 to spin off its MaterialScience business, which is expected to occur by 2016 at the latest. Bayer's Life Science businesses – HealthCare and CropScience – accounted for more than 70% of sales in 2014 so the company has been shifting more of its focus and resources to those functions, as evidenced by an investment of $1 billion in the US CropScience division between 2013 and 2016.
Kerins says Bayer is seeking global PR support for the planned spinoff, but would not provide further details about the communications strategy surrounding it. When the company first announced it would be floating the business, Kerins' top priority was making sure the company's employees heard the news first. Within the first 24 hours, Blake, along with Jerry MacCleary, president, MaterialScience, held town halls addressing 65% of the division's task force. In addition, leaders sent the staffers emails about the changes and followed up with smaller focus group conversations, and leadership team meetings.
"Employees are generally upbeat about the news," says Kerins. "They are excited about what the future holds for Material-Science as a stand-alone company."