In my previous column, I highlighted implicit bias, a need for new hiring and training practices, and the transformation of diversity rhetoric into reality as underlying issues facing the PR industry and corporate America. My goal was – and continues to be – to emphasize the importance of tackling the "uncomfortable" diversity and inclusion issues in order to effect meaningful awareness and change within organizational cultures.
While certainly not a knock against them, the awareness I'm referring to extends beyond monthly celebrations and feel-good company gatherings centered on cultural exchanges of food, goods, and speakers. There is value in these activities, but they do not drive sustained understanding of the impact of diversity and inclusion on an organization – its business, culture, people, and success. For this to happen, organizations need to put less focus on being nice about what diversity and inclusion mean and more focus on being real about what it will take to achieve it.
Imagine my elation last week when FBI director James Comey gave an unprecedented, groundbreaking, profound, remarkable, unexpected, extraordinary, pick-your-adjective speech on "The Hard Truths: Law Enforcement and Race." The address – one from which our industry can learn a lot – was delivered at Georgetown University. Comey clearly and unapologetically demonstrated leadership in action on the issue of diversity and inclusion. He asserted, "Conversations – as bumpy and uncomfortable as they can be – help us understand different perspectives and better serve our communities."
While two of Comey's four "hard truths" related specifically to law enforcement, the other two clearly offer best practices for PR and corporate professionals. First, "be honest enough to acknowledge that much of our history is not pretty… a status quo that was often brutally unfair to disfavored groups." While law enforcement's status quo has looked a bit different than the PR industry's, we, too, must be honest and transparent enough to acknowledge our shortcomings – in hiring, developing, and retaining diverse talent, as well as ensuring diverse representation at all levels. Comey calls it our "cultural inheritance." He recommends we remember our mistakes – not to dwell on them, but to learn from them.
The second hard truth he shared gets to the heart of one of the most uncomfortable topics in diversity and inclusion: "the widespread existence of unconscious bias." Few of us want to admit they have biases against others based on race, gender, religion, sexual orientation, or other qualifying factors, but most of us have them – and those biases play out in the workplace in ways we don't immediately recognize, including how we treat people, how capable or competent we view groups of people to be, and how we recommend people for opportunities and promotion. (Take the Implicit Association Test to see what your associations may be across race, gender, sexual orientation, and other areas.)
During his speech, Comey recited part of the song from Broadway's Avenue Q, "Everyone's a Little Bit Racist":
Look around and you will find
No one's really color blind
Maybe it's a fact we all should face
Everyone makes judgments based on race.
Powerful words, but it is what came subsequently that we can incorporate into our diversity and inclusion plans – including our training modules – that can result in longer-term change. Comey said, even "if we can't help our latent biases, we can help our behavior in response to those instinctive reactions, which is why we work to design systems and processes that overcome that very human part of us all. Although the research may be unsettling, it is what we do next that matters most."
For agencies, this can mean incorporating a focus on unconscious bias in the onboarding process, requiring account teams to undergo simulation training to further understand how unconscious bias may be driving programmatic decisions and focus areas, and/or training of account leads and agency executives to help determine whether unconscious bias could be a factor in personnel decisions.
Mahatma Gandhi perhaps counseled us best when he said, "If we could change ourselves, the tendencies in the world would also change. As a man changes his own nature, so does the attitude of the world change towards him. We need not wait to see what others do."
FBI director Comey demonstrated the courage to do what no one in his agency has done before. We should follow his lead. We need not wait to see what others do.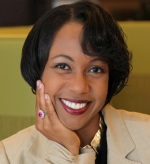 Latraviette Smith-Wilson, former VP, global diversity and inclusion for American Express, has spent more than 17 years in communications in agency corporate, consumer, and multicultural PR, as well as senior marketing roles. Her column focuses on the PR industry's ongoing efforts to advance diversity among its ranks at all levels. Connect with her via LinkedIn or at latraviette@gmail.com.