As a Millennial, I'm used to being stereotyped as entitled, narcissistic, arrogant, and lazy. But as I look around the office and speak to contemporaries, I know that in fact most of us are working shoulder-to-shoulder with Baby Boomers and Gen Xers, making sacrifices and contributing our substantial talent toward the success of our clients.
When I read media stories about Millennials, I feel a bit like Alan Turing, the historical character played by Benedict Cumberbatch in The Imitation Game.
Early in the film, British Royal Navy Commander Alastair Denniston – desperately seeking help to crack the Nazis' Enigma code – sneers at the fact that Turing, only 27, has already earned a PhD in mathematics, written seminal academic papers on cryptography, and been acclaimed as one of the world's first experts on artificial intelligence. In response, Turing points out that Isaac Newton and Albert Einstein both had accomplished their best-known work before the age of 30.
Now I'm not saying that my colleagues and I are anywhere near as accomplished as Turing, Newton, or Einstein. But we do know how it feels when people assume we are motivated primarily by selfishness rather than by purpose.
Today, most PR and public affairs work is conducted by teams. The projects and programs we deliver are far too complex to be undertaken by a single person.
All teams need an experienced strategist to guide the project and a skilled manager to ensure things are accomplished in time and on budget. Other variable team members handle writing, media relations, grassroots, advertising, and other program elements.
But rounding out just about every successful communications team is at least one expert who understands how to use social and digital media to influence media outlets, consumers, voters, and policymakers, all of whose views and opinions are shaped online. More often than not, that expert is a Millennial.
The best teams include the ideas of our generation rather than blocking our participation. Teams that are closed to new ways of thinking, or are made up of Boomers, Gen Xers, or Millennials exclusively, are doomed to fail.
I will be the first to admit that there are members of my generation that fit the stereotypes. Some are materialistic and narcissistic and would rather take selfies than accomplish anything meaningful. But some people like that exist in any generation – and they wouldn't last a week at a first-rate communications firm.
Organizations seeking to assemble a strong problem-solving team are well-advised to bring together the talents of a multi-generational workforce.
Just consider how different history might have been if Denniston had rejected Alan Turing's code-cracking ideas.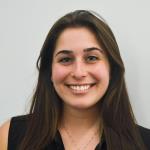 Jamie Finkelstein is a research associate at kglobal.