SANTA CLARA, CA: Intel has hired Terry Anderson as VP of global communications, a newly created role at the company.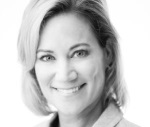 Anderson started in the role last month and reports to Intel CMO Steve Fund. She succeeds Paul Bergevin, who was VP of sales and marketing and GM of global communications at Intel until late last year.
Bergevin has joined IBM as its first VP of cybersecurity communications.
Intel spokesperson Bill Calder confirmed Anderson's appointment and said the role is an expansion of Bergevin's work. Bergevin had focused on global PR and analyst communications, but the new position also includes oversight of employee comms.
The number of Anderson's direct reports could not be confirmed. Anderson was not immediately available for comment.
A company source who did not wish to be named said the creation of Anderson's role is part of a recent shift in marketing and communications at Intel. Since Brian Krzanich became Intel's CEO in May 2013, he has set about changing the way the company develops, markets, and communicates about its products, the source explained.
As part of this plan, Krzanich brought on Fund as CMO in June 2014. Fund was previously SVP of global marketing for Staples.
Before Intel, Anderson was doing project-based communications consulting since 2013. She previously served as VMWare's VP of global communications for less than a year and head of global corporate communications at Cisco Systems for more than 13 years, according to her LinkedIn profile.