It has been the best of times for Shake Shack and the worst of times for McDonald's.
The tale of two burgers that has unfolded over the past week has exposed the chasm between passionate foodies and corporate titans amidst a contemporary culinary movement that reveres both great taste and health. Executives in every industry would do well to learn a few lessons from this burger drama.
It all came to a head last week when Shake Shack's stock skyrocketed during its initial public offering just as McDonald's reported its first revenue decline in 30 years and bid its CEO farewell.
Why such a startling divergence in the fates of these two companies? I think it has everything to do with the importance of values and reputation.
In an age of constant communication, it's critical for executives to help humanize the companies they run. Most people cannot tell you the name of the departing McDonald's CEO – and that's a problem.
Don Thompson is a 25-year veteran of the company and by all accounts a very decent and hard-working executive. But there were red flags early on. On his first earnings call as CEO, Thompson said, "A change in leadership does not mean a change in strategy."
While I admire his desire to provide continuity, what people really want during a changing of the guard is candor and character. Tell us what a change in leadership does mean. What do you stand for? Why should customers not only buy your brand, but also buy into your strategy and corporate values?
One way to define these things is to connect your work to a higher cause. In his book Setting the Table, Shake Shack CEO Danny Meyer writes, "In the end, what's most meaningful is creating positive, uplifting outcomes for human experiences and human relationships. Business, like life, is all about how you make people feel. It's that simple, and it's that hard."
Today's customers appreciate a company that believes in more than just its own success. And when customers are loyal, as they clearly are to Shake Shack, shareholders tend to follow their lead.
Companies must speak directly to the people they serve – both investors and customers.
In his pre-IPO letter to shareholders, Meyer wrote, "Shake Shack was born 'public'–at least in the middle of a public park – first as a hotdog cart, and then three years later, as a humble kiosk. We first conceived of our hotdog cart not as the basis for a business, but rather as a small experiment to see if something as simple as selling delicious hotdogs could have the power to express what matters most in our Union Square Hospitality Group culture of Enlightened Hospitality: caring for our team members, guests, community, suppliers, and investors."
It's straight from the heart. No corporate speak here.
Finally, offer a warm welcome. "The thing I learned growing up in St. Louis was the power of hospitality," Meyer told St. Louis magazine in 2007. "The enormously warm feelings of loyalty that come from feeling welcome and being recognized and having the sense that the restaurant is happy to see you."
I'm a regular at the Union Square Café on 16th Street – Meyer's first establishment in the rough-and-tumble Gotham restaurant scene. The food is good and the place is cozy, but in all honesty, I go for the welcome. In a city as anonymous and impersonal as New York can be, a friendly face at the door and a hearty "Good to see you!" makes a huge difference.
This is an important lesson for everyone, but especially for those of us who work in big companies, and who may need to work a little harder to ensure we extend a hand of friendship to our partners, customers, investors, vendors, neighbors, and colleagues.
Being nice may seem like an afterthought when you've got a business to run, but the extra effort to treat people right and communicate your corporate values clearly is never wasted.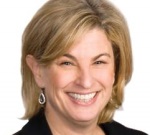 Sally Susman is EVP, corporate affairs for Pfizer. She directs the company's global communications, public affairs, and corporate social responsibility activities.