Research by social media agency We Are Social found that the Tories had 320,766 Facebook friends at the end of December 2014, while Labour had only 202,538. The Tory figure was up 29 per cent in six months, compared with Labour's more humble increase of 12 per cent.
The agency looked at all social media activity of the main parties over the past six months.
The Tories averaged about 1.4 Facebook posts per day compared with Labour's 1.46. But Tory posts drew a better response than Labour's with 3,718 likes, comments and shares compared with Labour's 3,438.
On Twitter, however, the picture was reversed. Labour had 165,759 Twitter followers compared with the Tories' 129,851. In addition the study found that Labour has a far more active posting strategy with eight tweets a day over the period compared with the Tories' 1.68.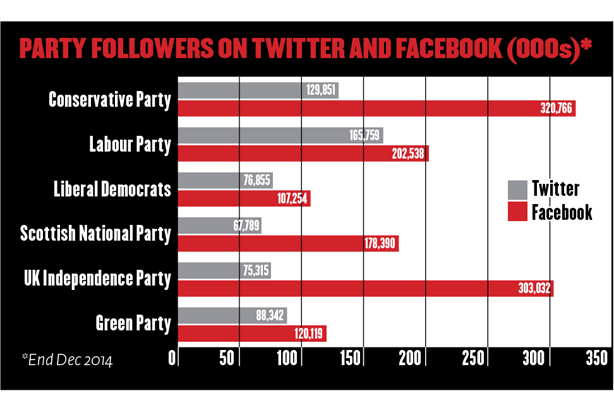 "Labour seems more at home than most other parties on Twitter, with a consistent tone of voice and wide reach, talking about the issues that matter to the public," said Paul Greenwood, senior research and insight director at We Are Social.
But he warned against using this as a prediction for the election: "It would be dangerous at this stage, especially given that most social media predictions were dramatically wrong about the Scottish Referendum.
"On Facebook, the Conservative Party's content is more engaging than Labour's and appeals to a wider audience. However, Twitter doesn't feel like a natural home for the Tories; they're too formal and have a much lower posting frequency than the other parties."