FRANKLIN, TN: Nissan and Reddit said Wednesday that an Ask Me Anything session with the automaker's CEO earlier this week was on the up and up, despite accusations that the car company's PR team created new accounts to pitch its boss softball questions.

Nissan and Renault CEO Carlos Ghosn took part in the real-time Q&A on Monday from the Detroit Auto Show. It took an unexpected turn when Reddit users began inquiring about the authenticity of questions asked from new accounts with no history.
Victoria Taylor, communications director at Reddit, said the organization investigated and found that "the percentage of new accounts asking questions that [Ghosn] responded to was within the normal range for an AMA."
"It's fairly common for us to see a lot of new Redditors asking questions based on followers and fans recruited through Twitter or other social media platforms who haven't used Reddit before," she said.

Nissan leveraged considerable social media messaging to promote the AMA, explained Taylor.
Sometimes "it's obvious that [new users] are not familiar with the platform" based on the user names they create, she added.
Another complaint from Reddit users was that Ghosn didn't answer questions quickly enough. Taylor attributed this to a number of factors, including that English is not his first language and that he was responding from a busy event.
"When someone does an AMA, they are answering questions in real-time, and that's challenging, especially for people who are not used to being in the public eye the way a celebrity is," she said. "Someone who is a business leader traditionally has expertise in management, innovation, and execution, and might not necessarily be the best in coming out with the sound bites."
While Taylor said it's a positive that users demand authenticity, transparency, and accountability on Reddit, she noted that "it's unfortunate that people tend to try to look for negative examples."
She admitted that the AMA with Nissan was not the most successful edition the platform has had, at least compared with sessions with Elon Musk and the founders of Ben & Jerry's, but she said Ghosn will try to answer more questions and engage the Reddit community this week.
Reddit, she said, will always be "open and transparent if something doesn't seem genuine."
Despite the negative coverage of the session, Nissan VP of global communications Jeff Kuhlman contended that the AMA was a success, citing the number of questions Ghosn received from users. Kuhlman said the last time he checked, Reddit's community asked more than 4,000 questions.
"It was beyond what our expectations were," he said. "The fact that so many people were on caused some concern from Reddit regulars, but at the same time, we saw others in the Reddit community actually defending what was going on and pointing out to the complainers that it was clear that we weren't putting posers on."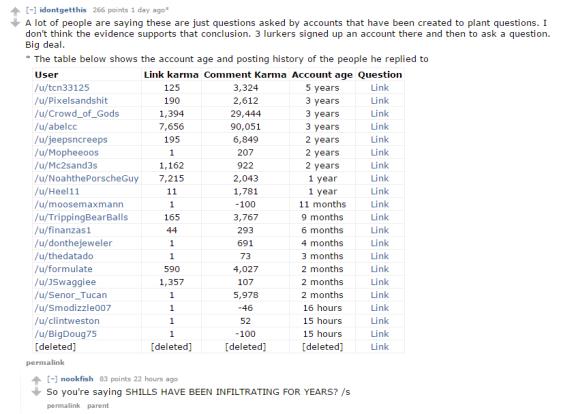 Kuhlman said he would have Ghosn do the AMA again because few forums allow the general public to directly engage a CEO.
Next time, he explained, Nissan will be more prepared for a large number of questions, and it will try to speed up its leader's ability to respond. Also, Kuhlman said if Ghosn does another AMA, the company will block out more than an hour so it's less rushed.
Jason Stein, founder and CEO of social media agency Laundry Service, said if Ghosn does continue to answer questions on Reddit, he should offer a good explanation as to what happened on Monday.
He added that Ghosn should make sure he responds to long-time Reddit users first, and he has to be prepared for tough questions.
"If you're going to go on Reddit, you need to be ready to be extremely focused and raw and not hold back in any way and really give people something you wouldn't necessarily provide on your general public channels on a day-to-day basis," explained Stein.