Propeller keeps an eye on Charlie Brooker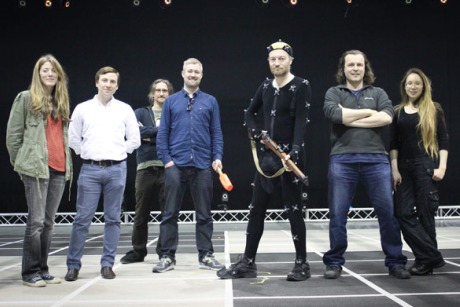 Propeller PR reassured Flack that primetime cynic Charlie Brooker had not finally lost it with the world, but was instead promoting a new computer game.
That said, check out what looks like a form of weapon held by agency marketing man Ben Titchmarsh – you never can be too careful when someone that angry is holding a gun.
---
Mr T, Ketchum and one not so Tough Mudder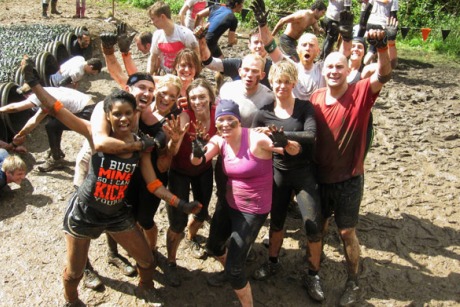 To (probably) quote Mr T, its fourth cousin twice removed, Flack pities the fool who unnecessarily runs a 12-mile obstacle course designed by a sadist fond of mud, freezing water and deep, deep chafing.
Step forward Ketchum, who figured life wasn't full of enough inconveniences already and decided to take on the Tough Mudder challenge. Of 12, 11 made it to the end, one with a sprained ankle, while another got hauled off to hospital with a dislocated shoulder. Fools? Yes. Pity? Maybe not so much. Kudos to the cryptic 'busting' and 'kicking' T-shirt though: nothing like threats of violence conveyed via the medium of clothing...
---
Flack in Cannes: Russian dolls and Richard Edelman
Whoa! @RichardEdelman @JenCohan @RussellDubner get Vined for their PR Lions Grand Prix https://t.co/vUlRHa1rzE

— PRWeek UK (@prweekuknews) June 19, 2014
Richard Edelman showed management is all about keeping your top team close to you, Russian doll style, as global chair of consumer marketing Jennifer Cohan and new US CEO Russell Dubner can no doubt testify.
That said, it's the process of getting back in that Flack really wants to see...
---
Stealing sausage rolls at the Financial Times party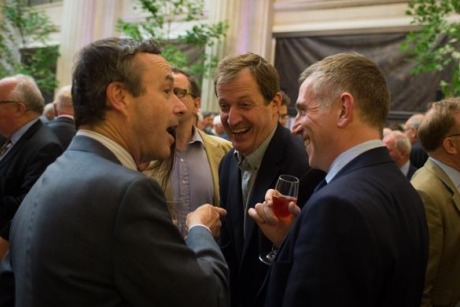 In its annual coalescing of the rich, powerful and sickeningly well-connected, the Financial Times summer party pulled in the usual array of top-flight PR folk.
Flack thought it would poke its beak in to see if it could rub shoulders with the likes of Ed Miliband and Prince Andrew. Before being "politely asked" to leave it managed to grab a few posh sausage rolls for the journey home and spot a few familiar faces. Take FT editor Lionel Barber and Portland's duo of Tim Allan and Alastair Campbell (above) for example. Flack didn't hear the conversation but imagines it went along the lines of: "So you're the ones who keep trying to scupper our stories...ha." Keep your friends close...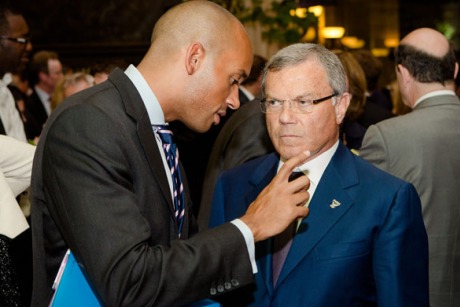 And who else but WPP supremo Sir Martin Sorrell, pulling a presumably well-practised 'I'm not impressed' face while Labour's Chuka Umunna bends his ear. You've got to work harder than that to get the party a bit of free publicity, Chuka...
---
PRCA chief Francis Ingham takes on the CIPR in the #IceBucketChallenge
Flack recalls a time, long, long ago, when having a bucket of cold water poured over your head was the preserve of Super Bowl-winning coaches and drunken sailors.
That time has passed. Now streets cannot be walked down for fear of stray ice cubes, human interaction is limited to nominations and social media feeds now exist purely for H2O-based schadenfreude. And all for a good cause.

Step forward PRCA director general Francis Ingham. Resplendent in braces and shamelessly using his time in the spotlight to announce something else entirely, he does at least drag the CIPR's head honcho Alastair McCapra into the fray, even if it is by way of a rather unfortunate Freudian slip. The extra bucket from his minion is also a rather nice touch...
---
PRWeek UK Awards 2014
Still buzzing from last nights @prweekawards, brilliant host @jkcorden #prweekawards @ashishjethwa @Mugsy84 pic.twitter.com/ITRGVSUPAt

— PR Newswire Europe (@PRNEurope) October 15, 2014
James Corden played a blinder as compere and was of course complimentary about this publication – up to a point. "I don't know why," he stated, "I trust a magazine called PRWeek – that's published monthly." Fair point.
The Gavin and Stacey actor poked fun at one particular table's lack of appetite after noticing none of them had eaten their starters, referencing the stereotypical PR person's predilection for alternative fuel...
However, we must defend the agency he accused of heading straight to the bar after picking up their Specialist Consultancy of the Year award. They were actually dutifully going upstairs to be interviewed by the PRWeek video team.
---
PRWeek Power Book 2015 launch party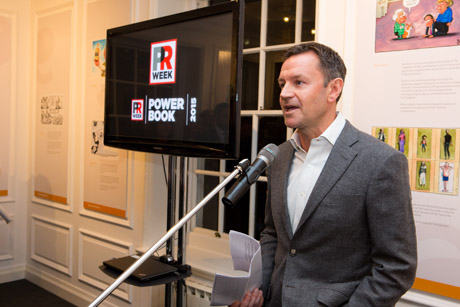 Speaking at the launch of the PRWeek Power Book 2015 at the Ellwood Atfield gallery in central London last night, Gavin Ellwood outlined the fascinating findings of his meta analysis of all the Power Books since its launch in 2007.
Just 53 people appeared in all eight books. The game headhunter then scrutinised their Twitter followers. Apparently there were only three names followed by all 53. And who was at the head of the list? Our own esteemed editor Daniel Rogers Esq. Eat your heart out Paul Polman, Danny is the most powerful player in UK PR today. Maybe.