The new year will mark 30 years since the record-breaking single "We Are the World" was released. It featured a diverse collection of entertainers who joined voices around a single message: "There comes a time when we heed a certain call, when the world must come together as one."
These lyrics have looped in my mind over the past few weeks following the non-indictments of officers in the deaths of Michael Brown in Ferguson, MO, and Eric Garner in Staten Island, NY. The world has been watching. National leaders and elected officials have been talking. A coast-to-coast multicultural legion of citizens has demonstrated democracy in action, as well as the power of diverse coalitions. As people nationwide have banded together to address what they see as the US justice system's injustice, they have also highlighted many of the underlying issues we often face in the PR industry and corporate America, including implicit bias, a need for new hiring and training practices, and the overall challenge of transforming diversity rhetoric into reality.
With a heightened national consciousness around issues of race, several companies have spoken up about these often-avoided subjects, which I see as an encouraging sign. However, I have also noticed the discomfort many have in doing so. Several PR colleagues have asked me whether it is our and business' role to address such "sensitive, polarizing, and legacy societal issues." Some assert these topics are well beyond the range of matters that should fall under the scope of CSR or diversity and inclusion. They have said, "I can't see any benefit to our employees or business bringing this kind of unrest into our offices."
I have a different perspective, one that encourages us to use times such as these to explore new ways to steer clients and internal agencies toward meaningful and authentic diversity engagement.
What is happening in the streets of our nation presents significant engagement opportunities within the walls of corporations. Employees and other stakeholders do not leave who they are – their biases, concerns, fears, stereotypes, and convictions – at the door when they enter an office. Many of those who are participating in demonstrations (whether physically or in virtual solidarity) are sitting in corporate and agency offices by day, providing services to customers or sitting alongside colleagues who may hold completely different views on the issues. It is in moments such as this that diversity and inclusion strategies that address implicit or unconscious bias and CSR commitments that claim to "support the communities in which we do business" can be lifted from black and white in the pages of policy handbooks and transformed into full color via bold engagement, dialogue, and action.
This is precisely what Centene did when it announced in late September – in the middle of ongoing protests and demonstrations – that it would invest in the city and people of Ferguson by locating its new $15 million facility there, employing up to 200 people. It's what Twitter did when it painted #blacklivesmatter on a wall at its company headquarters in San Francisco and shared the photo online. On the same evening, the company hosted an event focused on increasing diversity within technology companies, an area Twitter has acknowledged that it needs to significantly improve. It's also what Starbucks did this week when CEO Howard Schultz held an open forum at the company's support center in Seattle. The event provided employees a platform to have a conversation about their personal experiences regarding issues of race, with Schultz subsequently releasing a video of the forum and a letter to all US employees expressing his concern about the impact of racism and societal schisms on the nation. Based on the forum's success, Starbucks will continue these internal-only events across additional cities to spark more honest dialogue among its employees.
By confronting these issues when many in the business arena have chosen to remain silent, these companies have clearly stated – and staked – leadership positions in how to effectively use their influence, voices, and convening power to address the inevitable overlap of difficult social issues with business and communications concerns, whether internal or external. While sometimes the goal is to find answers and provide solutions, at others it is to acknowledge the issues and the undeniable role they play in employee morale, community and partner engagement, and consumer loyalty.
I'm not certain what, if any, long-term sales impact this will have on Starbucks. I do know, however, the company received one extra sale yesterday as I bypassed the convenient coffee shop in my office building and crossed the street to Starbucks. If Howard Schultz can stand for these important issues, I figured I could stand in line to support his company.
PR pros are most often the first line of counsel and trusted partners for internal and external messaging, engagement, CSR, and diversity and inclusion strategies. The events in Ferguson, MO, and Staten Island, NY, in recent weeks can be a lesson to us all that we are at pivot points both for the nation and for how we choose to engage in the "uncomfortable" diversity issues.
The time has come to heed a certain call. We must do so – boldly.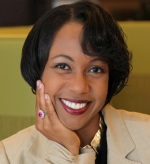 Latraviette Smith-Wilson, former VP, global diversity and inclusion for American Express, has spent more than 16 years in communications in agency corporate, consumer, and multicultural PR, as well as senior marketing roles. Her column will focus on the PR industry's ongoing efforts to advance diversity among its ranks at all levels. Connect with her via LinkedIn or at latraviette@gmail.com.