Type "Uber" into Google News section and what you end up with recently is a list of controversies. Some of them revolve around the company's business model, which disrupts traditional supply chains. If you are an entrepreneurial type, you might be inclined to like those headlines.
Still, most of the coverage comes off sounding negative. Add rape charges against a driver in India, a vice president that can't seem to stop sounding like a wise guy (the kind that asks for protection money, not the type that tells jokes) and just this week a perception that the company was trying to profit from tragedy in Sydney, and you have a serious failure to communicate. (Update: The company has emailed its customers to address the safety issues.)
"Uber has been rocked by one PR blunder after another, and it looks like an arrogant attitude and hubristic way of thinking are behind this tendency," said Bob Pickard, Asia-Pacific Chairman at Huntsworth in Singapore. "They are failing the PR grade by asking the wrong question of 'What is the right thing to say?' rather than 'What is the right thing to do?'"
"They've been struggling in what looks like an improvised and amateur way, and often it seems there is a yawning chasm between the content of their communications and the seemingly grasping commercial imperatives behind the image mask they've fashioned for themselves."
Trouble all over
Just another small San Francisco startup several years ago, Uber has become a global brand with headaches on a worldwide scale. Business Insider reports that "Thailand, the Netherlands and Spain have ruled it [Uber] illegal and Denmark and Norway have filed complaints against the company." The site also said the city of Brussels had plans to file a complaint, implying another possible shutdown.
Some cities in the US have also imposed injunctions. And Nevada has suspended the company's operations across the entire state. Uber has set up a website to encourage residents to write to the governor and state attorney general's office to lift the ban. The company argues that people both need and love its service, so why is it getting the boot?
It's not doing much better in France, where it faces eviction as well. Uber has argued that if the French government ban its service, that would violate the practice of free enterprise and the principle of equality. But the equality argument doesn't carry much weight with government-regulated taxi drivers who have to pay for state-sanctioned livery licences, which Uber drivers simply circumvent.
Uber's business model has disruption built into it. The company uses lots of infrastructure that it doesn't own (private cars and mobile-phone networks) to turn otherwise idle machinery and labour into a logistics business. It's an innovative approach, and anything that disrupts also disgruntles. But the company's rather cavalier attitude about its better way of doing things can rub the wrong way, and may be one of its biggest obstacles.
When comments (which certainly could have been exaggerated) from Emil Michael, a senior vice president at the company, made headlines suggesting he was going to fund smear campaigns against journalists, outrage erupted across social and regular media platforms. But the company's response didn't get into any nuance and just seemed to smugly brush off the situation.
That controversy died down, and people have even subsequently come forward to defend Michael, but the VP is back in the news with a weird war of words with his landlord, which makes that earlier nastiness characterization seem believable again. The image that comes though for the firm is one of a brash and brutal business culture—and maybe not the kind of people you want to catch a ride with.
Slammed in Sydney
This week's PR blunder was even wrose. When the firm introduced its surge pricing (where rates go up for heavily trafficked routes or events) in Sydney, it coincided with a hostage situation in the central business district (CBD). News was patchy and conflicting, as is often the case with emergencies, and people just wanted to get away from the area, creating a surge of demand.
Uber's Sydney Twitter account then carried the message "We are all concerned with events in CBD. Fares have increased to encourage more drivers to come online & pick up passengers in the area."
We are all concerned with events in CBD. Fares have increased to encourage more drivers to come online & pick up passengers in the area.

— Uber Sydney (@Uber_Sydney) December 15, 2014
This was widely interpreted as predatory price gouging. Replies to the message ranged from "You're garbage" to far-more expletive phrasings.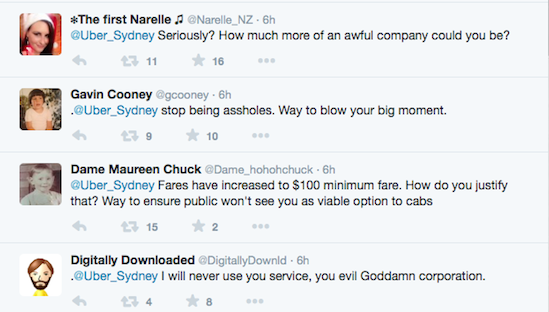 Twitter user @LexiMetherell maybe summed it up best:

Uber followed up later with another tweet saying that rides out of the business district would be free (though the company would still pay drivers higher rates to encourage them to head into the area in the first place). If only that had been the way the company started addressing the situation. The subsequent tweets have gained accolades, but as several observers pointed out, it seems like it took negative consumer sentiment to turn things around.
Asked to comment on the Sydney situation, Uber first sent PRWeek a copy of its boilerplate reply stating that rides would now be free, which we knew already.
When pressed for more detail behind the company's initial thinking, Katie Curran, Uber's communications lead for Australia and New Zealand, finally responded about the day's events as follows: "Surge pricing is algorithmic and responded automatically to the large increase in demand for Uber rides out of the CBD. As soon as we became aware of the situation, we capped it and made all rides free to people leaving Sydney's CBD. Uber is paying for these rides. If riders got charged surge pricing earlier, we will refund it."
Based on the first tweet voicing concern about events in the CBD, it's hard to completely accept the idea that there was significant lag between seeing the surge and understanding the cause. But taken at face value, Curran's statement shows a company that while it is trying, at best doesn't completely grasp the depth it has to go to operationally to be a truly global brand.
Essentially blaming its own automated system for causing a PR fracas is not much of an excuse. And the company already faced similar troubles in the US during Hurricane Sandy when surge pricing also looked like gouging. Eventually the company reached an agreement with the New York Attorney General to cap pricing during emergencies. So pleading befuddlement over an unexpected surge in Sydney seems disingenuous. But it more likely reflects a corporate culture that needs work not just externally but internally as well.
Distributed culture
While Uber does function all around the world, the company uses small local teams to make up the whole of its operation in each city. A recruiting letter that circulated among MBAs in Hong Kong out of the company's Shenzhen office said, "We hire lean, three-person teams in each city, so that we can run fast and autonomously, while ensuring a culture of real ownership and impact."
The letter didn't detail revenue sharing, but there must be a strong profit motive for those three-person local teams. Maybe they are overworked, or maybe the sudden surge pricing seemed like a win-win to a team that hadn't lived through it firsthand in New York.
The evidence seems to demonstrate that while Uber may have stumbled onto a successful business model, with a service that people really do like and need in some cities, it still has a lot of work to do from an organizational standpoint. Its lean mentality has been lauded in some business journals, but that same thin management seems to be at the root of its public miscalculations. As Pickard stressed, focusing on how to act frames every aspect of the business. The 'what to say' part should then come out naturally and (with any luck) positively. In Sydney Uber did, eventually, act the right way, and hopefully the lesson is learned. But its seeming reliance on slickness suggests the San Fran startup still has a lot of teething to do.
"Corporate culture informs corporate communications," said Pickard. "And from what I've read about the Uber way of doing things, there is absolutely no reason to believe that this 'issues rich' company will stop making spectacular PR gaffes."