It was always thought that the digital/ social revolution would be a kind of ­Darwinian winnowing machine that would sort the wheat of the adaptable and fleet of foot agencies from the chaff of the slow and sclerotic.
If the results of this year's survey of the top 40 UK PR agencies by accountants Kingston Smith are anything to go by, the great winnowing has begun.
The study of agencies' financial results for the year 2013 paints a surprisingly gloomy overall picture of an industry skewered by stalled ­revenue growth and rising costs. Gross income (turnover less bought-in third party costs) grew by just 4.24 per cent to £571.4m year on year. But with ­inflation running at close to three per cent, real growth was negligible.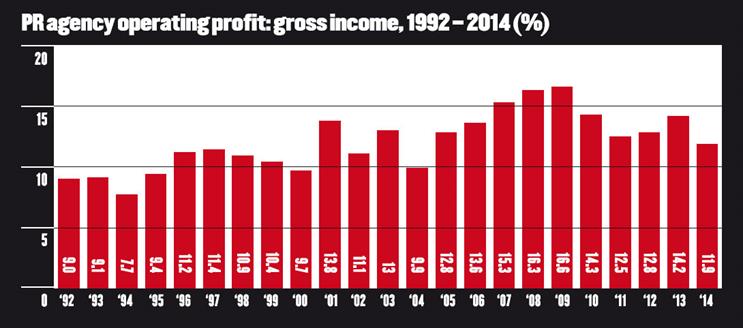 At the same time employment costs grew by 5.25 per cent and other operating costs grew by a disturbing 7.47 per cent. The upshot was that ­operating profit margins declined by nearly a sixth to just 11.9 per cent, the lowest level since 2004.
The level of absolute profits also declined ­markedly year on year with the top 40 achieving a combined £68m in operating profit ­compared with £73m last time round, representing a decline of nearly ten per cent in real terms.
Coming after an exceptional 2012 that benefited from the Olympics, it was no great ­surprise revenue growth would be limited. More intriguing though is the quite marked increase in costs. For instance, wages now account for 62 per cent of gross income compared with 61.2 per cent last year.
There are a number of factors behind this, says the report's author, Esther Carder, partner at Kingston Smith. First there is the question of the shift away from retainers to project work. "Clients are moving to pay as you go. In theory it means agencies can improve their margins because it ­allows them to constantly reprice," she says. But project work also means that it is harder to ­predict resource levels with pinpoint accuracy and that means costs can grow relative to income.
Paradoxically growth in costs can also be read as a sign of an increasingly healthy economy as it gradually emerges from years of limited growth. "To some extent there is a general (pent up) wage pressure: I haven't had a raise for some years now, I want one," says Carder.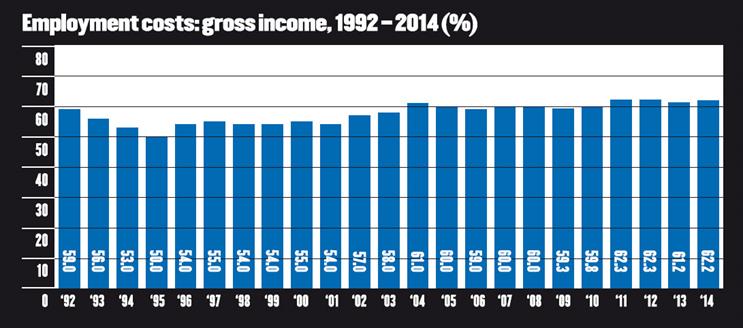 Wage battle
The third factor behind wage growth is the shift to digital or rather the competition for digital ­talent. "There are not enough high quality digital people at the moment, so they command a ­premium," says Carder. Other sources suggest this can be as high as 25-30 per cent. As PR ­agencies move into this area they will inevitably have to pay a higher share of income in wages in order to compete with other sectors.
Meanwhile 'other operating costs' have ­increased by nearly a tenth as a proportion of gross income. This too can be seen as a mark of a growing economy. "The largest single element of other costs is rent. Most PR agencies are situated in central London where rents are high and ­growing," explains Carder. She says this is what lies behind the exodus of PR agencies from the West End of London to cheaper, more ­peripheral areas such as Shoreditch. Despite ­increased wage costs, the number of employees working for the top 40 increased slightly by three per cent to 5,500 last year. This meant gross income per head was just £105,000, a significant decline in real terms on last year's figure of £107,000.

The overall impact of static revenue in real terms combined with rising costs means that the upper end of the industry has performed poorly on the key measurement of profitability and ­productivity: operating profit per head. This has fallen from more than £13,800 to just under £12,500, a nominal fall of 9.5 per cent, but a real fall of around 12 per cent once inflation is taken into account.
However these are merely headline figures. Just as the head of a snake can be moving in a ­different direction to its tail, the headline figures are an average that conceals the fact parts of the industry are losing ground while other ­segments are making great strides. "This year has seen a mixed bag of results and a good number of agencies have been improving across the key ­ratios, managing to grow while keeping control of staff numbers as well as successfully absorbing increases in other overheads," says Carder.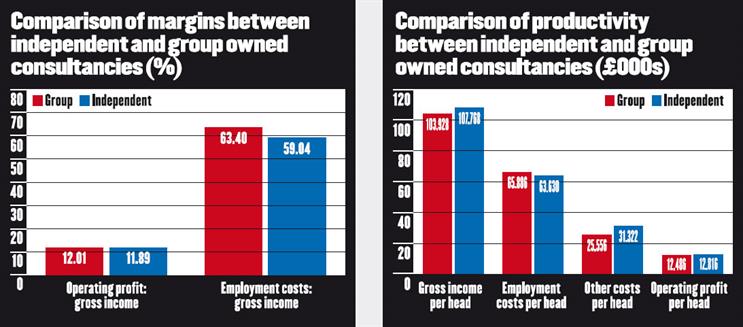 A key split was between group-owned and ­independent agencies. Although they performed similarly on gross income, reporting four and 4.6 per cent respectively, there was a stark contrast when it came to operating profits. They declined by nine per cent for the group-owned agencies and two per cent for the independents. Again the report says that this is due to the poor ­performance of "a few lead agencies".
However operating profit margins in the two sectors were very similar. The report argues that this is because the independents were very good at keeping wage costs down but were hit harder by the increase in other overheads, which have to spread over a smaller employee base. In terms of how different sectors have performed, consumer PR has remained static and is the least productive sector according to the report.
In contrast the financial sector has long been the most profitable and buoyant and this remains the case this year. Financial PR companies ­occupy the top five positions on the Kingston Smith chart in terms of gross income per head.
But the report identifies healthcare as the most improving sector with growth of gross income per head of more than 12 per cent. This is largely the result of the fact that the sector is now getting to grips with digital, says Carder: "They were ­initially slow, but results suggest this is changing as they find innovative ways to use communications tools, especially social media."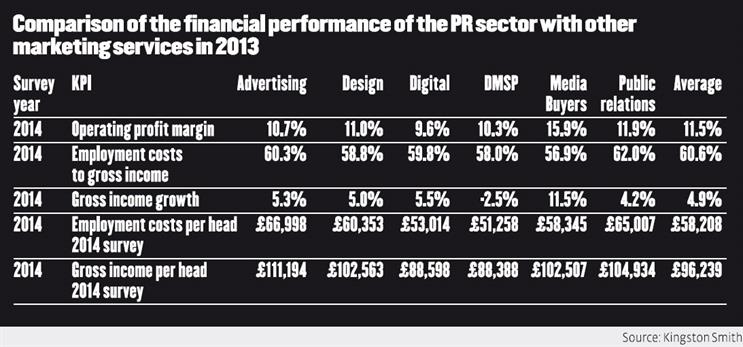 Digital dynamos
It is the adaptation to digital that appears to be the big determinant of business performance at the moment. Those agencies (in all sectors) that have embraced digital "seem to be prospering while those that have yet to come to full terms are the ones that are floundering", argues Alex De Groote, media analyst at stockbroker Peel Hunt: "The bits of client budgets that are growing fastest are social media. Some companies have been less fleet of foot than others when adapting to this change but the companies I see that are on top of digital are the ones seeing the best growth."
The report says that it is "larger agencies that have tended to struggle in relative terms". ­Certainly when it comes to gross income, Freuds was down in real terms, Hill+Knowlton was down significantly, Fishburn was down by 11 per cent, The Red Consultancy by seven per cent and Frank by 20 per cent.
In contrast companies like Golin and Edelman that have invested heavily in adapting themselves to the digital world are flourishing.
The companies I see that are on top of digital are the ones seeing the best growth

Alex De Groote, media analyst at stockbroker Peel Hunt
If it seems that the accounts of the top 40 agencies paint a miserable picture of the industry's ­performance in 2013, there are two rays of light.
Firstly the PR sector performed fairly well ­compared with the other marketing services ­sectors. The average operating profit margin for marketing services was 11.5 per cent. The PR ind­ustry's 11.9 per cent sets it ahead of advertising, design, ­digital and direct marketing, behind only the money-making cash cow that is the media buying sector with its margins of 15.9 per cent.
Employment costs are higher than in other sectors because it is a people business – £65,000 compared with a marketing services average of £58,000. Nevertheless, gross income per head was £105,000, well above the industry average of £96,000 and higher than all other sectors apart from advertising.
One problem with the Kingston Smith report is that although it offers high quality information, it is inevitably historic. Most of the information is at least a year old, relating to a financial reporting period end December 2013.
The other good news for the industry is that the ­economy has picked up markedly in the past 12 months, so the gloomy performance of 2013 should be a thing of the past, says Peel Hunt's De Groote: "The economy is great at the moment. Banks are lending, asset prices are rising. So if your PR agency is underperforming, it is not ­being caused by general market conditions. It is company specific."