A recent DVD released by Japan's SDF features a young woman licking an ice cream, another in a miniskirt and bare-chested male soldiers. Earlier this year the SDF appointed pop idol Haruka Shimazaki of the popular J-pop group AKB48 as brand ambassador. All this is part of a charm offensive launched by the Japanese armed forces in a bid to sign up young recruits.
Haruka Shimazaki appears in a SDF promotional video
As public opinion gradually shifts in favour of serving in the military and Prime Minister Shinzo Abe campaigns for a re-interpretation of a constitutional law that bars Japan from taking any pre-emptive military action even in the face of an imminent threat the soft public relations campaign by the SDF is raising eyebrows at home as well as abroad.
When Ross Rowbury, president and CEO Edelman Japan first arrived in Tokyo some two decades ago as a banker and took up the role of a defence analyst even talking about the Japanese military used to be taboo. "SDF has been conducting recruitment campaigns for years. There is nothing new," he told PRWeek. "But it used to be a lot more discreet".
This is because of the particularly destructive role Japan's military played during World War II. Its brutal campaign across Korea, China and parts of South East Asia still invoke bitter memories. After its defeat, Japan, under the post-war pacifist constitution swore not to have a military force – at least not in the traditional sense anyway. Which is why the SDF, a fully operational 230,000-strong air, ground and marine force is officially an extension of the police. But attitudes are shifting and more Japanese are now in favour of seeing Japan have a regular military force.
"What I see now are a lot more TV dramas around the SDF. The Japanese now attach the same degree of romance and glamour to their armed forces as people do anywhere in the world," says Rowbury."I do think that Japanese people are becoming a little bit more used to the idea than in previous years," Kirk Spitzer, a journalist covering military affairs told PRWeek.
A popular anime TV show depicts schoolgirls engaging in tank battles
But the use of popular culture by the SDF to win the hearts and minds of ordinary Japanese is not new. In 1993 the Japanese Defense Agency (JDA) established a Department of Public Relations within the Division of Personnel Training in order to train officers in a variety of public relations skills (source:Japan Focus). According to Sabine Frühstück, professor of modern Japanese cultural studies at the University of California today, roughly a thousand service members are entrusted with public relations efforts within the JDA and in individual offices on bases across the country. The SDF public relations efforts emphasising its peacekeeping and disaster relief capabilities more than its combat readiness. The notion of pride and honour is rarely used. Since 1992, the SDF has often depicted popular female television celebrities on its posters and publications. According to Frühstück although the actual ranks of the Self-Defense Forces is predominantly male, women are over-represented in public relations posters. 80 percent of all Self-Defense Forces posters, she says, these days feature women. The use of women in recruitment images, Frühstück claims in her research, "appears as an attempt to garner legitimacy" by demonstrating that SDF is an "equal opportunity employer" just as any other government department.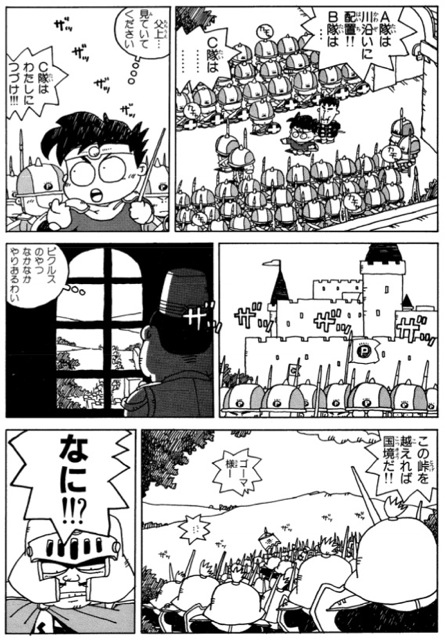 In the mid-nineties the SDF published Prince Pickles (left) a cartoon comic series that was aimed at children. The campaign, which was choreographed by the JDA and designed by Dentsu was part of a larger campaign aimed at establishing a soft and friendly image of the Self-Defense Forces in Japanese society.
Each year the SDF organises dozens of events that are open to the public and designed to improve its image, showcase the military capability of the force as well as their human side. These events cover a broad range of activites incliding open house days, anniversary festivals, parades, and live firing demonstrations.
The SDF Music Festival, for example, is held annually in Tokyo draws an audience of over 40,000. The festival features a thousand service member musicians who play primarily marching music during a series of six concerts over two days.
SDF Music Festival 2013
Relief efforts in the aftermath of the 2011 Tsunami raised the stock of the SDF among the Japanese public and the sight of troops combing the coastline for survivors became a comfort for many. A government survey conducted by Japan's cabinet office before the disaster showed most Japanese (75.6 percent) maintained a neutral to negative stand on the SDF playing a more robust national defence function. But after the disaster public opinion became much less resistant to the idea (59.5 percent). A study conducted by a private research firm in May 2012 showed public trust in the SDF stood higher than those for teachers. (source: Asian Journal of Global Studies)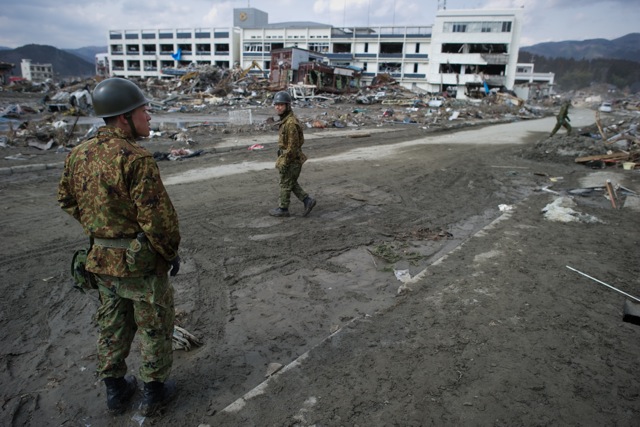 "People have begun to feel the same way about the military as they do about police or firefighters," Yoshinori Saeki, secretary general of the Tokyo based Research Institute of Peace and Stability told News on Japan.
A 2013 survey found that one in four Japanese wanted an increase in Japan's defence capability, up from 14 percent just three years earlier. A poll conducted in May 2014 found more Japanese now favour removing Article 9 from the constitution. It is the clause that keeps the SDF from being transformed into a full-fledged military.
The Self-Defence Force is an operational military in all but name
In the past five years Japan's security environment has become a lot more unpredictable. North Korea has tested three nuclear weapons and continues to work on ballistic missiles. Russia has increased it reconnaissance activities and China has become much more assertive over its claims over the Japanese controlled Senkaku Islands (which Beijing refers to as Diaoyu). Last year Japan scrambled fighters to intercept unidentified foreign aircrafts 433 times – a new record. This change in the security environment may have also contributed to the shifting public opinion.
"China's increasing military strength and aggressive territorial claims are also forcing the Japanese to consider that they might actually need protection, after all," says Spitzer.
The sentiment is reflected in enlistments. In 2013, some 34000 Japanese competed for almost 10000 slots available for rank-and-file soldiers, up 62 percent from 2011. And in a new fad, young Japanese women are lining up to join matchmaking parties to meet SDF soldiers. There is also a notion in some quarters that a properly re-militarised Japan may help the country come of out of its economic slump. In 2013 the government eased some its self-imposed ban on arms exports.
But as public attitudes change and Japan acquires a more muscular military force it will need to take into account what message it is sending out."Japan has invested heavily in all its neighbouring economies, bar North Korea. It has not been able to convert this adequately into 'soft power' by reassuring all neighbours that its future is now intrinsically tied up with the future of its neighbours and, therefore, it only seeks good relations with them. Japan must do more in terms of its 'soft power' projection as it invests in its 'hard power'- i.e. military capability," says Sanjaya Baru, director for Geo-economics and strategy at the International Institute for Strategic Studies. "The aim of the PR campaign (SDF recruitment) would have to be to assure young Japanese that this is a good 'career' option, rather than promote this as an "act of patriotism". This would also assuage any concerns about Japanese militarism," he told PRWeek.
"The best way for PM Abe to reassure Japan's neighbors is to refrain from visiting Yasukuni Shrine and to tone down his comments about Japan's wartime and colonial history," says Spitzer. "Abe seems to think that Japan did no wrong during that period — and that's bound to make the neighbors nervous."