Link
http://www.businesswire.com/portal/site/home/picture-capsules
Specifications
Business Wire's Picture Capsule allows clients to create embeddable images that use an overlay to present icons viewers hover over to reveal additional content. Picture Capsules can be displayed with press releases sent through BusinessWire and displayed on multiple online channels, including media websites, blogs, social channels, and more.
Capsule analytics include views, shares, image embeds, aggregate hovers over each icon, and clicks on each icon. Analytic reports are updated for 90 days.
Cost
A Picture Capsule that includes up to 10 links to additional content or sites is $2,495. Press release distribution cost is extra.
Ownership
Developed for Business Wire by NextWorks
User
Gloria Barone, director of corporate communications and PR at Cigna, has been using Picture Capsule since September 2014.
How do you use it?
Using Picture Capsule is really easy, especially for people who are familiar with using Business Wire's news release system.
I uploaded a traditional news release to Business Wire's online distribution site. Then I emailed the photo for our Picture Capsule, along with the assets I wanted embedded in it, to the people at Business Wire's partner NextWorks - and they put the capsule together.
Business Wire then married the picture embedded with the additional content with the news release and sent it out all at once. Viewers of your release can retweet from the Picture Capsule.
You have to submit everything for Picture Capsule – your release, the photo, and all assets to be embedded in the photo – 24 hours before you want your release to go out.
We've only used Picture Capsule once so far, and we had a customer service person from Business Wire and from NextWorks available to us the entire time. I didn't encounter a problem, but if I had I could have called or emailed my customer service contacts.
How does it serve your business needs?
As part of our PR strategy for 2014, we wanted to find better ways to package and distribute our messages. Packaging releases with visual elements is becoming increasingly important, and before Picture Capsule was even available we were looking for ways to do that.
Picture Capsule came along at exactly the right time for Cigna, because we launched a new brand platform in early September. In order to launch successfully, we needed to show people everything about the new brand and what it looks like. Picture Capsule was perfect for this.
We used a photo that exemplifies the new brand campaign for our Picture Capsule. We had been building a microsite that houses the new ad, new videos, new customer stories, and more. Picture Capsule allowed us to wrap those assets together at launch.
We got significant results, including 4,313 tag hovers, which showed people interacted with the photo and links on it. The Picture Capsule also got nearly 1,000 views right away, which is significantly higher than immediate views of our text-only news releases.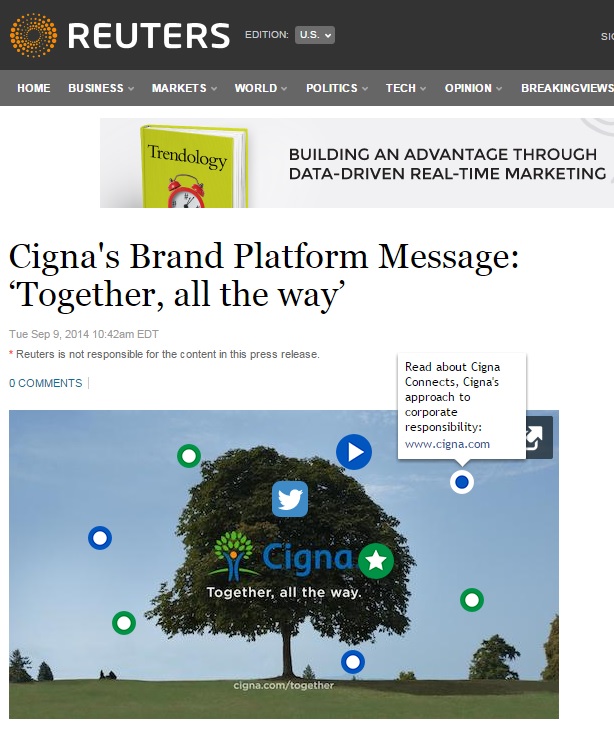 What are the main benefits?
It gives us a very visually appealing way of packaging messages and news announcements. It's really simple to use and also easy on the eyes.
Its interactivity – the ability to just click on it and go to other assets - is very simple, easy, and convenient.
What are the main drawbacks?
Distribution isn't instant. You need to build in that extra 24 hours beforehand. This isn't really a drawback – it's just something to keep in mind.
What would you like to see improved/added?
You don't get to see how the Picture Capsule and release are going to look together before it goes out. It's not really a big deal because you've approved all the pieces. I was still a tiny bit worried, but it turned out perfectly.
Competitors
PR Newswire's Multimedia News Release – allows clients to create and distribute text news releases and a multimedia page that can include photos, videos, and additional content. Features include customized widgets, photo display on the Reuters Billboard in Times Square, video posting to YouTube and other video channels, and the ability for viewers to easily share content to social media channels.
NextWorks' Content Capsule – allows clients to combine and present content including videos, images, links, documents, and presentations into an interactive and sharable digital capsule. Capsules can be embedded on websites and blogs and shared via email and social media channels. Analytics include real-time monitoring and measurement of all capsule elements.