A survey conducted by the Filipino PR agency EON has reinforced the need for government and business to communicate better and more frequently. The Philippines Trust Index (PTI) 2014 study finds that public trust in government has declined. Four out of 10 Filipinos say that "not being corrupt" is the most important driver for them to trust government. However, fewer than two in 10 believe the government is not corrupt. This despite the squeaky clean image of President Benigno Aquino III and the anti-graft measures that he has taken since coming to power.
According to Malyn Molina, EON assistant vice president for business development and strategic planning, this could be the consequence of the timing of the PTI study, which was conducted between May to June this year when the government was hit by a series of scandals. The study found that for the government, integrity is the foremost trust driver, dwarfing competence, performance, and leadership.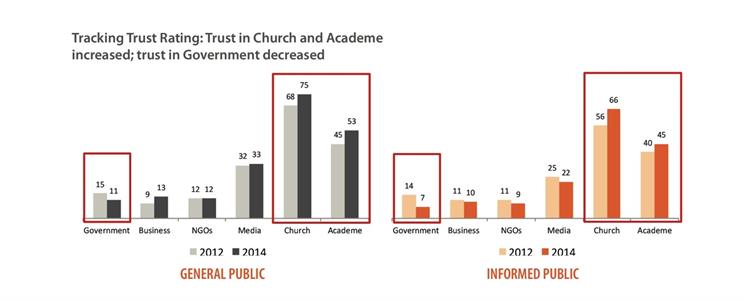 In business, healthcare, water, IT/telecom, tourism and pharmaceutical industries were accorded the highest trust levels, while the mining, alcohol and tobacco, and real estate industries garnered the lowest.
How business treats its employees also emerged as a very important trust driver. Three out of 10 respondents said they trust businesses that give fair salaries and benefits. Notably though, while trust in business has improved among the general public it has declined with the better educated 'informed public'.
"Historically, the general public is more trusting than its informed public counterpart; also, the perceived trust in business among the general and informed is in fact a statistical tie, since the study's margin of error is +/- 2.5 percent, " Molina told PRWeek. Trust is strongest with the Church, which scored a 75 percent rating.
"The results show that trust is dynamic and that it can be built and eroded," Molina said. "It also highlighted that for Filipinos, trust can break communication barriers and is a tool that grounds relationships, which is why it will always be worthwhile to invest in building trust."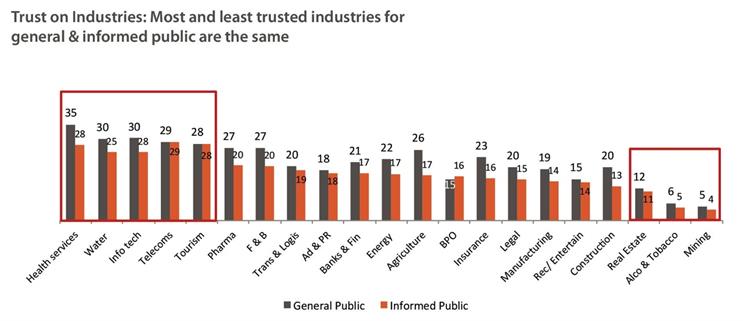 Media emerged as the most trusted source of information. Television is the most common source of information for over 99 percent followed by Radio at 60 percent.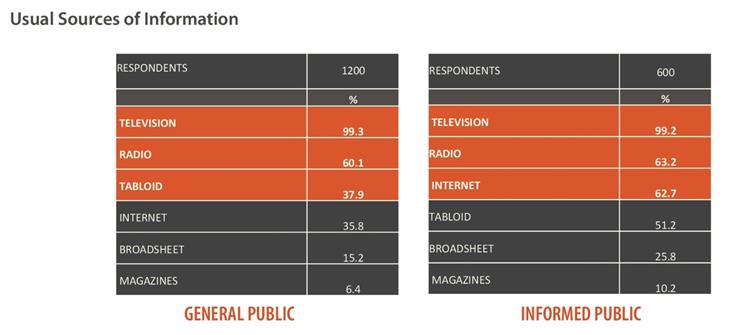 "The study shows that in order to gain the trust of the Filipinos, an institution must deliver based on a set of trust drivers. Trust protects a company's reputation, which has been shown to have positive effects for business—growing valuation, market share, and other critical metrics," said Molina. "Communication is crucial in fortifying trust-based relationships. Whether it is to address an issue, share plans and goals, or create engagement, having that open link with stakeholders is very important."
The Philippine Trust Index, now in its third year, covered 1,626 respondents, which the study split in two separate categories: the informed and general public. The Informed public as defined by the study are adult Filipinos aged 25 years and above, with educational attainment of at least third year college, belong to economic class A to C, and access print, online and broadcast media at least thrice a week, on average. Face-to-face interviews with respondents from urban and rural areas in NCR, North Luzon, South Luzon, Visayas, and Mindanao were conducted, to gain a better understanding of the various factors that contribute to Filipinos' trust in institutions. These covered the Church, Government, the business sector, Non-Governmental Organizations (NGOs), the academia and the media.