He has been electrocuted, frozen, and almost set on fire – all in the name of his job. No, he's not a superhero or a masochist. Ben Johnson is a Tough Mudder. In fact, he is the global head of communications for the obstacle course race that bills itself as the "toughest on the planet."
2013-present
Tough Mudder, global head of comms
2011-2013
Weber Shandwick, group manager
2010-2011
Edelman, senior account executive
2008-2010
Ruder Finn, business development
2006-2007
Office of Denver Mayor John Hickenlooper, communications assistant
Since Johnson joined the organization about two years ago, he's seen it undergo tremendous growth, expanding from 53 events in five countries last year to more than 60 across seven countries in 2014.
Despite Tough Mudder's global scale, the company has a small team of about 150 full-time staffers, including Johnson's team of one other communications person and four customer service employees. The PR function, which sits within marketing, also receives support from two marketing associates, in Europe and Australia. At the rate of the four-year-old company's growth, Johnson says he plans on adding three comms staffers in the US at the beginning of 2015.
"The whole company is still very much in startup mode," says Johnson, "which is great because we get a lot of people who are really passionate about owning their space and seeing through large-scale projects on a day-to-day basis, but next year we are going to scale significantly."
In the last 18 months, Johnson has secured placements for the brand and its founders Will Dean and Guy Livingstone in major media outlets such as The New Yorker, Men's Fitness, the Today Show, and Live! with Kelly and Michael, in which the co-hosts participated in a mini Tough Mudder course in the middle of New York City. Landing these media spots, particularly on TV, is no easy task, says Jesse Bull, head of brand and creative at Tough Mudder.
"These pieces require immense patience, managing a huge number of stakeholders internally and externally, from our event delivery and obstacle-construction team to government agencies and producers," he says. "Ben was able to drive these to success through his focus on details, a consensus-driven approach, and sense of humor."
Johnson reported to Bull for several months, but now reports to CMO Jerome Hiquet, former marketing VP at Club Med, who joined Tough Mudder in November.
Getting down and dirty
While much of Johnson's time is spent focusing on communications strategies and planning, he "never hesitates to jump into the fray when necessary," says Carol Gottshall, media relations manager at Tough Mudder.
This August, she says Johnson was busy managing several media outlets on site at the Northeast event in Maine, but when he had a minute, he lent his hand to something a bit messier.
He saw a slippery slope in the woods that was slowing down participants, so he grabbed a saw and created a second path. "This type of proactive problem-solving and lack of ego has made him a valued member of the team," says Gottshall.
Not just for athletic types
While Tough Mudder is a grueling 10 to 12 miles with physically and mentally challenging obstacles, including electric shocks, the event is not just for the super athletic – it is also about camaraderie and overcoming fears. The brand's cheeky sense of humor and witty obstacle names, such as Arctic Enema for the plunge into a dumpster of ice, is a way to lighten the mood for participants.
Johnson says it can be a tough sell to show a potential participant a video of the electroshock therapy obstacle and convince them the atmosphere is focused on teamwork and fun. But tough mudders are a passionate bunch and the electroshock obstacle has been home to six marriage proposals this year.
"It's much more of that mental component and getting the right team and your friends together to help you get through it," Johnson says. "It is important for people to find a reason for themselves to do it, whether it's overcoming obstacles in their own lives or being excited about our charity components."
Since 2010, Tough Mudder participants have raised more than $7 million for veterans service organization the Wounded Warrior Project and more than $1.6 million in the UK for Help for Heroes.
In the last 12 months, Tough Mudder has expanded to new regions around the world, including holding its first events in Ireland, New Zealand, and five additional events in Germany. Each event takes about six to nine months of planning and, as the company grows globally, Johnson says it faces communications challenges. To help with international PR, the organization works with agency partner Edelman, hired last fall after having worked with DKC in the US.
The brand has been well-received in all of the markets it has entered, but cultural translations and tones can be difficult to correctly frame to the media in other parts of the world, notes Johnson.
For example, events have gotten great press in Germany, but the sense of irreverence behind "the toughest event on the planet" translates too literally in that region, which often confuses people when they show up and see participants donning costumes or not taking it extremely seriously, he says.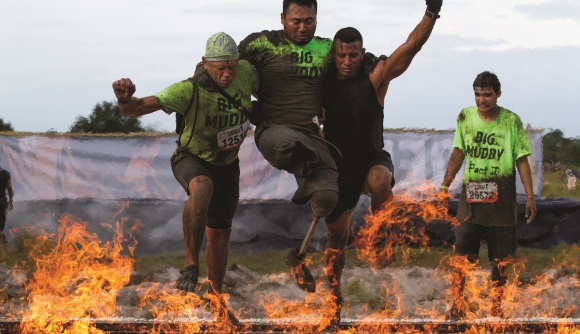 Global challenges
When it comes to international protocols, laws, tax codes, or language barriers, Tough Mudder has a "tireless legal team" to handle everything, says Johnson. Next year, events will launch in two new regions, and while Johnson couldn't offer exact details, he says "there is a chance we will look at Mexico."
In addition to new market challenges, Tough Mudder faces a number of other obstacles – and not ones involving climbing ropes (Balls to the Wall) or carrying lumber (Hold Your Wood).
Last June, more than 200 participants became ill with gastrointestinal symptoms from a norovirus after participating in the Tough Mudder at Michigan International Speedway, in Brooklyn, Michigan.
"We partnered with the CDC and worked with them directly to get feedback on how this could have happened and how we can prevent it in the future," says Johnson.
He adds that the CDC and Tough Mudder put out a joint press release afterward, stating that the virus likely came from a participant who was already sick and the illness spread among others on the course. Ever since the norovirus scare, Tough Mudder communicates with participants before each event to tell them that if they are sick, they should not come on site because it is dangerous for themselves and everyone else. He adds that the organization does everything it can to prevent similar occurrences, such as making sure all water sources are clean.
In April 2013, a 28-year-old male participant died on a Tough Mudder course in West Virginia during the Walk the Plank obstacle, which involves having people jump 15 feet into water. The mother of the participant who passed away filed a wrongful death lawsuit this spring against Tough Mudder, event organizers, and Walk the Plank advertiser General Mills.
"There are risks associated with any mass participation event," explains Johnson. "We look at marathons and triathlons, and statistics show that we are 20 times safer than triathlons and it is something we try to reflect and let people know."
Each event always has a fully staffed medical team on site, he adds.
Obstacle course races in general are becoming more popular, with other organizations competing for the spotlight, including Savage Race and Warrior Dash, but this has also led to increased criticism from medical professionals about the safety of these physically taxing events. Johnson says Tough Mudder focuses on the benefits of the experience and how getting people outside and being social and active is important.
The Tough Mudder team puts negative feedback in perspective by looking at the turnout of each event and talking to passionate fans, many whom have participated in multiple runs.
Events average between 10,000 and 15,000 participants. Tough Mudder's South London event, which took place in the UK the first weekend in November, was the biggest of the year with 28,000 participants. The largest event in North America was held in New Jersey, which attracted about 25,000 people.
"At the end of the day, I don't want to waste too much of the positive energy we have to talk to people who have already written it off," he notes.
The company loves leveraging its relationships with super fans and brand ambassadors, some whom Tough Mudder finds at events or on social media. Last winter, the organization invited a group of its most dedicated mudders to test potential new obstacles in the middle of winter – snow and all – and posted a video of the day's activities for other fans to watch.
The brand also takes its post-event survey seriously, asking participants what aspects of the events or obstacles they like the least or the most. Arctic Enema is Johnson's favorite. Surveys and social media comments from fans can also lead to ideas for new challenges. This year, events featured five new obstacles, including some specially created for return mudders, or "legionnaires."
The Mudder Legion program for participants who ran the course on multiple occasions was created in 2014, and Johnson says fans love the different colored headbands that correlate with the number of runs completed. Johnson himself has a yellow headband for finishing four mudders – although he has attended 20 this year. Mudders who complete 10 or more receive the coveted black headband with orange trim. The different color headbands are helpful for new participants as it shows them some leaders on the course who can offer help if they need it.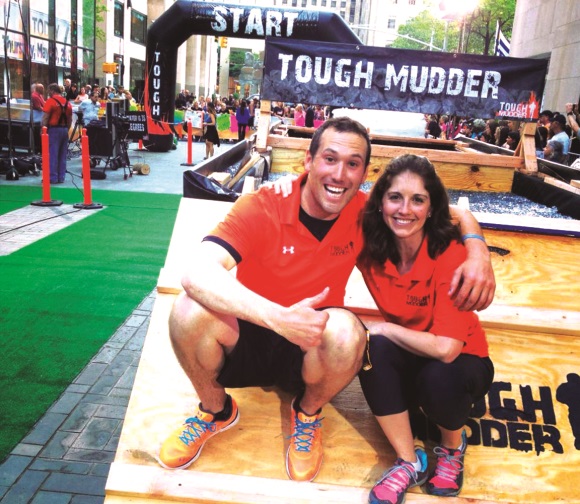 Working as a team
When Tough Mudder first started, the gender split in the US was about 70-30 male to female, but it's now shifted to about 50-50. The UK is still about 70-30 male to female, and about 60-40 in Australia. Johnson says the brand tries to communicate to both genders that the event is about getting out of your comfort zone and working with a team.
The ethos of the brand is also exemplified internally, where staffers take bike rides together, enjoy office pizza parties, and keep their sense of humor on long, sleepless weekends when working at events.
A few years ago, a fan posted a quote on Tough Mudder's Facebook wall that Johnson says really sums up what the brand stands for: "If everyone behaved in the real world the way they do at a Tough Mudder, it would be a much better place."
"That is the essence we've been trying to capture in our communications," Johnson adds. "It's nice to see it crystallized in such an elegant way."