The Asia Pacific PR and Communications industry (AMEC) stands to benefit from international best practice in the measurement and evaluation of communications with this week's appointment of Australia-based CEO, Michael Ziviani, of Precise Value and India based CEO, Aseem Sood of Impact Research & Measurement as Co-Chairs of the Asia Pacific Chapter of the International Association of Measurement and Evaluation of Communications.
The move comes at a critical time in the development of the PR industry with a recent study in showing many practitioners are a long way from International best practice. The Generally Accepted Practices of Public Relations, conducted by the Public Relations Institute of Australia (PRIA) described the state of measurement and evaluation in Australia as 'alarming'. It revealed that a third of the PR practitioners down under still used the outdated Ad Value Equivalents as metric of performance.
"Breaking the historical momentum of AVEs (Advertising Value Equivalence) is difficult - particularly where clients and industry bodies are still to outlaw these as invalid. AMEC has stated AVEs are invalid based on the Barcelona Principals (link), created by an international forum of Communication Industry thought leaders in 2010," Ziviani told PRWeek.
AMEC would like the PR industry to adopt its Valid Metrics Framework. It takes the form of a matrix, with the underlying logic that the model can be applied to a number of different types of PR campaigns.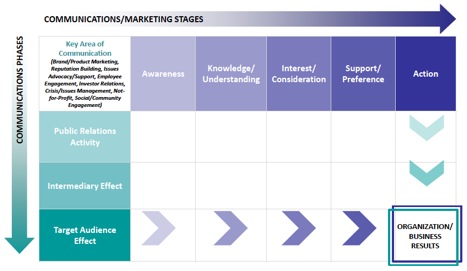 "Valid Metrics Framework (VMF) is generating good interest and acceptance thanks to its "Simplicity" and "Similarity to the traditional marketing funnel". Its allowing PR professionals to not only structure their PR objectives but also measure their performance in away that is understood by the CxOs," said Ziviani.
In a recent conducted survey conducted by AMEC in September more than 95 percent of respondents believed that there is inadequate education within the industry on measurement. "We will be extending our global 'education effort' in APAC region and do this via presentations on global trends and case studies at various Industry forums," said Sood. He has been pushing for the adoption of the VMF in India.
"We flew in one of the Social Media Measurement Experts, from UK, to present the latest Social Media Measurement framework at PRAXIS, India's premier PR conference," he told PRWeek. "We presented our survey findings on trends in Measurement, at the ICCO Summit in Delhi. As a part of global Measurement Week, we organised a tweetchat in India".