What are your feelings as you come into work?
Guns blazing.

Why do you do this job?
Nothing is as exciting as working on a breaking news story and experiencing the buzz of seeing your stories getting picked up around the world. I also enjoy the creative freedom of working on a witty showbiz column, along with 3am editor Ashleigh Rainbird and my co-deputy editor Halina Watts. Int­erviewing mostly interesting people, att­ending fun events and covering music gigs around the globe certainly adds some shine.

As a child I wanted to be...
An actress (I was quite precocious). And then a solicitor, which I began to study for. However, I stumbled upon journalism by writing for my uni paper for fun and I decided it seemed like a brilliant career path. After working on local papers, I started doing shifts on the nationals before getting my break on the Mirror.

What is the worst time to pitch to you?
In the morning before the 11.30am conference, unless it's a potential splash or strong page lead. Otherwise, I am busy writing listlines for the next day's paper so am not feeling my most chatty.

What is the best time to pitch to you?
Anytime after midday and before the 4.30pm conference. That way if we need to crash something into the next day's paper, we still have time.

What makes a great story for you?
A brilliant, out-of-the blue exclusive that has mileage for several days' worth of follow-ups and generates decent debate.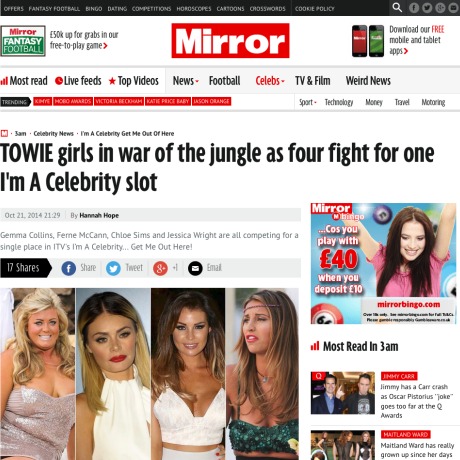 What is your view of PR professionals?
Generally positive. I'd like to think most PRs I deal with are fair, honest and even-handed when it comes to sharing coverage between competitor publications.

Do you have a favourite PR person?
There are several with whom my team and I work closely. Supersonic PR's Sundraj Sreenivasan alw­ays give us superb access to clients, along with DawBell and Outside Organisation, which are both great operators and very even-handed. Also LD Communications and Hackford Jones PR, not to mention Edge Publicity's Mikey Abegunde and Golden Goose's Rupert Esdaile.

Which single thing gets in the way of you doing your job?
Working on a daily paper with tight deadlines, it's frustrating when you have to chase a PR for a comment. Even more so when they refuse to give off-the-record guidance. Another bugbear is when a PR rings you to 'check' that you've received an email. If a PR wants to discuss an event or campaign over the phone it's more useful to offer some exclusive content or interview opportunities.

Is there any subject that you find so boring or offensive you just won't give it oxygen?
Obsessing over women's weight. Many people assume that 3am adopts a dated 90s 'circle of cellulite shame' stance on a celeb's exc­essive loss or gain, and if they read our column they soon realise we really don't.

What gives you the biggest job satisfaction?
When you pull in a cracking exclusive, scooping your rivals.

The greatest pressure on me is...
The pressure to source exclusive, relevant stories on a daily basis is continuous, but, ultimately, a necessary motivation.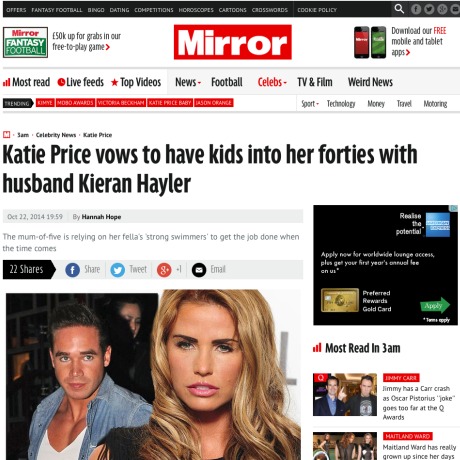 In five years I will be...
Still able to function on a hangover, hopefully.

What's in your lunch box?
A hastily made, roughly chopped salad, with lots of chilli flakes. And a chilled can of Diet Coke.

What is your management style: shouter, weeper or supportive friend?
The showbiz team, led by head of showbiz Tom Bryant, is open, enthusiastic, honest and supportive, which really works for us all. We all have the confidence and freedom to discuss story ideas openly and ask questions, which, inevitably, leads to exciting results.

Which outlet do you most admire for its news coverage and why?
At the risk of sounding sycophantic I think the Mirror genuinely offers the market an intelligent tabloid with a wide range of current news and thought-provoking, engaging stories. Our website Mirror.co.uk is giving the omnipresent Mail Online a decent run for its money too.

My greatest career fear is...
Playing back my dictaphone to find that it hasn't recorded an important interview.