The campaign launched today with members of the West Ham United squad covering their modesty with footballs. The "Feel 'em Friday" initiative aims to encourage men to check for signs of testicular cancer.
The support of the West Ham players comes after their former teammate Dylan Tombides, a 20-year old forward from Australia, died in April this year after a three-year battle with testicular cancer.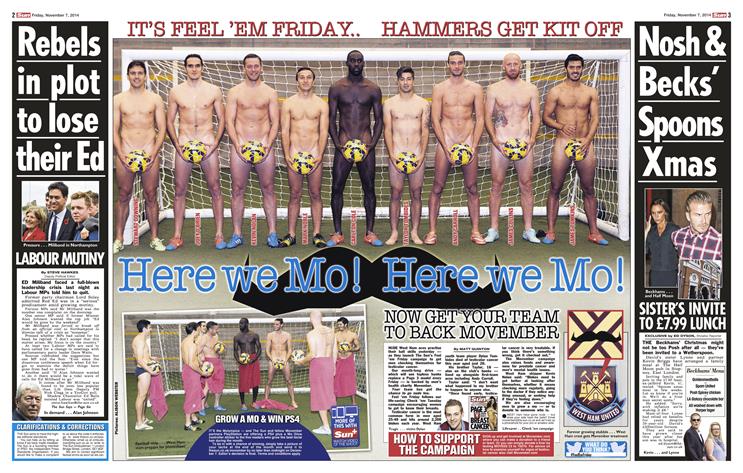 Movember encourages men to grow a moustache in November to raise awareness of men's health issues. In conjunction with the campaign, The Sun will run a series of features and promotions, including giving away 15,000 Gilette razors to Sun readers in order to keep their moustaches trim.

David Dinsmore, editor of The Sun, said: "Movember is a great campaign with a sense of fun and innovation that chimes perfectly with The Sun's values. We're very happy to be partnering with the Movember Foundation to spread the word about checking for testicular cancer in the way we have done with breast cancer and Coppafeel! to great success."

Sarah Coghlan, Movember UK director, said: "Having the support of the UK's biggest national newspaper is a fantastic opportunity to reach men across the country and encourage them to take action when it comes to their health. Join us, sign up and get involved at Movember.com or Text MOVE05 £5 to 70070 to donate to Movember and make a difference today."
While The Sun claims this is the first time naked men have featured in Page 3, the newspaper used to have a Page 7 Fella years ago.
It comes after The Sun used Page 3 to start the "Check 'em Tuesday" campaign, which asks women to check for signs of breast cancer, in partnership with the CoppaFeel charity.
No More Page 3, a campaign group run by Lucy Anne Holmes, has been putting pressure on the newspaper since the summer of 2012 to stop publishing pictures of naked women.
In September this year, the paper's proprietor Rupert Murdoch said on Twitter that topless models were "old-fashioned", although he added that the paper's readers "seem to disagree".