Link:
https://welink.com
Specifications
WeLink is a real-time, hyperlocal, multi-channel social media monitoring and engagement tool that aggregates wi-fi and cellular-based data from Twitter, Facebook, YouTube, Instagram, Foursquare, Flickr, Google+ and other social channels.
Geo-fencing technology captures all geo-tagged social data within a predefined radius, allowing users to engage with customers at physical locations and gain insight about audiences at any location worldwide.
Operational features include detailed query and filtering functionality, data mapping, user access control, and more. Analytics cover sentiment, user reach (including unique versus returning users), influencer data, leaderboard engagement, and more.
The platform integrates with various CRM and business intelligence systems, and data can be easily exported.
WeLink also offers the ability to run targeted social media ad campaigns.
Cost
Pricing structure varies according to industry. For hotels, monthly licenses typically range from $350 for small properties to $2,000 for large properties. Monthly licenses for small retailers start at $150.
Ownership
Privately held.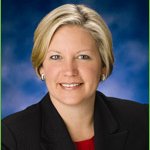 User
Dania Duke, GM of the Hyatt Regency Santa Clara, has been using WeLink since May 2012 (the hotel was the beta tester in the hospitality vertical).
How do you use it?
You log in to view a dashboard that you can customize. We also receive real-time alerts that capture sentiment.
All analytics for whatever social media channels people within our Wifi blanket are using are captured through our geo-fence and populate on our WeLink dashboard.
So for example, if someone is tweeting anything to the public we can capture it and see it. We don't see private messages. WeLink gives us data on top influencers, top hashtags, and top mentions.
We've designated keywords we want to capture, which helps us manage a better guest experience.
We've had very few if any glitches with WeLink. If there is a problem, we can send an email through our WeLink dashboard and get a real-time response.
How does it serve your business needs?
Two and a half years ago we had no way to understand users on our Wifi network. Cisco Systems replaced our entire Wifi system, created a Wifi blanket, and geo-fenced the property.
Once that was accomplished we wanted to use the guest Wifi as a data source and a marketing channel, and to experiment with location-based targeting to track and change user behavior through delivering one-to-one offers to guests.
WeLink enables us to see our guests' behavior and social chatter in real-time. It's helped us discover how we can monetize Wifi and test user feedback and inspiration. It's allowed us to use Wifi and social media data to create new and innovative offers for our guests.
It's also helped us improve our net promoter scores through Medallia [software used to understand and improve customer experience], and it's helped a great deal with social media discovery because it gives us feedback from people within the property and helps us leverage that.
It's given us a way to understand photo sharing and how that impacts our guest experience. For example, we can observe photo sharing of our bar and food items and photo sharing that happens in our banquet venue. This helps us understand what's popular and appeals to our guests, and it is helping drive our decision making about menu mix and offerings.
Through WeLink we also do real time testing and comparisons of time-of-day specials in our bar and restaurants to drive customers to those areas. For example, we can tweet a code or present a Foursquare deal-of-the-day code and then guests can retrieve that discount at a specific time.
The great thing is people don't have to be checked into our hotel to access these opportunities. As soon as anyone comes under our Wifi blanket, they get a push notification that gives them a loyalty offering or coupon to use based on time of day in one of our food and beverage outlets.
WeLink has also given us a complete overview and new insights into our convention guests. And it provides us immediate feedback and quick remediation of any types of issues.
For example, someone who recently attended a conference in our convention center tweeted about a minor Wifi glitch. We got an alert about the tweet through WeLink and we corrected the problem within five minutes. We were also able to tweet back to let that person know we were working on it, and that person then gave us a positive shout-out when it was resolved.
We're able to see – literally by the minute –Twitter shares, photo shares on Instagram, Foursquare check-ins, and more. Through social media profiles of users we get an understanding of the ratio of male to female users at any given time and over time.
We've had a lot of positive interactions with customers on Facebook and Twitter with regards to Foursquare offers. People are really enjoying them and taking advantage of them, and we learned that through WeLink.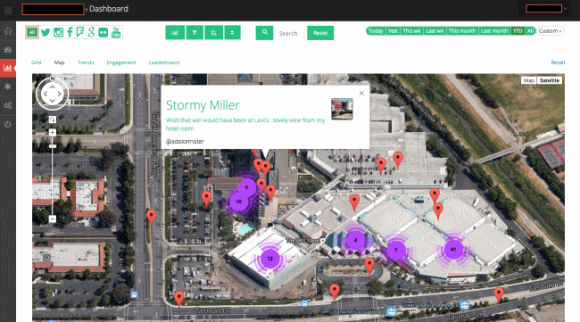 How does it integrate with your existing infrastructure from an IT standpoint?
It's an app that sits on our network.
What are the main benefits?
It's created complete, real-time visibility into our customers' social media behavior.
It gives us a toolset to analyze social chatter, including sentiment analysis, and it provides us opportunity to get immediate feedback and provide quick remediation of any issues.
It gives us a window into photo sharing that's going on within our property.
It gives us opportunity to establish community links with conventioneers that they can share among their own conferences.
It gives us opportunity to enhance customer experience. It's a great tool for our staff to use to respond in real time.
What are the main drawbacks?
I haven't come across any.
What would you like to see improved/added?
Nothing.
Competitors
Radian6 – part of Salesforce Marketing Cloud, Radian6 captures hundreds of millions of conversations daily across Facebook, Twitter, YouTube, LinkedIn, blogs, online communities, and more, and provides tools to respond in real-time.
Sysomos – provides real-time social media monitoring and engagement products as well as research and analytics products.