Client: Dr. Jeff Gusky (Dallas, Texas)
Agency: TrizCom Communications (Dallas, Texas)
Campaign: Hidden World of WWI launch
Duration: July 14 - September 30, 2014
Budget: $50,000
Since 1995 Dr. Jeff Gusky has worked as an emergency room physician, an explorer, and a professional fine art photographer of historical subject matter.
A chance meeting in 2011 with an official in the French Ministry of Defense led to Gusky getting introduced to local officials in rural areas along several hundred miles of the former Western Front of World War I. These local officials then introduced Gusky to local people, who eventually opened up to him and helped him gain access to an underground city built by soldiers during WWI.
Though very few people knew about it, these types of cities were built in ancient rock quarries under trenches along more than 400 miles of the Western Front. During the next several years, Gusky located and photographed many of them.
"It's very unusual today to encounter something that's not on the Internet and that people don't know about," he explains. "These cities had lights, hospitals, synagogues, and street signs. Experts in France and The Musée de l'Armée, the country's largest military museum, didn't know they existed.
"I have unique photos documenting the discovery," Gusky continues. "National Geographic published a selection of them in August, which happened to concur with the August 3 launch of a five-year global centenary celebration of the war. This was a huge opportunity that required a professional, integrated communications strategy to bring the message about my discovery and photographs to an international audience."
TrizCom Communications was hired on a project basis to drive international awareness.
Strategy
"We had to build awareness and introduce the photos, and we also had to validate that Dr. Gusky was the first person to ever photograph these cities," says agency founder Jo Trizila. "There was a lot of media interest, but we also had to do a lot of one-on-one explaining of the discovery."
Messaging was also delivered on social media channels and JeffGusky.com.
Tactics
The agency media trained Gusky.
A video press release was posted July 14 on Vimeo. The video was also embedded into an electronic press release and sent to history reporters, military reporters and bloggers, and fine art reporters worldwide.
"There was no way to do a live press conference because we were dealing with multiple countries and time zones," Trizila explains.
The agency wrote a Wikipedia page and posted images with contextual content daily to Gusky's Facebook, Twitter, and Instagram pages.
"Connecting real people to the images by posting names and dates associated with the photos is really important to our social media audiences," Trizila says. "Some followers have done genealogical searches themselves to find out about what happened to some of the men."
The agency contributed content and manages messaging on JeffGusky.com, which was built and launched on July 14 by an independent webmaster.
Select photos were exhibited the week of July 14 at One Arts Plaza in Dallas. The exhibition was promoted to local media.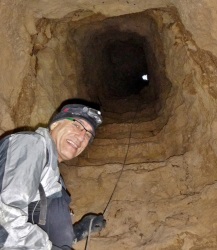 Results
The campaign led to ongoing negotiations with a top-rated global genealogical website about a TV program production partnership.
Gusky was invited to exhibit at The Soissonnais 1914 Exposition at Salle des fêtes de Vic-sur-Aisne and at The Musée de l'Armée.
His photos will also be displayed at the 2016 grand re-opening of the National Museum of French-American Friendship and Cooperation (Château de Blérancourt Musée Franco-Américain) and will become part of its permanent collection.
About 140 earned stories (more than 336 million impressions) have run to date in outlets such as NPR, BBC, Agence France-Presse, Norddeutscher Rundfunk, Canadian Public Broadcasting, Irish Public Radio, The New York Times (online), History News Network, and Dallas Morning News.
As of October 27, the website had 44,476 unique visits and 94,448 pages views.
The campaign helped drive nearly 56,000 Facebook likes, 150 Twitter followers, and 88 Instagram followers.
Future
Given the campaign's success, Gusky named TrizCom AOR.
Gusky will release one new image from his collection per day on his Facebook, Instagram, and Twitter pages throughout the centenary.
The agency is conducting ongoing international media relations and will promote exhibits and other events and opportunities as they arise.