Click here to read part one of the Burning Issue: 'The road to legalized marijuana.'
Mary Jane. Pot. Ganja. Sensimilla. Many Americans are talking about weed today. Whether the debates revolve around legalizing, decriminalizing, or scrutinizing it, cannabis is a hot topic and that means it is the perfect time for marijuana brands to amplify their marketing and PR efforts. With recreational marijuana use legalized in the states of Colorado and Washington, companies now have the opportunity to promote their products, which can range from joints and vaporizers to cannabis-infused oils and edibles.
In 2012, outspoken entrepreneur Brian Laoruangroch founded Prohibition Brands, a company that manufactures and distributes recreational marijuana products in compliance with Washington Initiative 502 and Colorado Amendment 64. Some of the company's products include packets of marijuana cigarettes and Cuban blunts.
Laoruangroch says he wants his products to be available in all 50 states within the next five years and wants his marketing and PR initiatives to be on the same level as brands such as Red Bull and Budweiser.
While the company is relatively young, Laoruangroch boasts that when it comes to marketing and PR, he is "the best in the world" because of his out-of-the box publicity stunts and online videos.
Last summer at Seattle Hempfest, Laoruangroch attempted to break the record for the world's largest joint, but wound up being escorted off the premises by police. Despite that, he says the publicity was still beneficial for the company. Laoruangroch also uploaded a commercial on YouTube last summer featuring himself dressed as Sheriff Roach (below). The video has garnered just under 97,000 views to date.
Prohibition Brands is planning to launch a TV ad campaign throughout Washington this year and, in October, the brand launched another ad on YouTube.
Laoruangroch claims "there are no rules" on the Web when it comes to promoting marijuana, which is why the company will heavily leverage social channels and digital videos. However, when it comes to advertising, Google, Facebook, and Twitter ban ads that promote the sale or consumption of drugs. Facebook does allow ads that promote advocacy and legalization of marijuana.
Are brands ready to inhale?
David Bienenstock, who writes a column called The Weed Eater for Vice and formerly was the West Coast editor of High Times, believes the biggest opportunity for brands in the marijuana space "is an educational one."
One of the key ways to do this is through social media as it allows brands to send targeted messages to consumers and build relationships with them, Bienenstock adds.
Beyond social, he says brands should hold events and "reinforce the idea that this is legal and people should be gathering and enjoying it openly."
Throughout history, corporate America has sold tobacco cigarettes to consumers, which "clearly kill many people," he notes.
Companies will want to be associated with and help sell a healthier product going forward, he adds, so when it comes to big brands partnering with the industry, "it's not an if, it's a when."
New products and services
Despite Laoruangroch's confidence, Troy Dayton, CEO of The ArcView Group, believes the joint will soon become obsolete, with vaporizers and edibles taking over. The concept of "branded cannabis is relatively new," says Dayton. He adds that it's easier to market
salsa than it is a tomato, which is why it will be easier to market a cannabis oil or vaporizer pen than a strain of marijuana.
Another subset of the industry that is taking off includes apps, websites, and delivery services, such as Leafly, Weedmaps, Speed Weed, and Canary, explains Dayton. These socially driven assets are getting the word out efficiently by involving consumers and brands at the same time.
For example, Dayton referred to online resource Leafly as a Yelp for the marijuana industry because dispensaries pay the company to have their products on the site and users review them. Also, he says word-of-mouth buzz driven by these organizations is helping them grow.
"When cannabis companies look at advertising and marketing budgets, certainly the best dollar-for-dollar value I see right now, while all eyes are on the cannabis industry, is to put that money into PR," he explains.
Leafly recently took out a full-page ad in The New York Times, and Dayton says the best part of the marketing was the fact that the company was "right in the middle of the zeitgeist of what's happening in the world, while also promoting the brand."
Scott Lowry, brand manager of Privateer Holdings, Leafly's parent, says that more than 308 media outlets ran stories about its first ad in a mainstream publication, including The Wall Street Journal, BuzzFeed, and Business Insider. In addition to setting up several embargoed interviews, Leafly leveraged its social media channels on the day the ad ran to tell fans about it.
The PR strategy for Leafly is "about informing people to make the best choices by elevating the conversation around cannabis," adds Lowry. "We try to cast
aside the tired clichés and bad puns that are out there."
Based on its responsible-use focus, Leafly recently began partnering with ride-sharing company Uber to provide people with safe transportation if they're consuming marijuana, he explains.
Reaching consumers
Cannabis marketing agency Cannabrand leverages relevant partnerships and events for its clients to reach consumers, explains cofounder Olivia Mannix.
In September, Cannabrand handled the branding and marketing for the second annual CannaSearch job fair in Denver. The firm got its dispensary client, Mindful, involved in the event as a platinum sponsor. More than 2,100 people attended the event and it offered about 500 cannabis-related career opportunities. Some of the companies that sponsored or participated in the event include Hemp Temps, dispensary operator Strainwise, and health clinic Healthy Choices Unlimited.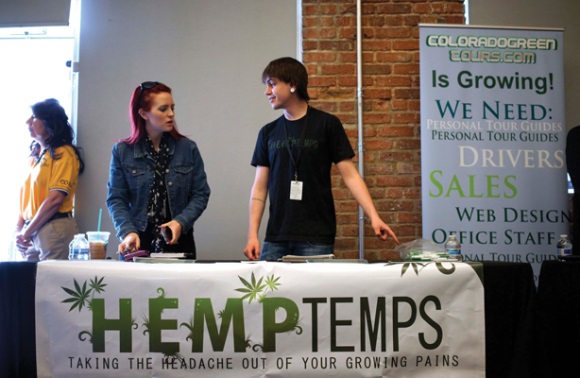 The agency also runs the I Choose Cannabis campaign, which promotes the fact that people in Colorado and Washington have the opportunity to legally incorporate marijuana into their lifestyles. For the initiative, the firm executes yoga events, where people consume marijuana, do yoga, and learn how to consume cannabis responsibly.
"Cannabrand's mission has been to rebrand cannabis as a whole, debunking negative stigmas and myths associated with a plant," notes Mannix. "There are so many healing and medicinal factors."
She adds that professional people, such as doctors and lawyers, consume cannabis, and "should not be stigmatized for that."