Click here to read part two of the Burning Issue: 'Brand cannabis.'
Marijuana, once entrenched in the War On Drugs as the enemy, is now legal for recreational use in two states, Colorado and Washington. Residents in other states –Oregon, Alaska, and the District of Columbia – will cast their votes on the issue in November.
Advocacy groups are in overdrive on the communications front while officials in Colorado and Washington are facing a completely new paradigm in a highly regulated and new industry.
The Marijuana Business Factbook estimates US recreational retail sales of legal marijuana between $3.8 billion and $4.2 billion by 2018.
In May 2013, the Colorado government approved a bill that defined a legal limit around stoned driving. The Colorado Department of Transportation followed up with a campaign in March incorporating a simple slogan to deter motorists from getting behind the wheel after consuming marijuana.
A survey conducted after the effort showed "46% of respondents in urban areas recognize the phrase, Drive High, Get a DUI," says Emily Wilfong, a department of transportation spokesperson.
With increased access to marijuana across the state, the goal was to relay information rather than take a side condoning or condemning motorists.
What they found, says Wilfong, was males between 18 and 34 years old were most likely to consume pot, that about one in four marijuana users reported driving after consuming the drug, and those who did drive did so an average of 17 times per month.
"Motor vehicle deaths are the leading cause of death for the age group," says Wilfong, who adds that "impaired driving in particular" is also a leading cause of death in Colorado.
Working with four agencies – the PR arm being Denver-based Communication Infrastructure Group – the department released three TV commercials and distributed posters to marijuana dispensaries that aligned with the TV spots, as well as impaired driving FAQs.
At the High Times Cannabis Cup on April 20, which attracted upward of 40,000 people, Wilfong says the department doled out to attendees bags of snack-size Goldfish crackers and Cheetos bags with department of transportation stickers on them.
Media coverage throughout the campaign generated more than 760 stories online, 41 print placements, and 67 TV pieces and appeared statewide, across the US, and internationally. As of September, the department was working to secure funding for the next iteration of the effort, which Wilfong says will come in part from the state and in part from marijuana tax revenue.
Changing public opinion
As of July in Washington, DC, marijuana possession was decriminalized with significantly reduced penalties for people caught in possession of it.
"Legalizing recreational grass in the region is a pivotal campaign. It is part of a longer, broader strategy to change the public's opinion," says Paul Armentano, deputy director of the National Organization for the Reform of Marijuana Laws (NORML).
He adds that the vote would be "significant" if it is in favor of legalizing the drug.
"It is symbolic, an indicator the general public no longer supports the status quo – the notion that if someone possesses marijuana, they ought to be criminally incarcerated," explains Armentano.
A joint poll conducted by NBC4, The Washington Post, and Marist released on September 18 revealed strong support from DC voters for Initiative 71, which would legalize adult possession and limited marijuana cultivation in the region. The survey showed 65% support for the initiative, 33% opposed, and 2% undecided.
Currently, the federal definition for marijuana is that it possesses the highest potential for abuse and is dangerous and harmful to human health – a characterization Armentano believes would not garner support outside of "the 535 members of Congress." A chasm exists, he adds, between what science says and what public policy says about marijuana.
According to the National Center for Biotechnology Information, the risk of marijuana dependence is lower than other illicit drugs, with a 9% dependence rate versus 15% among those who try cocaine and 24% for heroin. Research from the center shows 4.3% of Americans have been dependent on marijuana "at some time in their lives" and marijuana dependence is "twice as prevalent" compared to other drugs. According to a 2013 Gallup poll, support for legalization passed the 30% mark in 2001, reached 44% in 2009, and increased further to 58% in 2013. About 28% of American adults drink at levels that put them at risk for alcohol dependence and alcohol-related problems, according to the US National Institute of Alcohol Abuse and Alcoholism.
In the past 15 years, groups such as NORML, which are bound by tight budgets – the organization's income is under $1 million per year and donation funded – leveraged the increasing influence of the Web to engage people. It provided an "alternate set of voices," to those who opposed marijuana reform. On the flipside, individuals who wanted to learn about cannabis could do so anonymously, which "made a big difference," says Armentano.
Having been around for decades, NORML "enjoys some name recognition," he adds. The organization has generated some earned media and has more than 150,000 followers on Twitter and about 675,000 likes on Facebook. There's also a chapter affiliate in each state and NORML regularly conducts educational outreach.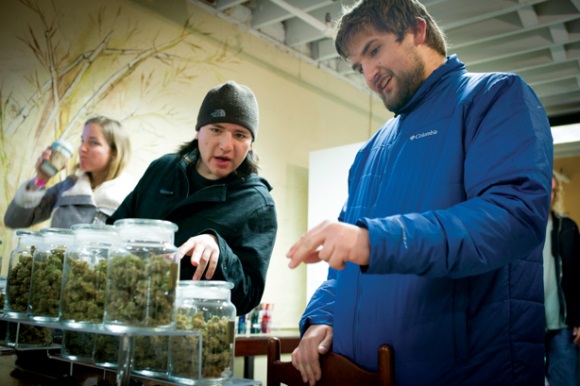 Moving away from stereotypes
The National Cannabis Industry Association represents businesses that operate in the legal cannabis industry, both legal medical and adult use, says Taylor West, the association's deputy director. The group handles industry building and education events, as well as media relations and reporter education, including some who have never covered marijuana before, says West.
The association is seeing a change in coverage as the media moves way from "stoner" stereotypes.
"It is key that we show people the reality. We are an industry of small business owners meeting important health needs for consumers and developing a strong industry across medical and adult use," adds West.
Still, challenges remain in an industry where there is little "baseline knowledge of how it works," and while the association represents many businesses in the sector, not everyone "represents the kind of story we're trying to tell," West adds.
In Southern California, where there is minimal regulation, people are not always operating "in ways flattering to the rest of the industry," she adds.
Both NORML and the National Cannabis Industry Association have a lobbying function in the capital to affect change on the legislative level. Armentano says NORML has a political action committee, too, which makes donations and accepts them at the state and federal level to support specific issues.
In Colorado and Washington, recreational marijuana is legal for adults aged 21 and over with up to one ounce of marijuana in their possession in Colorado, according to the state's government websites. In Washington, adults may have one ounce of marijuana, 16 ounces of a marijuana-infused product, and 72 ounces of a marijuana-infused product in liquid form. Marijuana is not allowed to be publicly consumed in either state and it cannot be taken out of the state.
Brian Smith, communications director of the Washington State Liquor Control Board, says retail stores opened in the state on July 8 and are the only places individuals can purchase legal recreational marijuana.
"It's a tightly controlled system, which is just what the law prescribed," he says. "If other states are going to follow Colorado and Washington's lead, it's important that we have controls over this."
Similar to its tactic with alcohol, the Washington Liquor Control Board will work with underage investigative aids who will attempt to buy marijuana. According to Washington state legislature, any transaction involving an individual under 18 years old can result in a felony. Packaging of any edible marijuana has to be child-resistant, have warning labels, and be compliant with the Poison Prevention Packaging Act, says Smith.
He says the liquor control board takes several steps to make sure retailers and the public are informed. The first step is to visit a licensee in-person and run through a checklist. The board holds public forums and hearings that have attracted license applicants by the thousands, he adds. It also holds speaking engagements to answer questions and has a listserv with 11,000 recipients. Smith says the website is "comprehensive," and sees about 100,000 page views per month. The board also enlists Twitter and Facebook to connect with residents.
In an effort to be proactive ahead of stores opening, Smith says the board created a brochure so people can "get some basic information" when entering a store.
Washington will cap retail stores at 334. Currently, 60 licenses have been issued and recreational marijuana sales since July 8 have totaled just under $12.1 million, which raised about $3 million in incise tax. Smith says revenue from legal marijuana sales will eventually help pay for further public education campaigns.