This week IS released its fifth video featuring captive British journalist John Cantlie, but this film had a very different feel from its four predecessors.
Instead of an anonymous setting it was clearly filmed in the besieged Syrian town of Kobane.
And instead of it looking like he could be decapitated at any moment, a healthy and relaxed-looking Cantlie was being used as a reporter rather than a hostage. His message: that IS has very nearly won and only mopping-up operations remain.
It was the latest evidence of the extraordinary sophistication of IS' media operations.
"It's a good example of a thought-out strategy, in terms of showing some foresight and restraint," says Royal United Services Institute research fellow and Middle East specialist Shashank Joshi. "They could have killed him but they've chosen to use him in another manner."

Such is the confidence of IS when it comes to media that earlier this month it issued 11 rules by which reporters could continue to operate on its territory, and under its watch:
Rules for journalists working in IS territory

1 Correspondents must swear allegiance to the Caliph [Abu Bakr] al-Baghdadi… they are subjects of the Islamic State and, as subjects, they are obliged to swear loyalty to their imam.
2 Their work will be under the exclusive supervision of the Isis media offices.
3 Journalists can work directly with international news agencies (such as Reuters, AFP and AP), but they are to avoid all international and local satellite TV channels. They are forbidden to provide any exclusive material or have any contact (sound or image) with them in any capacity.
4 Journalists are forbidden to work in any way with the TV channels placed on the blacklist of channels that fight against Islamic countries (such as Al-Arabiya, Al Jazeera and Orient). Violators will be held accountable.
5 Journalists are allowed to cover events in the governorate with either written or still images without having to refer back to the Isis media office. All published pieces and photos must carry the journalist's and photographer's names.
6 Journalists are not allowed to publish any reportage (print or broadcast) without referring to the Isis media office first.
7 Journalists may have their own social media accounts and blogs to disseminate news and pictures. However, the Isis media office must have the addresses and name handles of these accounts and pages.
8 Journalists must abide by the regulations when taking photos within Isis territory and avoid filming locations or security events where taking pictures is prohibited.
9 Isis media offices will follow up on the work of local journalists within Isis territory and in the state media. Any violation of the rules in place will lead to suspending the journalist from his work, and he will be held accountable.
10 The rules are not final and are subject to change at any time depending on the circumstances and the degree of cooperation between journalists and their commitment to their brothers in the Isis media offices.
11 Journalists are given a licence to practise their work after submitting a licence request at the Isis media office.
Source: SyriaDeeply.org

Having torn through swathes of Iraq and Syria, spreading fear across the region that spilled on to the internet and was beamed into the sitting rooms of families on the other side of the world, a military force that had seen such success with its online propaganda was now positioning itself as a form of press regulator.

It seemed like a strange posture. Why would a terrorist group get journalists to 'swear allegiance' under rules that have nothing to do with free reporting, when it could try to shut them down completely? Hadn't it shown what it thought of the media with the executions of hostages such as Steven Sotloff, caught in the beam of an HD camera and shown no mercy by an English-accented jihadist with a message for the West?

To explore the contradiction is to explore the propaganda efforts of a group with a clear aim, and an alarming grasp of how to serve that aim with comms initiatives.

Lessons learned

Though IS may have only recently emerged into public view, its roots run far deeper. The spawn of Al Qaeda, it split from the group to pursue a more radical agenda, but nonetheless learned vital comms lessons from its parent.

With assistance from media-savvy, California-born Adam Gadahn, Osama Bin Laden had learned how to propagate his message through multimedia. In terms of reaching a broad audience, the efforts had been successful – before his death in a Pakistani compound, Bin Laden's messages were beamed across the world and drew recruits.

To look at Dabiq (Islamic State's magazine in English) is to see a modern incarnation of Al Qaeda's Inspire magazine, for example.

Of course, the military reality on the ground is crucial. But whereas Al Qaeda seems to have stalled in how it seeks to engage with the outside world, IS has remained very much aware of its potential viewers' changing preferences and short attention span.

And whereas Al Qaeda had Ghadahn, IS has the likes of former German rapper Denis Mamadou Gerhard Cuspert – better known by his stage name 'Deso Dogg', now Abu Talha al-Almani – who left Germany to join the group and is thought to be helping with its media efforts.

There are growing numbers of people like him. Some estimate that 2,000 Westerners have joined IS, bringing their understanding of Western audiences with them.

"If you look at a recent video put out by Al Qaeda of [its current leader] Ayman al-Zawahiri," says Middle East Media Research Institute (MEMRI) executive director Steve Stalinsky, "it comes across as kind of boring. It's an old man whose lecturing just won't have an impact on young kids in the West. Islamic State videos look like a Hollywood production, with sound effects and HD. That's what gets recruits."
Mixed messages

And now IS has not just one media arm, but several. Most prominent of these is the al-Hayat Media Center, which targets the West, and al-Furqan Media, focusing on Arabic outreach.

There are a number of other hubs including Ajnad Media, which produces music to inspire fighters and wannabes alike. The main focus is to produce content, with al-Hayat Media Center behind the group's notorious videos, as well as its very own app, named The Dawn of Glad Tidings.

Content is disseminated by the content hubs through social media, but a horde of willing followers and fighters will do most of the work for them, spreading the information virally.

There seems to be a consensus that the group has a form of centralised control that co-ordinates the dissemination of professional-level material, but the output of content goes well beyond that, whether from soldiers tweeting or, as Joshi terms them, "fanboys".
"There are maps showing swathes of the world in black that have caused alarm, and most of which are probably produced by amateurs without specific direction but can have a serious impact," he says.

The nature of messaging is tailored depending on whether it is aimed at the Western world or closer to home, with the former more likely to be simpler and cruder.
"English language content will, for example, be more overtly propagandistic, whether it's about Islam taking over the world, closing down on Baghdad or recruitment videos," says Demos' Centre for the Analysis of Social Media director Jamie Bartlett. "Arabic language content is more internally facing, to encourage and keep the commitment of the people already involved, so you're more likely to get a martyr's video or link to a lengthy debate on Sharia law."

Recruitment and fundraising are key reasons behind IS' comms, but they also serve broader geopolitical reasons. The beheadings of Western journalists, while horrific, were also the most obvious expression of a desire to lure the West into some form of engagement.

Evidence pointed to the idea that the IS wanted the West to bomb it as it helped justify the creation of a Caliphate, says Bartlett's colleague, researcher Alex Krasodomski-Jones. "Now you've seen that happen and the bombs have started to fall, there's a change in emphasis as portraying the West as a crusader and coloniser."

As a brutal way of grabbing Western attention, the tactics seem to have worked. A Wall Street Journal survey last month revealed that 94 per cent were aware of the recent beheading of US journalists, with 61 per cent backing military action against IS.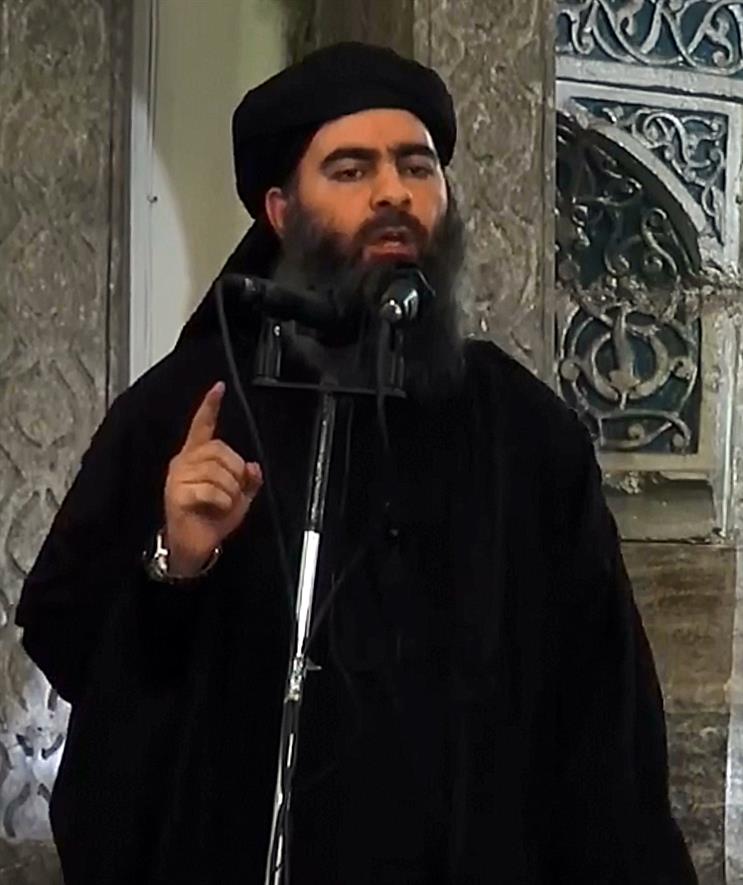 In creating a simple, evocative message to which disaffected Westerners can relate, content focuses less on grand speeches by senior command and more on the 'action' and spoils of the conflict. It is noteworthy that the world has only seen footage of the man claimed to be IS leader Abu Bakr al-Baghdadi (left) once, in a video released this year on 4 July, Independence Day in the US. But as Stalinsky notes, the imagery portrayed to the West is not always brutal.
Referring to the idea of 'dunya' – the earthly, rather than spiritual, world – he says: "While calling for things like the imposition of Sharia law, the content is also often expressing the role of enjoying this life before martyrdom, and offering things that the viewer can relate to such as its images of camaraderie, with people driving jeeps around and watching videos together, or rap."

Building a state

But we have not seen the extent of IS' ambitions with regards to spreading its message. Within recent weeks it has taken to online music host Soundcloud for a regular radio show, and it has been claimed that the group has seven TV stations, with more planned.

This would be shocking, except when framed in the context of a group that is intent not just on causing terror, but on creating its own state and all the apparatus that goes along with it, and the funding to begin to do so. With this in mind, it must often work with the frameworks that exist. It is in this context that IS' laying out rules for journalists to operate becomes more understandable. Likewise, this is why it is allowing some existing media centres set up in the wake of the 2011 uprising against Syrian president Bashar Al-Assad to continue operating.

Thanassis Cambanis, a journalist specialising in the Middle East and correspondent for US political journal The Atlantic, describes the process at the Raqqa media centre, which initially engaged with PRWeek over Skype but went silent after questions were put to it about its relationship with IS.
"The media department was told they were free to continue working as long as they submitted to IS censorship," he says. "Not all remained, but those that remained agreed."

Cambanis says the sheer brutality of IS tactics has helped created a space in which even the most hardened war correspondent fears to tread, meaning that the group has near complete control of the outflow of news and is able to set the agenda as it sees fit.

With the exception of a Vice News video documenting IS stronghold Raqqa, which was carefully stage-managed by IS, this has meant letting few outsiders in, something confirmed by a recent Agence France Presse blog on the issue stating that "working in IS-controlled areas is virtually impossible for journalists and independent observers".

"The group is unique in almost entirely avoiding direct engagement with traditional media and other traditional potential contacts," adds Cambanis. "Other militant jihadist movements may occasionally interact through direct channels, whether it is talking to politicians or diplomats, and traditional media, but IS has been almost entirely silent in this aspect. Much of what we know about IS is almost completely controlled by it, through a combination of extremely violent rule and a concerted effort to ensure there's no independent journalism."

Alongside efforts to control the agenda externally, internal comms play a part too. Content seen by MEMRI reveals at least 10 separate 'media points' in cities controlled by IS in which townspeople are given CDs, pamphlets and other material promoting the group and its actions. It is left to just a few brave souls, such as a group named 'Raqqa is bleeding silently to death' to risk their lives in reporting independently.

Staying social

Social media are one of the great ironies in this propaganda war. "I can't overstress it enough," says Stalinsky, "the heart of the Jihadi effort is in the American social media companies. If it wasn't for them, their efforts would not be as successful."
He claims there are "hundreds of thousands" of Twitter accounts currently disseminating jihadi and IS messages, while YouTube "probably has millions" of Jihadi videos.

Social media lie at the heart of IS comms efforts, and is currently the site of a war between host and user – a cat-and-mouse game of new identities being continually shut down and resurfacing, with IS-created bots pumping out tweets and accounts. There is plenty of activity on Facebook but it is less co-ordinated and more mundane than either YouTube or Twitter, says Krasodomski-Jones, who has pored through IS' prolific online output and says much of the Twitter content exists purely to provoke.

The #messagefromIStoUS is a good example of how IS conducts itself online. Thought to have been launched with three tweets giving instructions, Krasodomski-Jones claims it eventually gave rise to around 100,000 tweets, half of which were from those hitting back at the group. The message was spread, and the responses continued to keep the hashtag prominent.

Meanwhile social media are also being used by the soldiers on their enemies on the front line. Krasodomski-Jones calls this "a new form of propaganda" because of how immediate and deeply personal it can be.

The war being waged

Aside from the bomb-blasted plains of Syria or Iraq, it is on social media that the battle of ideologies is most evident.

The US government has gone on the offensive, with a "Think Again, Turn Away" campaign that seeks to appeal to potential recruits' emotions in the same way that IS does. It recently released "Welcome to the Islamic State land", which has more than 800,000 views on YouTube and contains graphic material, while sarcastically inviting recruits to learn skills like "blowing up mosques" and killing Muslims.

But even Alberto Fernandez, who heads up the State Department's Center for Strategic Counterterrorism Communications (CSCC), was reported by Fox News to have admitted at a recent event that "there is a Mount Everest of radicalisation material and only a foothill of counter-propaganda".

The success of these efforts is difficult to quantify, but ultimately, the most effective messages to counterbalance the appeal of jihad will come from the communities to whom IS is appealing.

Take #notinmyname, launched by London's Active Change Foundation. A video by the group, which has not responded to a request for comment, included Muslims condemning the group, and gained such prominence it was praised by Barack Obama.

As Joshi adds: "The whole point is that people interested in the Caliphate have grievances. To counter the narrative and discredit IS you need credibility, and to be able to speak to those voiceless millennials to whom IS is speaking. The nations involved in bombing Iraq and Syria are not best placed to make these appeals – they need credible actors to do it on their behalf."
John Owens was a reporter for PRWeek from 2012 to summer 2014, when he moved to Beirut to further his interest in covering Middle Eastern politics. He is currently blogging at http://beirutblogging.wordpress.com.