Biggest surprise on your mobile device
The ridiculous amount of apps I have about food and wine.

Proudest career achievement
Being hired by Omnicom Group CEO John Wren as the global director overseeing our McDonald's account across all of our agencies, servicing their business around the world.
Most recently, it was being named dean of Omnicom University. It has been a transformational career experience for me. It's simultaneously humbling and exhilarating for me to preside over this program.
Morning ritual
I'm what you might call a Jawbone activity tracker enthusiast. My goal of reaching 11,000 steps each day starts with either a six-block walk to my gym where I hop on the treadmill or a 24-block walk to my Pilates studio for an hour-long workout.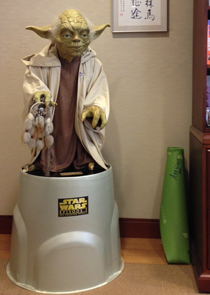 Daily required reading
Our industry trades, The New York Times, The Wall Street Journal, and Twitter.
Best career advice
That's a tough one since I've worked for – and with – some extraordinary men and women throughout my career.
But if I had to choose one little nugget, it would be something John Wren said upon hiring me: "Tell me the bad news quickly. I'll always hear about the good news." That's a great lesson in leadership and a piece of advice I have repeated often.
Guilty TV pleasure
I sometimes get quite caught up with Pawn Stars. Chumlee is a riot.
First job in PR
I've never been employed by a PR firm, but being a global account leader at Omnicom has afforded me the opportunity to work with every one of our PR agencies and I'm always impressed with their craft.
First app or website checked in the morning
It is always Twitter.
Most distinct aspect of your personal office
I have a life-size statue of Yoda sitting in a corner of my office. I inherited him from Tom Watson, former vice chairman of Omnicom and the founder of the university.
I succeeded him as dean, and Yoda sits with the dean of the university. He may not be giving me sage advice every day, but he's fun to have around.