Domestic violence and sexual assault are two of the most pervasive issues in our country, impacting millions every year.
Despite the vast numbers of Americans who experience these crimes, they remain two of the most hidden and stigmatized issues plaguing society.
To help break through the silence and dispel the stigma that surrounds them, No More, the first unifying awareness symbol for domestic violence and sexual assault, partnered with media giant Viacom to launch a new series of powerful No More PSAs.
Directed by actress Mariska Hargitay, who is also the founder of the Joyful Heart Foundation, and produced by Niels Schuurmans, EVP of Viacom Velocity Creative and Viacom's social responsibility umbrella Viacommunity, the No More PSAs feature a number of celebrities. These include: Dave Navarro, host of Spike's Ink Master; Shad Moss and Keshia Chanté, co-hosts of 106 & Park; and Jemima Kirke of Girls, among others.
Through this partnership, we were able to reach a key target audience – young adults and teens – with the essential message that there is no excuse for domestic and sexual violence.
The PSAs reached millions of young people during the summer, airing across Viacom networks including BET, MTV, and Comedy Central, and were spotlighted by People and Variety.
No More shared the PSAs with its 40,746 Facebook fans and 21,000 Twitter followers, and shared via email with 24,000 activists in its No More network.
The PSAs were developed with ad agency Young & Rubicam and have been seen in local and national markets via print, online, broadcast, and outdoor advertising, generating more than 500 million media impressions.
No More has a Take Action Toolkit that equips people to use the symbol and integrate it into their workplace, organization, or community. And, we have partnerships with several organizations – including Allstate, Kaiser Permanente, and Verizon, among others – working to end domestic violence and sexual assault.
On college campuses, there are also dozens of student-led campaigns, which include education, awareness, and special events. More than 3,700 users have submitted images and statements on our Instagram page for why they say No More to domestic and sexual violence. Our network of thousands who have pledged to say No More also receive monthly updates.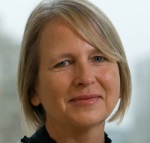 Virginia Witt is director at the No More project.