The quarterly survey showed that a net balance of one per cent of companies revised their PR budgets upward during the July-September period, down from 3.9 per cent of companies during the April-June period.
The previous reading was the highest since the survey began to measure PR in the final quarter of 2012, exceeding the 3.4 per cent recorded for April-June 2013.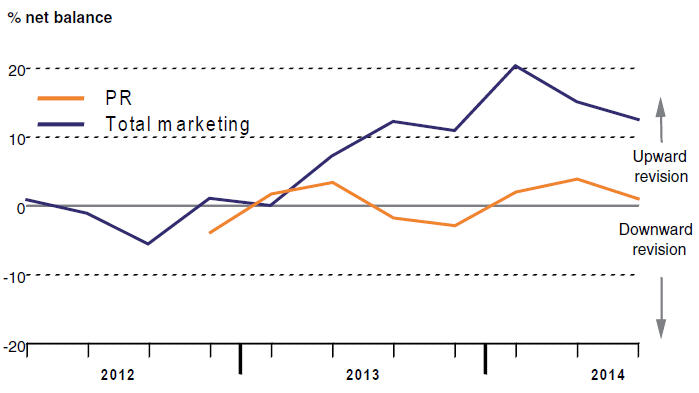 Overall marketing budgets recorded an upward revision of 12.6 per cent, with internet budgets outpacing that at 14.5 per cent.
The only categories to show downward revisions were market research with -1.7 per cent, sales promotion with -1.1 per cent and 'other' with -4.7 per cent.
James Goddard, CEO of JJ Marketing, said: "In the latest Bellwether Report it's good to see public relations marketing budgets maintaining the run of growth that has been evident since the start of the calendar year.

"This bodes extremely well for continued growth in public relations spend for the remainder of this year and into 2015. PR is certainly contributing to 2014 potentially being the best year for growth of marketing spend in the history of the survey."