Client: Boston Comic Con (Boston)
Agency: O'Neill and Associates (Boston)
Campaign: 2014 Boston Comic Con
Duration: June 9 - August 12, 2014
Budget: $10,000
Boston Comic Con is an independently run comic book convention founded in 2007. It had never been supported by a PR agency until last year, when co-founder Nick Kanieff hired O'Neill and Associates to help after the Boston Marathon bombing forced a last-minute rescheduling from April to August and a move to a new venue.
Kanieff says the 2013 show ended up being the most successful –in terms of attendance and revenue – up to that point. The agency was named AOR and helped further expand the convention this year.
Strategy
A third day was added to this year's convention, hosted August 8 to 10 at the Seaport World Trade Center, along with several new post-convention events.
Traditional media and social media outreach drove awareness among core audiences and new audiences, including women, families and children, and older adults.
"We took a holistic approach," explains agency SVP Ann Murphy. "Comic cons in San Diego and New York are driven by the entertainment industry. Celebrities do get you noticed, and we leveraged celebrities who attended Boston Comic Con to reach new audiences. But the show is really about local fans, local artists, and New England comic book stores that have supported Boston Comic Con since its inception."
Tactics
The agency began outreach to major Boston media before expanding to regional outlets and bloggers covering comics and comic book art.
Kanieff and supporters, including local and regional artists and store owners, gave interviews.
Murphy says high-profile celebrity attendees were contacted well ahead of their arrival to ensure availability for media interviews in Boston. Celebrity stories were promoted to the convention's social media audiences.
The agency team prepared tweets for celebrity attendee Sean Astin, who has appeared in the "Lord of the Rings" movies.
The agency also created a Pinterest page for the convention in July.
Agency interns hung flyers near Boston landmarks and universities and posted photos of flyers and #bostoncomiccon to Facebook, Twitter, Instagram, and Pinterest.
A free cosplay costume contest that was open to the public and included a costume parade was hosted lunchtime at Dick's Last Resort restaurant at Faneuil Hall Marketplace in downtown Boston on July 30. (Cosplay is the practice of dressing up like fictional characters from a comic book, movie or video game). The first place winner got two VIP convention tickets.
The first annual Boston Comic Con Cosplay Harbor Cruise kicked off just after the convention ended on August 9. An after-party at Laugh Boston comedy club followed the cruise.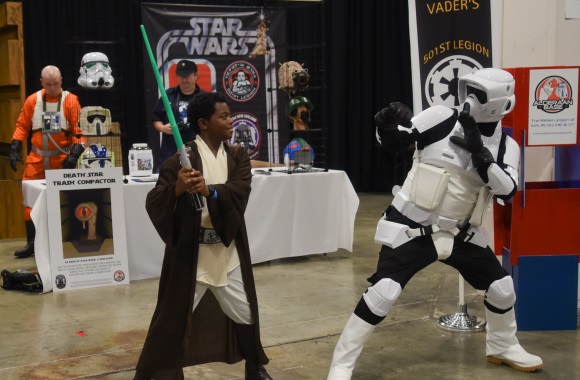 Results
Convention attendance exceeded 32,000, up 40% from 2013 and more than three times greater than 2012's attendance of 9,000.
"The return on my investment is through the roof," Kanieff says. "We've now outgrown our new venue, which I didn't think would happen for another five years. My goal has always been to go into the Boston Convention and Exhibition Center, and we're in discussions now to hold the 2015 convention there."
More high-profile celebrities attended this year than in any previous year.
Two hundred people went on the cruise (capacity was 225).
The costume contest drew 30 entrants, up from 20 last year. Murphy says about 80 total attended.
Facebook posts reached an audience of more than 91,000 between August 8 and 10.
Boston Comic Con's Twitter followers increased from 5,500 to 6,200 between July and August. Top tweets averaged 4,000 and 6,000 impressions.
The Pinterest page attracted more than 6,000 views in its first month.
Seventy-five earned stories ran in outlets such as The Late Late Show, Boston magazine, Boston Herald, The Boston Globe, Comics Alliance, Comic Bulletin, and NBC New York.
Future
Kanieff is aiming for 50,000 attendees next year, assuming the show is held at the Boston Convention and Exhibition Center.
The team is exploring additional off-site programming and will continue to concentrate on attracting an even broader audience.