As support for – and acceptance of – the LGBT community continues to grow in the US, brands are more often including it in mainstream marcomms programs.
One indicator is the growth of gay marriage rights in the US. Earlier this week, the Supreme Court allowed rulings on same-sex marriage in several states to stand, meaning marriage rights for gay couples spread to a number of new states. This summer, the High Court also struck down a portion of the Defense of Marriage Act last summer. The most recent decision means a majority of Americans are now living in states where gay marriage is legal, according to polls by various media outlets.
Yet in terms of marketing, General Motors' broadcast, lifestyle, and LGBT communications manager Joe LaMuraglia, says the "inclusiveness in mainstream ads is what's really powerful."
He cited his company's Chevrolet commercial during the 2014 Sochi Winter Olympics featuring a gay couple, as well as recent ads from Cheerios and Honey Maid. He believes more companies will soon move in this direction.
Brands are getting more comfortable featuring gay and lesbian couples in their marketing efforts, says Kerri Allen, head of the multicultural practice at Cohn & Wolfe. The influx of celebrities and professional athletes coming out, such as Michael Sam and Jason Collins, has also helped to change cultural perspectives, she adds.
Despite the shifts, Allen contends that marcomms has a way to go in terms of featuring the diversity of the LGBT audience, since most ads and campaigns feature "fit, good-looking Caucasian gay men."
As pop culture begins to feature more LGBT characters, such as Orange is the New Black's inclusion of a black, transgender character, Allen believes brands will eventually follow.
However, many members of the LGBT community want companies to go a step further than just representing it in their marketing campaigns. While companies featuring LGBT lifestyles in marketing is a fantastic step, Tom Whitman, SVP of agency Flip, says, "You have to talk us, too – not just include us."
He believes the key for brands is to conduct both targeted marketing speaking to the LGBT community with an insider voice and inclusive marketing that includes images and voices of gay and lesbian people in ads and programs.
"You have to do both to be truly effective. Talk to us directly, in our media and voice. That shows us that you have made our community a priority," he explains. "Then include us in your general market advertising. That shows us that you are public about your support and inclusion."
In terms of sensitivity, Whitman notes that brands can "make a humorous portrayal or inside jokes" as long as they have the credibility to do so, such as a high Human Rights Campaign Foundation Corporate Equality Index score.
AT&T, which received a 100% Human Rights Campaign rating this year, has had a non-discrimination policy in place since 1975. About four years ago, the company realized it has equity with the LGBT segment and can market more actively to its members.
Laura Hernandez, executive director of multicultural marketing at AT&T, says the company did research and talked to members of the community, including influencers, stakeholders, and consumers before beginning its LGBT marketing.
"We didn't want to make a mistake, which although unintentional, could hurt the reputation that we had built in this segment," she explains.
Hernandez adds that the recent Supreme Court rulings, as well as statistics that show a majority of Americans will soon live in states with marriage equality, has driven "a lot of excitement and energy within the community," and has given AT&T new ways to celebrate.
Earlier this month, AT&T launched a social media campaign to celebrate LGBT History Month through October by asking consumers to check in at locations that have empowered the community using the hashtag #MakingYourMark.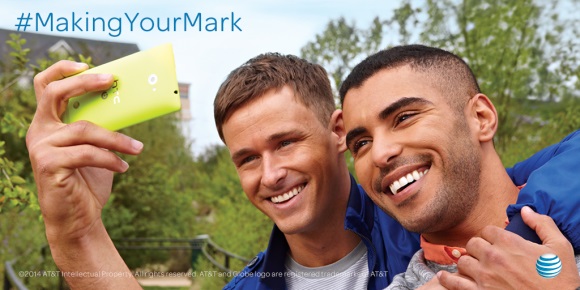 "We see greater interest in things like this because people want to tell their stories, and there is a greater comfort and a desire to tell their stories," adds Hernandez.
She also referenced a Digitas study that revealed that 35% of 18- to 24-year-olds use their mobile devices during the coming-out process, which shows the importance of technology and sharing within the community.
AT&T also shoots its own photos for its LGBT work, rather than using stock footage, and the images are used on social media and in print ads. The company has yet to do a TV commercial aimed at the LGBT audience.
GM, another company with a 100% Human Rights Campaign score this year, engages the LGBT community through grassroots events.
"Our strategy, and it's slightly counterintuitive, isn't about getting coverage in gay media because quite frankly there isn't a whole lot of LGTB media out there," notes LaMuraglia. "We're happy when we get it, but my goal is to get out there and actually really influence the influencers."
LaMuraglia explains that as the country has become more open-minded on the subject, GM has taken advantage of it by doing more outreach. For instance, it was the first automaker to attend the Family Equality Council's Family Week in Provincetown, Massachusetts, this summer.
At the event, LGBT employees of GM interacted with attendees and invited families to design their own T-shirts based on the family's unit, whether it included two moms, two dads, siblings, pets, and so on.
"Honestly, five years ago, we might not have shown up there," says LaMuraglia. "You're seeing more mainstream brands dipping their toes in the water from a marketing perspective, and if you look at the data, more than 50% of the population approves of gay marriage, so the times have changed."
He adds that GM doesn't have all of the answers, but its approach is to be "unexpected, authentic, and consistent."
One change MWW has seen among its corporate clients is a genuine understanding that creative needs to match an initiative and its audience, says the firm's SVP and LGBT lead Stephen Macias. When it comes to marketing and PR, "one size does not fit all," he notes.
"What we now know as we look at the modern American landscape is that there is no one face that represents all of the American people anymore," he adds. "Our segment likes to see images of our families reflected back to us in ad campaigns, so a general market ad campaign with a heterosexual couple resonates differently than one with an LGBT couple."
Macias notes that MWW research also shows the LGBT community responds to cause marketing, especially relatable initiatives involving marriage and healthcare.
When a company engages LGBT consumers, he says it has to understand them both professionally and personally, realizing that the diverse community intersects with every demographic in the country. He also notes that members of the LGBT community are often "tastemakers," so it is important to market through them as well as to them.
In the next two or three years, C&W's Allen believes brands will move closer to figuring out how to not make a big deal about LGBT marketing and incorporate it into communications efforts seamlessly.
"Brands are struggling with it, and as a culture we're struggling with it," she says. "We're figuring out how to do it, but we are way over the rainbow. We're past that."
Allen warns, however, that while the country has made a lot of progress, hate crimes and discrimination still exists, which is why "someone has to beat the drum" in terms of marketing, adding that brands "might be the vanguard of making the US more inclusive overall."
And although US consumers at large are becoming more progressive on the issue, Hernandez, LaMuraglia, Macias, Allen, and Whitman all say specific LGBT marketing efforts are still necessary.
"These are consumers who have not seen themselves portrayed in media almost ever, with some exceptions here recently with companies that have taken a bold step," Hernandez says. "We still have a long way to go with this segment."