Organization: 1199SEIU United Healthcare Workers East (New York City)
Campaign: We Care For NY
Duration: December 6, 2013 - August 6, 2014
Budget: about $250,000
In summer 2013 healthcare employers first began talking about making changes to the healthcare benefit structure for unionized workers in New York State. Dave Bates, communications director for 1199SEIU United Healthcare Workers East, says the proposed changes, which were officially issued in April 2014, would have resulted in drastic benefit cuts for 55,000 lower-wage workers and destabilized the entire fund, impacting 110,000 nurses and healthcare workers.
"Our president George Gresham decided to run a very proactive campaign because we didn't want to be put on the defensive like other unions that have been under attack," Bates explains. "We wanted to protect quality health benefits for caregivers, including lower-wage workers, so they could provide quality care to patients.
"Employers were starting to open clinics with non-union jobs and terrible health benefits and pay, so we also wanted to ensure these non-union workers have a fair way to join the union," Bates adds.
Strategy
Through earned, owned, and paid channels, the union promoted members' dedication to providing quality healthcare. Healthcare workers served as spokespeople, and their personal stories and voices were used across all channels.
Messaging focused on the idea that quality healthcare depends on healthy caregivers and that good health benefits are key to recruiting and retaining a strong workforce.
"In addition, we positioned our campaign as part of the existing public discourse about economic inequality in New York," Bates says. "We asserted that all healthcare jobs should be good union jobs for New Yorkers to ensure healthcare workers can afford to live in communities where they provide care."
Tactics
Ads, including subway and bus shelter ads in New York City, began running in late 2013.
About 60 frontline healthcare workers were trained on media literacy, messaging, talking points, and how to relate their personal stories to the campaign's messaging.
A campaign website (www.CareForNY.org) featuring worker's personal anecdotes, media coverage, a letter of support, and more launched in June.
Media outreach began June 15 and focused on mainstream outlets in New York City and local papers in the boroughs.
A June 18 press event was held outside Mount Sinai Medical Center, which Bates says is one of the main hospitals opening clinics with non-union jobs. Simultaneously, more than 10,000 healthcare workers picketed outside about 100 hospitals and nursing homes throughout the greater New York City area.
"Steven Hawkins, executive director of Amnesty International USA, elected officials, and other allies attended the press conference, showing that the issue is large and has wider implications about the quality of healthcare and income inequality in New York City," Bates says.
Daily Facebook posts included professionally shot portraits of workers with their own quotes about the importance of having good health benefits.
Twitter was primarily used to communicate key campaign information to reporters, elected officials, and community allies using #WeCareForNY.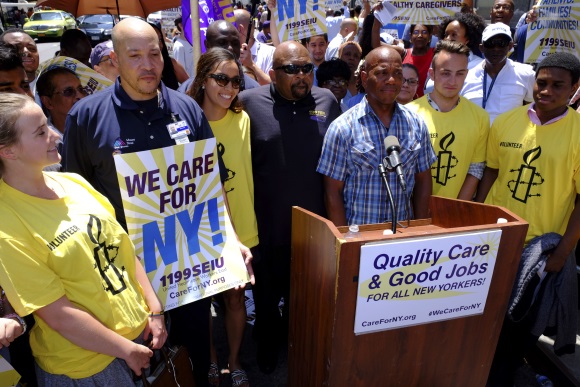 Results
The union won a contract agreement on July 21, 2014, that ensures workers will get health benefits with no co-pays, premiums, or deductibles as well as raises of more than 13% over four years. The agreement also provides a fair way for non-union workers at outpatient facilities to join the union.
About 60 earned stories ran in outlets such as The Wall Street Journal, NY Daily News, WNYC, and Staten Island Advance.
Total reach on Facebook and Twitter topped 250,000. Bates adds that Facebook posts about the contract win broke records for likes, comments, and shares.
Future
Plans for the rest of 2014 include urging nursing homes to increase staffing levels. Bates says the union, which has one of the biggest political action funds in the US, will also be very involved in upcoming state and national political races.