"The times have changed," Bob Pickard, chairman Asia-Pacific, Huntsworth Group told PR pros as the ICCO Global Summit in New Delhi. "Asia is no longer an insignificant player on the global stage. A third of the world's top 2000 companies are now headquartered in Asia." He told delegates that as the economic centre of gravity shifts to countries such as China and India and Asian firms begin to take their place alongside some of the world's biggest multinational corporations the place of PR in their marketing budget mix should increase. "188 of the Fortune 500 companies are in Asia. 95 of these are in China, 57 in Japan and India has 8," he noted. "These are the companies we have to grow with."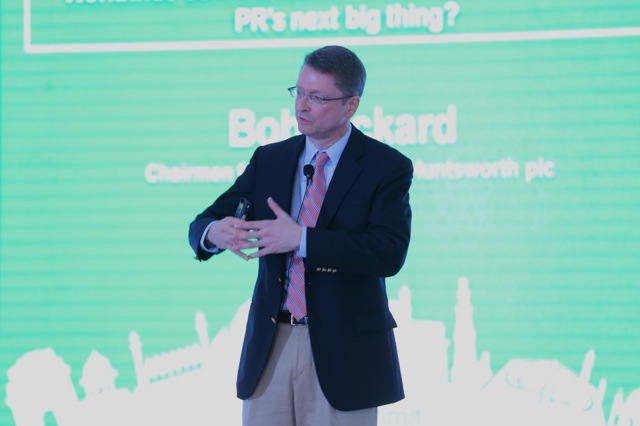 Pickard told delegates that the rise of Asian firms has come as a "rude awakening" to the western centric approach of the communications industry. "There are stereotypes in the west for all companies based in Asia. Some are seen as producing cheap products while others are viewed as a security threat." He illustrated this with the example of the Chinese tech firm Huawei which was effectively shut out of the US market in 2012 over tenuous security fears. "Correcting their image presents a massive business opportunity for PR."
"Many Asian companies are completely unknown outside of the region and will find it challenging to compete in countries where 'mind share' will help them achieve market share. "We in the PR industry can help them do that," he said. "In many cases, their (Asian firms') corporate communications efforts have been so local in orientation, they are simply not yet equipped with the tools they will need to build an image or defend their reputation," he noted.
Although Asian firms are playing "catch up" in the field of corporate communications they have been able to close the gap with their western counterparts in social media. According to a study by Burson-Marsteller while only 40 percent of Asian companies had at least one branded social media channel in 2010 (compared with 81 percent of MNCs) by 2011 that jumped to 80 percent – almost the same other MNCs.
Pickard told delegates that together with public affairs, corporate communications presented the biggest, most exciting opportunity for the industry in the region and he believed that rapid globalisation of Asian firms was the "next big thing" for PR.