A career jump from the world of politics to spearheading communications at Nestlé may seem like an unlikely one, but that is exactly what Rudolf Ramsauer did when he joined the brand as its corporate communications director in 2008.
But without his political experience, Ramsauer says he would not be able to handle his current duties at the Swiss multinational food and beverage company.
"Public affairs and PR as a whole are very much based on stakeholder relations," he adds. "You must have skills in media relations, but you have to be able to engage with stakeholders," which he identifies as groups that are "sometimes friend, sometimes foe." "That is very political," he explains.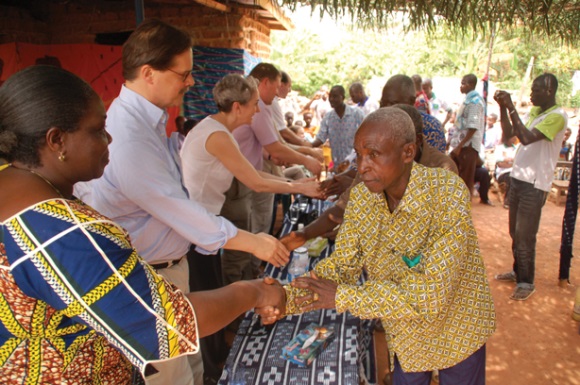 Ramsauer made his start managing the Swiss Embassy in Washington's bilateral and multilateral trade policy.
He describes Nestlé as the most globalized company in the world. Its headquarters alone – based in Vevey, Switzerland, a tiny town on the shore of Lake Geneva – houses more than 80 nationalities. Moreover, Nestlé has 447 factories, operates in 194 countries, and employs about 333,000 people. Brands include Nescafé, Häagen-Dazs, Buitoni, Lean Cuisine, and Nestea.
"You have to speak several languages and deal with people of different cultural contexts [at Nestlé HQ]," says Ramsauer, who reports to CEO Paul Bulcke. "It is important to have a mentality of tolerance and open-mindedness, otherwise you cannot work together here. This is where my political background serves me well."
Since joining Nestlé, Ramsauer says the company has evolved to be more engaged in stakeholder relations, regularly meeting with NGOs, governmental organizations, and key opinion leaders. Additionally, the company's media activity has grown five-fold since his appointment.
"My golden rule of communications is listen, and then personally engage with stakeholders," he says. "Don't just use media."
The first step in amplifying Nestlé's stakeholder relations started with a revision to the company's recruitment policy, Ramsauer notes. Historically, communications staffers at the company were hired from other internal departments or agencies. Now, the company recruits people who have been "in the trenches." For example, recruiting people who have previously managed or worked for NGOs, Ramsauer says.
"Leading companies such as Nestlé have to be continuously aware of what's out there and how our presence in broader society is perceived," says Bulcke. "Rudolf and his team help us connect with society and stakeholders in a constructive way."
A teachable moment
As one of the largest food companies in the world, Nestlé is no stranger to public scrutiny and has been at the center of several controversies in recent years. But one social media attack in particular forced it to re-evaluate its stakeholder relations efforts.
In 2010, Greenpeace UK created a graphic video, which questioned the way the company acquired palm oil and stated that the organization's practices were contributing to rainforest deforestation. The video – which compared the consumption of a KitKat to eating an orangutan's finger – garnered about 1.5 million views.
Nestlé's first reaction was to have the video removed from YouTube, but this just spurred Greenpeace and its supporters to leave comments on Nestlé's Facebook page and send the company more than 200,000 emails demanding the company alter its palm oil process.
"We were not prepared for the social attack from Greenpeace," says Ramsauer. "A colleague called it a 'teachable moment.'"
In response, that May, Nestlé partnered with The Forest Trust to announce a zero-deforestation policy, with an initial focus on amending its palm oil purchasing practices.
Building social capabilities
The crisis also sparked the buildup of the company's social media capabilities, which, until the Greenpeace attack, had been lacking, Ramsauer adds.
To do this, Nestlé hired Pete Blackshaw in February 2011 as its global head of digital marketing and social media. Reporting to Ramsauer and Tom Buday, VP of marketing and consumer communication, Blackshaw's first move was to establish a digital acceleration team to integrate digital and social media into brand building and business operations.
As part of the program, different staffers from Nestlé's bases around the world are sent to the company's headquarters for eight months to learn everything about digital, essentially becoming digital champions, so that when they go back to their own markets they are able to formulate their own local digital initiatives, Ramsauer explains.
"A crisis is an opportunity," he says. "As a result of what happened with Greenpeace, our media activity is more intensive, we're more advanced on social, and make sure we reach out to stakeholders, such as NGOs."
When Nestlé faces a controversy, Ramsauer says the main PR objective is to make sure the company gets positive recognition for its responsible market efforts.
An ongoing issue the organization has had to contend with since 1977 has been a boycott on its products from activist groups in the US and Europe in relation to its promotion of infant formula as a breast milk substitute. Critics state Nestlé is in violation of a World Health Organization code regulating the advertising of breast milk substitutes and that the company's marketing efforts have led to health problems and deaths among infants from less economically developed countries.
Nestlé's stance on this issue is that it is the only infant formula producer in the world that is a member of the FTSE4Good Index Series, designed by the London Stock Exchange to objectively measure the performance of companies that meet globally recognized corporate responsibility standards.
"Our response is to be totally transparent and get a credible organization such as FTSE4Good that looks into what we are doing and tells us if we are doing something wrong and where things can be improved," Ramsauer says. "We aim to have a credible, open process, which people can follow on our website; and of course we discuss this when we talk to stakeholders."
Nestlé's transparency stance carries into an incident that occurred in July, involving media reports questioning whether it is right for the company to sell water for profit in Cabazon, California, a drought area.
The company responded to the issue swiftly by posting a Q&A online, says Ramsauer, in which Nestlé explained that the water it bottles in that area belongs to the Morongo Band of Mission Indians, which act as the governing authority with respect to the company's water use. The tribe and Nestlé share a commitment to ensure that this groundwater supply is sustainably managed for the long term, the company states.
Nestlé chairman Peter Brabeck-Letmathe also aligns with the company's open corporate comms strategy. Last year, the former CEO found himself in hot water when a video clip about food security from 2005 surfaced, which featured him discussing whether water is a human right and asserting that it is best valued and distributed by the free market. To quell the backlash this clip prompted, Nestlé posted a Q&A on its site, with a two-minute video of Brabeck-Letmathe stating that he has "always supported the human right to water."
In addition, he wrote a blog on Nestlé's website, further clarifying his opinion, and gave "countless" interviews with the media, according to Ramsauer.
The main message the corporate communications team tries to convey is that Nestlé is the leading company for nutrition, health, and wellness. Recent efforts highlight that ambition. In 2011, it created Nestlé Health Science, which aims to bolster the brand's nutrition, health, and wellness strategy through pioneering the development and application of evolving science to create a new role for nutrition in disease prevention and management.
"Nestlé Health Science explores the space between food and pharma because we are convinced nutrition has an important bearing on health," Ramsauer explains.
Last year the company invested $4.3 million in its Singapore research center, with a primary focus on health and nutrition. In early 2014, Nestlé announced it would extend its activities in this area to include the field of specialized medical skin treatments through the creation of Nestlé Skin Health. As part of this effort, in May, the brand acquired the rights to commercialize several key aesthetic dermatology products in the US and Canada from Valeant Pharmaceuticals International in Canada.
Creating shared value
Back in 2007, Nestlé launched its ongoing Creating Shared Value initiative with a focus on nutrition, water, and rural development. Central to the initiative is understanding the opinions and concerns of stakeholders, and delivering the company's commitments effectively to them, according to Ramsauer.
"For a company to create shareholder value in the long term, it must also create value for society," he explains.
Since the launch, Nestlé has convened stakeholders annually at different locations in conjunction with the initiative, covering environmental sustainability, human rights, compliance, and the delivery of Nestlé's commitments. The meetings have been held in global locations including Geneva; Washington, DC; Kuala Lumpur, Malaysia; New Delhi, India; London; and Nairobi, Kenya. Feedback is implemented into policy developments and commitments during the next year.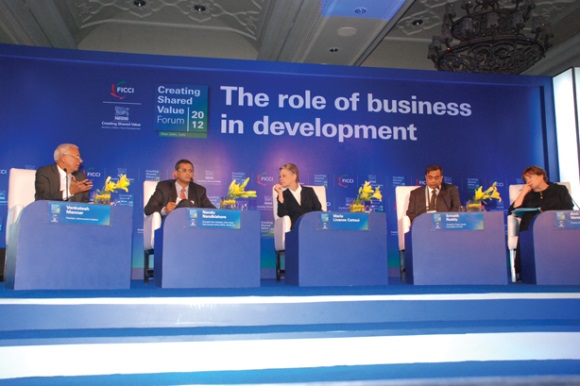 For example, in 2013 stakeholders said the company should be bolder in its corporate communications as part of its leadership and use Nestlé's marketing power to educate and inspire consumers. Feedback from recent meetings also led to a partnership with the Fair Labor Association, which helps identify and eliminate child labor in the company's cocoa supply chain.
"My team is dedicated to driving the Creating Shared Value principles through the company on a global level," he adds.