The amount of money spent targeting Hispanic customers on digital media has long lagged behind general audiences. However, communications practitioners tell PRWeek that is changing quickly.
The US Hispanic population has grown to more than 54.1 million, or 17% of the US population, making it the nation's second-largest racial or ethnic group, according to Pew Research.
While Hispanics have traditionally over-indexed in their adoption of new technology, PR pros say the portion of Hispanic PR dollars devoted to digital media has lagged in comparison with mainstream campaigns.
Yet in the last 16 to 18 months, digital media targeting Hispanic audiences has commanded a growing share of the communications pie, with blogger relations and social media outreach in particular getting more investment. That includes money spent on Hispanic Heritage month, which is running through October 15.
Mike Valdes-Fauli, president and CEO of cross-cultural marketing agency Pinta, which spun off from the US operations of JeffreyGroup at the start of the year, has worked with both Facebook and Flipboard to grow awareness of their capabilities for Hispanics.
The firm has promoted Facebook's Hispanic affinity cluster, which the social network launched last year, that lets marketers identify Hispanic users by filters such as geography, language preference, and interest.
"There are upwards of 23 million members in the Facebook Hispanic Affinity Group," Valdes-Fauli says. "Next to [Latino broadcast network] Univision, it is the largest single source if you want to reach Hispanics in this country."
For magazine-style reading app Flipboard, Pinta helped to develop a US Latino content guide for users, introduced this past June.
"The vast majority of dollars are still in traditional forms of media, but social is growing exponentially," he adds. "We're putting roughly 20% to 25% of our campaign efforts, hours, and dollars into digital now, which is double what it was a couple of years ago. And we expect a similar growth trajectory moving forward."
AT&T has included a Hispanic PR push as part of its relaunch of prepaid wireless service Cricket Wireless, which it acquired from Leap Wireless for $1.19 billion.
The push includes partnerships with singers Sheila E., Pitbull, and Enrique Iglesias, as well as professional skateboarder P-Rod (Paul Rodriguez). Cricket Wireless also sponsored soccer initiatives for the Guinness International Champions Cup, as well as many local festivals and partnerships.
The campaign includes a strong push on social media, including on the MiCricket Facebook and Twitter accounts, which leverage content from brand ambassadors. Citing a recent Nielsen study that said 38% of Hispanics between the ages of 18 and 29 are bilingual – a jump of 73% in the past decade – Cricket Wireless' head of communications Norelie Garcia says the brand is using a lot of "Spanglish" in its communications.
"We place strong emphasis on reaching the Hispanic Millennial, who straddles Latin and American culture and feels comfortable using both English and Spanish in the same sentence," she explains. "From a practical perspective, Spanish-language messages require more content than English. A best practice is to identify an acculturated reference rather than a straight translation, which will also come across as more genuine to the Hispanic audience."
Cricket Wireless has also forged "dozens of relationships across the country with Hispanic bloggers and influencers who follow our brand, use our services, and regularly cover our news," Garcia adds.
Cricket Wireless has been working with Boden PR on its Hispanic program. To date, Garcia says the brand has generated more than 100 million media impressions in part due to its Hispanic media outreach initiatives.
Maria Amor, VP of Hispanic PR firm Formulatin, says its clients have also upped their social media investments. These include Tecate Light and Indio, the latter of which launched via Facebook and a partnership with Vice. She has also seen a rise in blogger outreach as part of social and digital campaigns.
"We haven't really seen Latina bloggers who are influencers and appearing on media such as the Today show like you do on the general market side," Amor says. "The whole concept of making a blog a form of income was very new to the Latina consumer, and from a cultural standpoint we tend to not share our personal issues with the world."
However, that is changing, she notes. "The acculturated Latina, who are most of these bloggers, have seen how their general market counterparts create this community where they learn from each other," Amor says. "They realize they can do the same, and use it as a way to keep their culture alive. It has really picked up."
In 2012, Formulatin launched a program for Nestlé that connected two of its brands, Nestlé Abuelita and Nescafé Café de Olla, to the Mexican holiday, Day of the Dead. Important in many Hispanic communities, it celebrates the lives of loved ones in which people dress up, paint their faces like a skeleton, and build alters.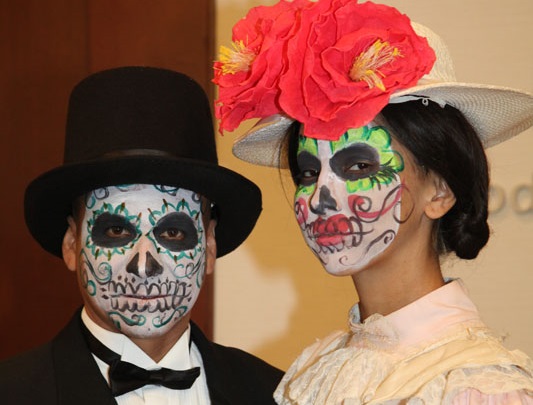 "We invited bloggers to Nestlé's headquarters to learn about Day of the Dead from a cultural expert, and within that event, the bloggers shared why it's important for them to keep their Hispanic traditions alive," Amor says. "The bloggers also learned how to apply Catrina makeup, and bake pan de muerto [a sweet roll popular during the holiday], and how to make their own altar at home."
The visitors then wrote about the meeting on their blogs.
Nestlé's Day of the Dead campaign also included sponsorship of the 14th annual Día de los Muertos event at Hollywood Forever Cemetery in Los Angeles. The brand updated Facebook content with holiday recipes and tips for creating altars, and held in-store sampling and activations.
"Latina bloggers are still very niche – focused on food, lifestyle, and parenting – but the community is becoming a little more organized. There is a directory called Blogs by Latinas that can be a starting point, but it's not like on the general marketing side with BlogHer," Amor explains. "But with brands such as Nestlé, Disneyland, and Nissan all using bloggers to validate their programs and products, we will start to see Latina bloggers diversify into new topics."
Due to budget cuts, Nestlé is not repeating its Day of the Dead program this year. Formulatin is working on a Hispanic campaign for Nestlé's sweetened condensed milk brand, La Lechera.
Meanwhile, the National Football League has also increased its outreach to the Hispanic community, specifically during Hispanic Heritage Month when it celebrates Latino coaches, players, staff, and fans. All 32 of its teams honor a Hispanic leader during the month.
However, the league's strategy is grassroots-concentrated.
"Our focus is on grassroots and community outreach and not on mobile or social integration," says Marissa Fernandez, director of fan strategy and marketing and leader of its Hispanic initiatives. "Many teams continue their efforts beyond the leadership awards into Hispanic-focused community events, such as reading events at predominantly Hispanic schools or free Play 60 clinics in local Latino communities."
Ralph Herrera, president of Lanza Group in Atlanta, says marketers should tie their campaigns to cultural holidays, which he has seen grow in popularity among both US-born and immigrant Hispanics, as well as the general population.
In addition to Day of the Dead, for which major events take place in Atlanta and Chicago, he notes that Cinco de Mayo, a holiday that honors a military victory for Mexico on May 5, has "become a very Americanized holiday. It has become a great crossover event."
"It's also grown in popularity because of its timing: You're coming out of the winter months, with summer just four weeks away," he says. "Food and beverage products and things such as sunscreen lotion would do well to get involved."