A PRWeek/YouGov poll reveals that 60 per cent of the public agreed that "the world's climate is changing as a result of human activity", with 22 per cent accepting that climate change was taking place but not because of human activity.
Four per cent said the climate was not changing and 14 per cent answered they were not sure.
PRWeek commissioned the poll as part of a special report on climate change and alongside another poll of MPs that revealed deep scepticism within Tory ranks over the issue, with only 51 per cent of MPs agreeing "It is now an established fact that climate change is largely man made".
The biggest disparity, however, was between Conservative supporters and the MPs within the party – 51 per cent of Tory supporters among the public agreed that the world's climate was changing as a result of human activity, compared with the 30 per cent of Conservative MPs who agreed man-made climate change was an established scientific fact.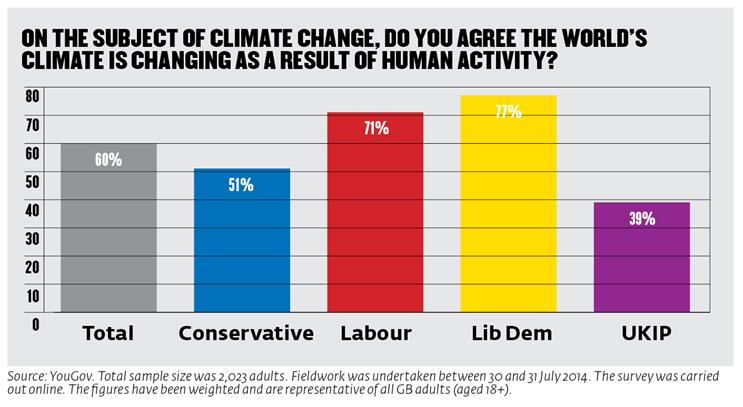 John Coventry, director of comms UK and Europe for online petition platform Change.org, welcomed the level of public support for the idea of man-made climate change but pointed to the disparity with politicians.
"The good news for people campaigning on climate change is that they've won a sizeable chunk of this argument, in that the public has listened and understood. However, the Government seems to be playing catch-up.
"David Cameron has said good stuff on climate change and now a sizeable number of Conservative voters want to see change happen but it seems a big chunk of the party are holding that back."
The survey, which questioned more than 2,000 members of the public, also revealed many people felt that though they were changing their lifestyle to cut down their carbon footprint, others were not doing enough.
While 49 per cent said they were doing a lot or a fair amount to cut their footprint, only 20 per cent said the same when asked what they thought of others' efforts in this regard.
It also revealed that a large majority – 67 per cent – of the public were not willing to see energy bills go up, even if the rise was because of extra investment being made in low-carbon energy sources.