Sections
Cargill's time to thrive
By engaging employees and leveraging local and global anniversary outreach strategies, Cargill will celebrate its 150th birthday by planting one foot firmly in the future.
"You don't get to be 150 years old without learning, adapting, and recognizing the changed environment around you," says Cargill's Penny Studholme, VP, corporate affairs, EMEA. "The organization works in sectors that are critical to everyone on the planet, and we have a responsibility to help people understand what we do and take part in the big debate."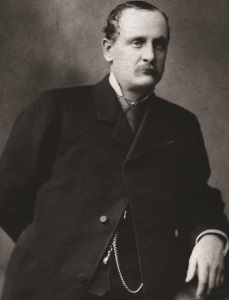 Cargill's founder, W.W. Cargill, started the company with a single grain warehouse in 1865. Today, Cargill employs about 143,000 people in 67 countries, providing food, financial, and industrial products and services worldwide.
Next year marks the company's 150th anniversary. But rather than celebrating the fact that it is one of the world's oldest food companies, Cargill is running a multifaceted campaign building upon its brand for the next 150 years, according to Paul Hillen, the company's VP, corporate brand, digital communications and marketing.
The campaign's primary targets include Cargill staffers, customers, and other external stakeholder groups, such as the communities the company operates in, NGOs, and the government.
Cargill is using its anniversary as an opportunity to – for the first time – align a single brand promise, "More successful with Cargill," and brand expression, Thrive, across all of its businesses, according to Hillen.
Thrive messaging will be included in all of Cargill's corporate and business unit communications, such as advertising, online, digital, speeches, and conferences.
"We wanted to come up with a brand expression that encapsulated both that brand promise of helping others to be more successful, as well as our purpose of nourishing people, and that is how we landed on Thrive," says Hillen. "By refreshing the brand, we are trying to emphasize what has long been part of its rich commitment to customers."
For the anniversary, communications and marketing materials will include the tagline: 150 years of helping the world thrive. The tagline will not lock up with Cargill's logo.
Educating staffers first
The brand refresh launched internally at Cargill last fall. Hillen says the company's communications department has spent a "significant" amount of time with employees so everyone understands the meaning behind Thrive.
"If your staffers can't deliver on the brand promise, you are going to overpromise and under deliver," he says. "We will put in a significant effort to push this out externally in January 2015 as part of our anniversary."

Branding agency VSA Partners aided Cargill with the development of Thrive and Weber Shandwick has been helping the company with its PR plan surrounding its anniversary and brand refresh. Budget information was not disclosed.
Led by global brand director Karen Kozak, Cargill's communications team has developed a digital and online strategy to promote the anniversary. The company will also leverage a mobile-responsive website to tell stories about its anniversary and brand.
The "voice" of the anniversary campaign will be amplified through Cargill's pre-existing comms channels, such as its corporate website and social media pages. One hundred and fifty stories, drawing upon Cargill's past, present, and future outlook, will make up the central content of the campaign.
By using various media – such as video, embedded links, maps, animated GIFs, and timelines – the stories will be told in a "rich, engaging, and refreshing" way, according to Mike Fernandez, Cargill's corporate VP, corporate affairs.
"We're going to use 150 years of proof points to show how we have helped multiple stakeholders to be successful," Hillen says. "It will serve as a reason for them to build business with us in the future."
For each country where Cargill is based, a coordinator has been tagged to promote the company's anniversary. They have free rein to plan their own campaign activities with employees and stakeholders.
"[Coordinators] are looking for ways to bring people together, recognize 150 years of the company, and find localized anniversaries of their own, such as the 25th anniversary of a particular plant," explains Studholme.
Each coordinator will electronically receive what she refers to as "the 150th in a box," which consists of various tools, techniques, artwork, and concepts.
"From the box, they can use what is culturally relevant to them," Studholme adds, "but we are also going to maintain consistency around the world in terms of how we approach this. Everyone has to follow the same guidelines."
A personal touch
In an effort to help staffers make the anniversary a "personal, tangible" event, Cargill will be running several employee engagement activities throughout 2015, notes Hillen.
For instance, staffers worldwide will be supplied with printed and digital images of the company's founder and invited to "show" him present-day Cargill and demonstrate their pride by submitting individual and team photos with his likeness.
Photos will be shared on the 150th anniversary website, and employees will be encouraged to tweet about the initiative using the hashtag #IAmThrive.
"Similar to the Flat Stanley project idea [school children mail letters featuring Stanley to other kids, each chronicling activities and travels], we are going to have our employees around the world show W.W. Cargill all the great things we do in all the communities we operate in," says Hillen.
"This will help [staffers] tell the story about how they are helping others to thrive."
Additionally, Cargill wants staffers' families to understand the work the company does. From May to December 2015, children of employees will be invited to enter the company's Thrive Illustrated art contest and the artwork will be showcased on the 150th anniversary website and across various Cargill social media channels.
"The artwork must depict how their family member helps Cargill stakeholders be more successful," adds Hillen, "which sets the stage for the future generations to understand how Cargill is helping the world Thrive for the next 150 years."
– Diana Bradley
---
Sustainable future
Transparent CSR strategies engage myriad stakeholders to create best practices around the world.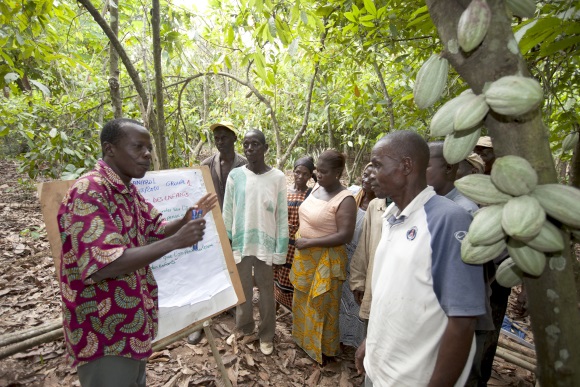 With a sustainability program informally dating back to the '80s, Cargill has been focusing on greater good efforts for decades. Through the years, the global company's sustainability practices have evolved, now cutting across areas such as corporate affairs, food ingredients, strategy, and business development.
As a b-to-b brand, Cargill's main customers are corporations and CPG companies, such as Mars, Procter & Gamble, and Coca-Cola, causing its CSR work to range greatly around the world.
Cargill participates in setting sustainability standards for industries including cotton, palm oil, and soy, and its goals are aimed at improving energy efficiency, renewable energy, greenhouse gas intensity, and water efficiency.
"We work with these industries that are considered multi-stakeholder," explains Mark Murphy, global head for corporate responsibility and sustainability within Cargill's corporate affairs practice. "It helps us better understand what the key sustainability standards are and see what we can do as a company to influence the ones we think are the most important practices, standards, and principles to apply."
Transparent CSR strategies
In 2001, Cargill launched its first CSR report as an insert in its internal company magazine, The Cargill News, which was distributed to select outside sources. Following that, the report was done every other year until 2011 when it became an annual asset. Now, CSR reports are published online so people see Cargill's objectives and progress in sustainability.
By 2015, Cargill wants to improve energy efficiency, greenhouse gas intensity, and water efficiency by 5%, as well as increase renewable energy to 12.5% of its energy portfolio.
As of fiscal 2012, the company reported a 3.6% improvement in energy efficiency, a 4.9% upswing in greenhouse gas intensity, a 4.8% improvement in fresh water efficiency, and renewables accounted for 13.5% of its energy portfolio.
Although Cargill has strengthened its sustainability offerings in the last few decades, the company's efforts came with their fair share of controversy, some as recent as a few years ago, such as connections to deforestation and child labor.
To make sure it is successful to its vision, Cargill works with various parties, including NGOs, government leaders, farmers, and organizations. At the end of last year, Cargill renewed a partnership it started in 2008 with Care, a humanitarian group that fights global poverty. The program, Murphy says, is one he's very proud of, especially the company's commitment to sustainable cocoa through the Cargill Cocoa Promise.
Cargill sources cocoa from farms in regions such as West Africa, Indonesia, and Latin America, and delivers the product to processing plants in other regions, including Europe. Murphy says the farming practices Cargill helped create are now applied to all of its large and small cocoa-sourcing operations around the world.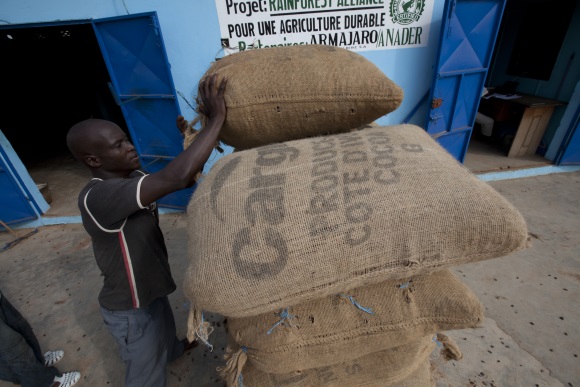 Farming schools
The partnership with Care has allowed Cargill to form training schools on cocoa farms in West Africa to help "educate farmers around economic development and keep kids off the farms," he adds.
"By training farmers and giving them better techniques of producing and collecting the cocoa, they can raise their incomes by up to 50%," says Ruth Rawling, VP of global issues management at Cargill. "That makes a huge difference to local communities and their ability to raise themselves out of poverty and have a much more vibrant and resilient community going forward."
She adds that this model also makes cocoa farming more attractive to younger generations, which will help continue the production of cocoa. Since the partnership started, Murphy says, Cargill has trained more than 60,000 farmers and has generated about $25 million in premiums for the farmers.
West Africa is the best place in the world to grow cocoa, but Cargill is looking at expanding to other regions, such as Brazil, Indonesia, and Vietnam. When the company tries to change supply chain practices in countries, many elements come into play, including political and cultural obstacles.
"We often find that these conversations are most productive when all players – the government, private sector, including farmers, and NGOs – are looking at the social issue," says Rawling. "When you get all of them to work together, it is powerful and you can make the most progress."
The situations from country to country are never the same, she adds, which is why Cargill has staff who understand local cultures and can share best practices from other regions. In the past, the company sent in expats to help build the businesses, but Murphy says today the focus is on having a staff on the ground with a long-term view to stay there.
"We're trying to make the system more sustainable," Rawling says, "That means making it economically viable, protecting the natural resources, and doing it in a way that helps communities not only survive, but thrive and be resilient in their ability to keep on producing agricultural materials."
"The entire agriculture industry has this challenge," she adds, "and we're helping to find solutions."
– Lindsay Stein
Child labor controversy
In 2005, three people from Mali and human rights organization Global Exchange filed a class action lawsuit against Cargill, Nestlé, and Archer Daniels Midland for allegedly forcing child labor on cocoa plantations in the Ivory Coast. The case was appealed for the second time this January, and a decision is expected soon.
"In the last 10 years, we revamped the way we work with cocoa producers," says Cargill's sustainability chief Mark Murphy. "We do everything we can to build initiatives and standards to enhance, verify, and commit to better practices from the suppliers we buy from."
He says the lawyers of all three companies work side by side in terms of aligning their positions to the courts.
"We do everything we can to get bad actors out of our supply chains, but we can't assure that it is perfect all the time," he adds.
Palm oil: striking a delicate balance
When Cargill went into Indonesia for palm oil, the company "was an outsider in an insider industry," with very powerful and fragmented government systems, explains the company's head of sustainability, Mark Murphy.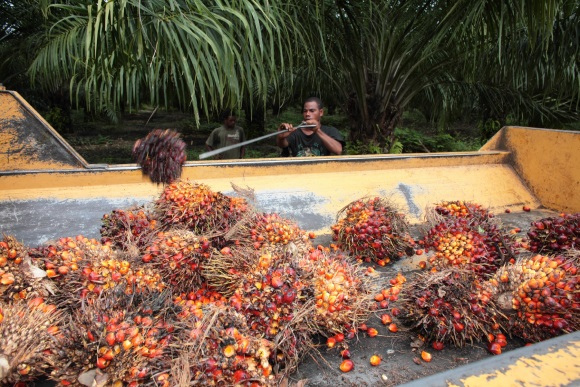 "The Indonesians have not liked external parties, whether it was businesses like us, which are industry players," he says, "or American or European companies that want sustainable palm oil, demanding they clean up their act."
With the help of outside sources, Indonesia has made progress on this, says Cargill's VP of global issues Ruth Rawling.
"It's hard sometimes for governments to prioritize longer-term sustainability dimensions when they have short-term issues around income for farmers and the need to raise the economic availability of food to their broader population," she adds.
Cargill channeled efforts around palm oil in three phases. The first was about gaining a better understanding of what it means to be part of stakeholder groups, such as the Roundtable on Sustainable Palm Oil (RSPO). Phase two focused on communicating the complexity of the industry and supply chain to customers via phone calls, fact sheets, and learning tours.
Today, the third phase is about staying current with customers' expectations on what Cargill is doing to map out transparent supply chains and making sure it is addressing concerns around who it buys palm oil from.
Last April, after a Greenpeace report linked the palm oil Cargill sold to Procter & Gamble to deforestation in Southeast Asia, Cargill sent a zero-deforestation commitment letter to the RSPO laying out a strategy that includes building a traceable supply chain for palm oil, no conversion of high carbon stock or high conservation value areas, including peatlands, and respecting the rights of local communities to reject plantation development.
A few NGOs said the letter did not constitute policy, nor did it supply a timeline.
"We have a lot of dialogue with NGOs on our actions in supply chains," says Murphy. "We're pretty transparent to critics in telling them what we're doing, but they don't always like to hear that we're not going as far as they want us to."
He adds that, as Cargill continues to try to improve its practices in supply chains, the NGOs are often "moving the goal posts, so we are always in a game of trying to move our practices in a pragmatic way and improve them."
---
How to feed your planet
Open markets and free trade are the best option for alleviating global food deficit.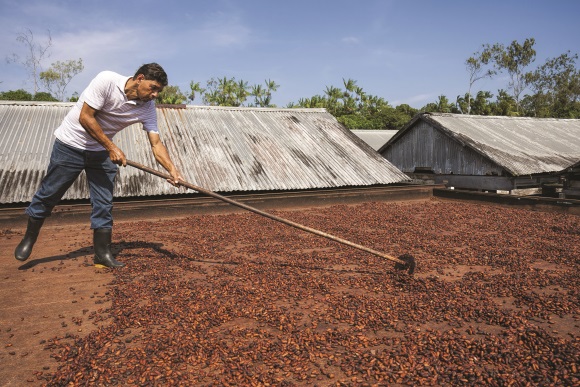 More than 800 million people worldwide don't have enough to eat. Through advocacy, efforts to improve nutrition, and an increase in food access, agricultural productivity, and income, Cargill says it is working to close the gap between surplus and deficit.
The company is an advocate for open markets and free trade because not only does it allow for food to cross borders, but it is also key to the broad development of societies, says Devry Boughner Vorwerk, Cargill's director of international business relations. Advocacy extends to work on investment policies and food security issues such as nutrition.
"Some policy discussions are now taking place that will have an impact on our future ability to feed the world," notes Susan Eich, director of corporate responsibility communications. Policies particularly important to Cargill are "related to open trade that will enable us to meet those challenges, including increasing food production and feeding and growing more affluent populations," she adds.
While policy priorities differ by country, the trade agenda at large will continue to be key, such as the Trans-Pacific Partnership, an agreement being negotiated by 12 countries, including the US, that addresses issues such as labor standards, environmental commitments, and intellectual property rights.
The company has joined the debate around why agricultural market access matters, meeting officials both foreign and domestic to articulate where Cargill sees the benefits from countries "taking the bold step of liberalizing their markets," adds Vorwerk, though it may not be a quick process.
"Companies should not go from points of protection to points of liberalization overnight. This is about transitioning to the right policy," she says. "Agriculture is the most protected industry in the world and it creates nationalistic attitudes."
Eich explains that some NGOs are against the trade agreement, such as labor unions that are anti-trade and anti-Trans-Pacific Partnership. Vorwerk adds that Cargill works closely to advance the agreement with those who support it, such as TechnoServe and The Nature Conservancy.
Flexible food aid efforts
Cargill has been working to advance discussions around a "more flexible food aid system," says Vorwerk. Domestically, it is an issue that involves various stakeholders including US farmers, NGOs, and Congress. The company also supports food aid reform efforts by the US Agency for International Development that include doing away with monetization, in which Washington gives American-grown grains to international charities. The groups then sell the products on the market in poor countries and use the money to finance anti-poverty programs.
Moreover, Cargill is working toward allowing cash purchases for commodities in local and regional markets and wants to end the requirement that food aid is shipped on US-flagged vessels, which the company feels takes money away from purchasing more commodities for hungry people.
Projects and efforts to influence food security and promote public policy in the mid and long term in Central America are carried out by "associates volunteering their time," says Jorge Calderon Suarez, regional director, Central America, at Cargill. This includes working with schools to increase access to food and educating parents. It also works with communities to support local farmers – many of whom are parents of children who attend schools supported by Cargill. Small farms were raised and kitchens were built at some facilities as a result.
Some parents "don't believe in formal education," says Suarez, so in places such as Guatemala, there is a focus on influencing parents to send their children to school. Cargill donated $10 million to Care, which went toward helping areas in Brazil, Ivory Coast, Ghana, India, Guatemala, and Honduras.
On a regional and global scale, Cargill is working to promote policy partnerships around food security and is taking a leading role on the World Economic Forum's New Vision for Agriculture, which is led by 17 global companies. The initiative aims to position agriculture as a driver of food security, environmental sustainability, and economic opportunity.
"We're trying to create a consistent narrative around what needs to be in place to deliver food," says Vorwerk. "It is about citizens having access to the right types of food across the globe."
In addition to moving food to reduce a deficit – something it has done for 150 years – Cargillworks to fortify vegetable oil in India or create healthier products in sweeteners. Eich adds that the company moves about 185 million tons of commodities for customers annually, most of it food.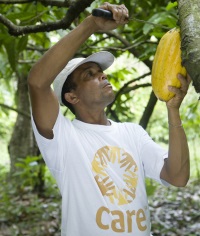 Caring for citizens
The company first partnered with Care during World War II and efforts vary by location. In West Africa, the focus is on improving the yield, productivity, and income of cocoa farmers, to enable them to increase their income and send their children to school. In India, it is largely on girls' education and women's and children's nutrition.
Michelle Grogg, senior director of corporate contributions and partnerships, says Cargill engages with groups such as Care or the World Food Program to help develop relationships with local governments and get them involved in initiatives, because the end goal is to hand over sustainable projects in a way that the community will embrace it and make the changes on its own.
Cargill recently renewed its partnership with Care in Central America (left) for another three years, for about $7.5 million.
The company trains farmers to increase yield, productivity, and improve nutrition across the globe, where benefits can have a ripple effect, such as in Thailand, where children can stay in school when tapioca harvesting is mechanized.
– Laura Nichols
Food security: a complicated issue
Cargill works to be as transparent as possible and partners with others that care about food security to"stand up in the face of criticism," says Devry Boughner Vorwerk. "There will be questions around our motivation."
After Cargill's subsidiary, Black River Asset Management, purchased farmland in Colombia, Oxfam International voiced its concern, alleging in September 2013 and again in April of this year that Cargill may have violated the law with the amount of land purchased.
Cargill's response in part was: "The actions of our subsidiary Black River Asset Management were above board and fully within the laws of Colombia, and no smallholder farmers were displaced. Despite numerous discussions be-tween Cargill and Oxfam, the reports are not a balanced reflection of the situation."
Food security is "enormously complicated," says Susan Eich, which gives the company "all the more reason to be forthright."
Existing challenges are affected by issues such as climate change, she adds, something that could affect food production. Executive chairman of the board, and former CEO, Greg Page recently joined the Risky Business Project, which assesses climate change's economic impact.
---
A look under the hood
Voluntary earnings reports and production plant tours help turn critics into advocates.
Cargill's executive chairman of the board Greg Page has a saying: "In a world where nothing can be hidden, you better have nothing to hide." This motto makes up the foundation of Cargill's longstanding focus on ethics, according to Lori Johnson, the company's VP of corporate affairs and director of global communications.
"Our aim is to be as transparent as possible and get the message across that we are cognizant about how we operate our business," she explains.
One way Cargill – a private company – does this is by voluntarily reporting its quarterly earnings results, which are posted on its website. CFO Marcel Smits also gives staff and media interviews each year.
Reporting results, even weak ones, gives Cargill the opportunity to discuss factors affecting food surpluses or scarcity, which can have an impact on commodity prices internationally, Johnson notes.
For instance, Cargill's Q3 results, reported in April, showed net earnings of $319 million, down 28% from $445 million the year prior. Q3 revenue was $32 billion, roughly even with a year earlier.
David MacLennan, Cargill's president and CEO, said in a statement that he attributed the loss to an unprecedented price spike in US power markets earlier this year; the rejection of certain US corn shipments to China; and weather-related disruptions to North American railway services.
"Financials are an opportunity for us to clear up some of the mythology that develops around the world food supply," Johnson adds. "Results show we do well when farmers do so. But, when food prices are high, we don't necessarily do that well."
In terms of consumer-facing transparency, Johnson has seen a "great increase in interest" from customers wanting to understand how and where the food they feed their families is produced.
In 2012, McDonald's – one of Cargill's largest consumers – launched its ongoing digital effort, Our Food, Your Questions, in Canada. After a customer asked if chicken nuggets were made from "ground up bones," the fast food chain created a video at a Cargill factory in London, showing the production process. The video aired during the Super Bowl and garnered more than 2.2 million Web views.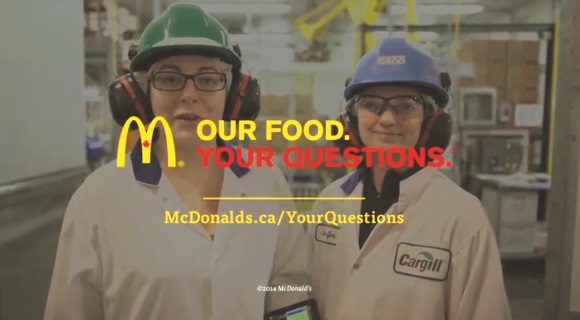 Cargill prefers to educate the public by inviting critics into its plants and plantations, says Johnson. Members of the media, vegans, and celebrities such as Oprah Winfrey have visited the sites and endorsed the company's operating methods, she adds.
Food safety has been a staple of Cargill's transparency efforts, extending to its crisis communications response in the face of recalls, notes Johnson.
In late 2011, for example, when Cargill voluntarily recalled approximately 36 million pounds of ground turkey meat due to potential salmonella bacteria contamination, the PR team made sure the recall was well-publicized and posted pictures on social media of the affected product's packaging, she adds.
"We also answered questions on social media in a straightforward way, which was challenging," Johnson explains, "as it is hard to translate food safety issues in a way that is accurate to everyone."
Cargill now voluntarily labels products containing textured beef since ABC ran a story creating the "pink slime" chaos in mid-2012.
Last spring, Cargill started processing chicken in China, opening its own farms and plants as part of a $300 million investment, says Bruce Blakeman, VP of corporate affairs, Asia-Pacific. As the chicken industry is under attack in China in relation to food safety issues, Cargill invited competitors into its plants, taking them through the manufacturing process.
Additionally, it helps competitors to improve their own – and the industry's – food safety efforts, he adds.
"Food safety is not a competitive advantage," Blakeman explains. "That is our philosophy."
– Diana Bradley
---
A day in the life
Whether it is complex government relations issues or an internal restructuring, effective comms keep a global team on message.
Hugo Krajnc
President, Cargill Argentina, and director of corporate affairs, Argentina, Bolivia, Paraguay, and Uruguay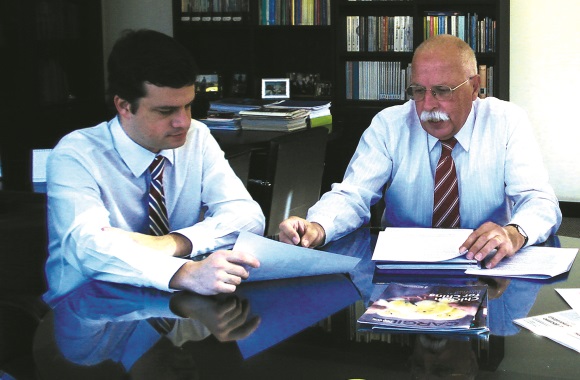 What issues take up the majority of your time?
Government relations. I am heavily involved with ministries and governors, and cover all topics of economic policy that have an impact on our business.
In various parts of the world, import and export policies differ. Rules associated with the regulation of agricultural supply chains are also different. And sometimes, being a US-based corporation in a country can prompt governments to look at you differently.
Cargill is the largest exporter in a country strongly dependent on the inflow of dollars. That puts us in a position where government relations are absolutely vital. In Argentina, we have more than 100 sites deployed in eight states, plus federal regulations, so government relations is both intense and dynamic. Our dialogue with governments runs the gamut from keeping a regular inflow of pre-export financing to supporting relief for communities affected by natural disasters and bad weather and working with others in the industry to take public policy positions.
What is your biggest project in the next six to 12 months?
Although we are still 15 months away from our elections, electoral processes in Argentina are usually stressful due to uncertainties on which policies or regulations might remain or disappear and which role is assigned to agribusiness: Just a supplier of US dollars via exports or one of the main vectors for Argentinian development.
We are doing analyses on different business opportunities and invested more than $500 million in the last decade. Three projects – a soybean crushing plant and port, a biodiesel plant, and a cogeneration [combined heat and power] plant – accounted for more than two-thirds of that figure. All of the future projects we are analyzing as potential investments individually have a smaller scale compared to a single crushing plant, but overall we need a bit less uncertainty about critical variables and that would take time.
Cargill is a long-term investor, both in Argentina and worldwide. Agribusiness projects are not suitable for an opportunistic approach you find in other sectors, where you get in one day and leave a year later.
What is the trickiest part of your role day to day?
Before becoming Cargill's president, I was in corporate affairs and provided advice and guidance. But at the end of the day, the decisions ended up in another camp. Now, I am the one who has to make the decisions.
With such large operations in Argentina, is the brand well known by the public?
Cargill has a different operation here than for instance in Brazil or Venezuela, in that our portfolio of brands does not reach the supermarket shelves – we do the first level of the process of agriculture and materials. But
Cargill is very well known, not only because of our history, but also because we are the largest agricultural exporter in the country, with annual sales around $3.5 billion to $4.5 billion, depending on the year.
And as a US-based company, that implies a significant level of exposure and means we make additional effort to protect or enhance our reputation.
What keeps you up at night?
An accident happening in the plant or food safety issues. We need to maintain strong security measures to prevent accidents, injuries, or loss of life, but I feel comfortable we have the safety measures in place.
– Sarah Shearman
Jan Winteridge
Brand communications manager, corporate affairs, EMEA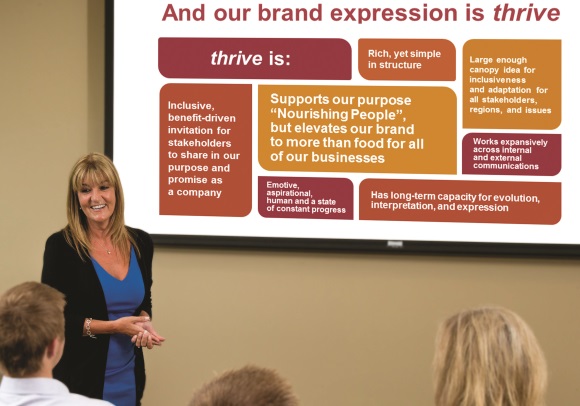 What do you do?
I play a key role within the global brand leadership and development team and spearhead the positioning and execution of the brand across Europe, the Middle East, and Africa. I also provide hands-on leadership and subject-matter expertise for new brand development across specific global projects.
How big is your team in EMEA?
We have about 21 people across the UK, Belgium, Germany, Russia, and Turkey.
What skills do you look for when you recruit new talent?
A lot of what we do is around innovation so we want talent who bring fresh ideas and enjoy a challenge, people who are inquisitive, like working in teams, and are forward thinking. However, we find it hard to find talent. People either have not heard of us or don't know what we do, so that creates challenges.
How are you rolling out the new brand strategy in EMEA?
It is all focused on helping make key stakeholders and organizations more successful, so in turn they choose to partner with Cargill.
It is our 150th year next year and we are developing 150 stories as proof points. We want to tell our story in a way that is simple, powerful, and unique to Cargill through one word: Thrive. We started to roll it out in 36 countries in EMEA in September last year and communicated to employees about the strategy and explained what Thrive means because, as a word, it does not exist in some languages.
Can you give an example of one of these stories?
A confectionery customer in Spain asked us to come up with a sugar-free chewing gum recipe. The complexity was that the product would be distributed globally to countries with disparate temperatures and would require a high degree of stability without affecting flavor and texture.
Cargill's recipe for the gum premiered to great success, rivaling other well-recognized brands. It achieved a 20% increase in the sugar-free chewing gum market during its first two years. A Cargill sunflower seed-processing plant was closed when occupied by Russian militants in east Ukraine.
What is the situation like now, and how did you communicate that story internally and externally?
It is still closed, but our employees are safe and we are doing our utmost to ensure they stay safe. We put out a statement externally. Internally, we addressed the issue on our intranet site and we emailed the staff about the situation. Also, our global security team in Minneapolis is watching everything.
What is the greatest communications challenge you faced to date?
When we did a restructure about three years ago and reduced our numbers by 1%.
People realized we could not carry on the way we were, but it was a big culture shock because Cargill has never done that before.
What do you love about your role?
I love the variety and coming into work every day never quite knowing what I am going to be doing. I enjoy working with the people and we have some great talent. With Cargill you get a lot of chances to develop and grow. It is such a large operation, there are always many opportunities.
– Sarah Shearman
Colin Lee
Director of corporate affairs, Cargill Tropical Palm Holdings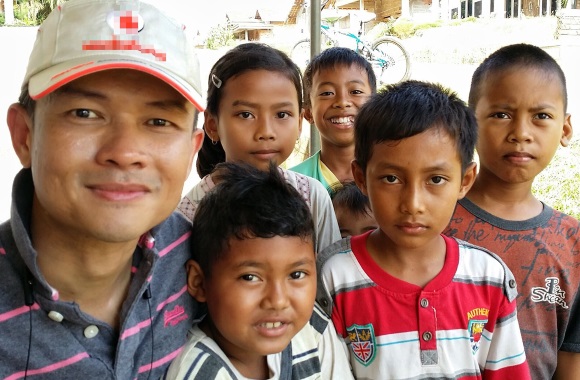 How long has Cargill been in the palm oil market?
Cargill has been in palm oil production since 1996 when we acquired our first plantation in South Sumatra.
How have you found the transition from the tech sector where you worked for IBM and Dell to agribusiness?
Initially I was nervous because I did not know how I would do – I did not know much about agriculture and knew even less about palm oil. But I realize now that once you have your skills in PR, they transcend all industries.
Last year we had our first large-scale media tour of our plantation and had 20 journalists from outlets, including The Wall Street Journal and Bloomberg, stay two nights. Other plantations thought I was nuts. I gave them free rein. The reason I knew I could do that was because coming from a tech business, I could see Cargill was running a tight ship. Of course, the team on the ground had intensive media training.
Palm oil gets lots of bad press. What role does communications have in working through these issues?
Communications has been quite a game changer for our business. The general public hugely misunderstands the palm oil industry. We are relatively quiet and a lot more needs to be done about the good work we do.
It has been important to get our stakeholders to speak on our behalf too. For example, many of our small farmers were previously struggling with substance farming and when Cargill came along and got them on their palm journey, their lives changed drastically.
Now, a lot of them have beautiful houses and can send their children to university. It is a far cry from living hand to mouth like they were 16 years ago. I tell them they should talk to the press because their story will be an inspiration to other small farmers. When you tell emotional and moving stories, people tend to listen.
When you came to Cargill, how developed was the corporate communications function?
Cargill traditionally understood the importance of public affairs and communications, but the company wasn't that aggressive with it. Initially, I felt pressure, as well as proving myself as a new hire, I had to prove the value of the corporate communications and corporate affairs functions. But the company was doing a lot of good things already so I had plenty to work on.
When I first joined, there was three of us on my team. Today, it is about seven or eight – and we are still on the lookout to hire new people.
What is the biggest challenge you face in your role?
There is not enough time or people. But I am sure resource issues are common across the PR industry. Communications professionals are the most overworked people I know.
One major challenge we face is that the industry needs to speak up. It can't just be Cargill talking about how palm oil can be produced sustainably. I am sure we are not the only plantation company with positive examples to share.
What's the next big project for you?
When I joined I was extremely focused on external communications and clearing palm oil's name. But now, I want to drive the internal piece. I am very passionate about internal communications. It is extremely rewarding.
Sue Serna
Media analyst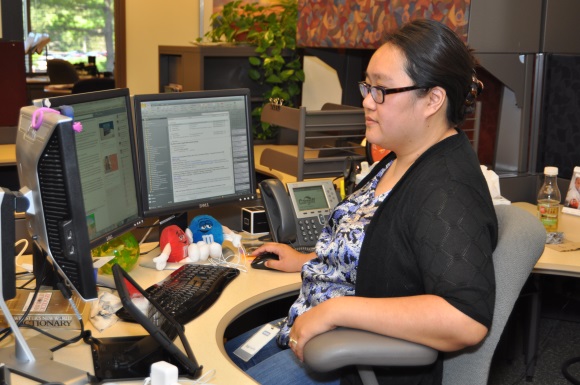 What does your role involve?
To monitor Cargill as a whole and notify people throughout the company globally. I also do a fair amount of analysis – especially when there is a big event or news story – and work with individual business units to monitor things specific to them.
What skills from your time as a journalist have proven essential for your role at Cargill?
Everyone on our team is a former journalist. It's a really good fit in terms of the skills. You have to be able to write clearly and consistently on deadline and you have to be able to take a lot of information, digest it, and tell somebody what they need to know.
What are the three biggest challenges you face in your role?
The Internet doesn't stop. I am often chastised by colleagues around the world for not sleeping enough, which is one of the reasons why our team has grown. I have been at Cargill for more than two and a half years. When I started it was just my boss, who is the director of social media, and me, so I did all of the monitoring. Since then, we have added two more people but there are some days when that is not enough.
Our team and the corporate affairs team has to know a lot about what Cargill does around the world. We are responsible for looking across the board at everything, which is a pretty daunting task. Cargill has 70 different business units, so it is like being a reporter that has to learn 70 different beats.
Another challenge is that I only speak English. Cargill operates in 65 countries and because we are monitoring things globally, in multiple languages, understanding what is happening and then reporting on it intelligently can be hard sometimes.
What do you do when something breaks about Cargill?
We send a lot of emails during the day. Sometimes that is a link to a story, sometimes it is much more complex, especially if we have a news event we are tracking. We will send multiple emails about the event throughout the day and also do real-time spot analysis. We send a roundup email that summarizes and shows how the news has been viewed to give some idea of the impact. We did this over a few days with a big announcement we recently made about removing the use of antibiotics in turkeys.
What sort of conversations are people having about the brand?
On average there are about 15,000 mentions of Cargill a month globally in trade media, blogs websites, and social media. This can be everything from a high-profile story in The Washington Post to someone saying they got an internship at Cargill.
How important has media monitoring become to the overall communications function since you joined?
I am very encouraged by the amount of growth that our small team has had during the last couple of years. Having an official monitoring program is becoming more crucial because the response time is getting smaller. Sometimes we have to jump on Twitter or a blog and respond quickly, so knowing is really important. You can't respond to a conversation you don't know is happening.
What do you love most about your job?
I love the diversity – you are never doing the same thing and are always learning a different topic. The topics are so broad and diverse and change every day. That is very exciting and intellectually stimulating.