As a grand jury determines whether Officer Darren Wilson will be charged with the killing of unarmed black teenager Michael Brown in Ferguson, Missouri, the social media sphere and PR community have already served as judge and jury in the indictment and trial-by-public-opinion of the firm hired to represent the city – Common Ground PR.
Almost immediately upon the disclosure that the small St. Louis-based PR agency would help field Ferguson's deluge of a reported 500-plus media calls per day, questions and criticism of its ability – and suitability – to handle the assignment surfaced in light of its lack of diversity. All seven employees highlighted under "Meet The Team" on its website are white.
Given the heightened sensitivities regarding race surrounding this tragic event and the subsequent community outrage that have served as Ferguson's international debut, it is squarely within reason to expect that a PR firm handling any portion of the communications would have more than the prerequisite professional competence, but also an essential cultural competence.
This situation, wrought with issues of social segregation and cultural misunderstanding, requires people who have experience with and knowledge of the cultural nuances within the community to successfully navigate such an incendiary environment. While a diverse staff can generally be an initial indicator of an organization's depth of such understanding, I was previously unfamiliar with this particular agency and thus remained open to the possibility that the experience of its team might belie its inarguable absence of visible diversity.
However, the statement released by Common Ground's president and CEO Denise Bentele in response to the controversy lent validity to some of the previous concerns around its ability to demonstrate the level of cultural competence mandated by this situation.
In particular, I was struck by two comments. The first: that the firm's "short-term agreement to assist had nothing to do with the preceding tragic events. Rather, as we watched the news of ongoing turmoil, it was apparent that the negative images could forever impact our region's economic development efforts and the lives of our neighbors."
The "preceding tragic events" – rooted in community tension and mistrust – cannot be separated from any socially responsible reply to, messaging for, or recognition of what has happened and is happening in the community. Initially characterizing the "negative images" coming out of Ferguson in terms of the impact to the region's ongoing economic development efforts diminishes the human element of the tragedy, demonstrates an insensitivity to the surrounding community's concerns, and discounts any intrinsic opportunity in this crisis to reset, reform, and rebuild.
Similarly, the lives of neighbors will surely be impacted most negatively by the actual environment and ongoing community issues that need to be addressed and resolved – not the images that are shown. As PR pros, we must acknowledge that some images cannot be repaired until the underlying issues are. Media relations or messaging in situations such as this must start with an understanding of those issues and how to constructively message within – not around – them to ensure appropriate levels of sensitivity, transparency, and trust are demonstrated and fostered.
Bentele also stated that she "was dismayed at the negative reaction online and on social media, especially among fellow communications professionals, who pointed at the lack of diversity on our staff as a sign of the 'greater problem.' Increasing the diversity of communications professionals is an industry-wide challenge that we all need to tackle."
This is absolutely correct. Still, in directing dismay at the negative reaction, rather than the dearth of representation, she misses a key opportunity as a leader to be accountable for diversity within her organization. As presidents, CEOs, and executives in agencies or corporate PR functions, we have hiring power, influence HR functions and corporate culture, and set the tone for what is expected and accepted within our walls. The industry cannot change until individual agencies and companies – large and small – make a commitment to change and do what is within their power to achieve it.
As noted in its response, I commend Common Ground for recommending that St. Louis County and the City of Ferguson work with a certified minority-owned PR firm on some of the long-term community and communications issues. Still, the ongoing events in Ferguson highlight the critical need for a deeper level of cultural competence and cultural intelligence within PR agencies and the overall industry. This example critically underscores the focus of this column as we endeavor to confront our challenges with both candor and respect in an effort to help each other and our industry improve and ultimately provide a deeper level of cultural insight and perspective to all our clients.

As we send thoughts of healing and rebuilding to Ferguson, let's do so with the recognition that we can all be and do better – starting now.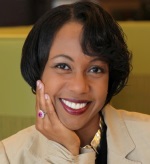 Latraviette Smith-Wilson, former VP, global diversity and inclusion for American Express, has spent more than 16 years in communications in agency corporate, consumer, and multicultural PR, as well as senior marketing roles. Her column will focus on the PR industry's ongoing efforts to advance diversity among its ranks at all levels. Connect with her via LinkedIn or at latraviette@gmail.com.