The FDA is closing in on providing prescription drug and medical device companies, one of the most highly regulated industries, with a clearer indication of best social media practices. While its efforts, released June 17 with a 90-day comment period, recognize patients are increasingly turning to the Web to discover and discuss brands, experts say there's more to be done.
The FDA held a webinar on social media guidance in July, which was seen as a good start, says Kevin Silverman, Ruder Finn's director of health and wellness innovation. Going forward, he adds, the firm should seek ways to help put the information "in the hands of people who can leverage it on their own social platform," such as on company Facebook and Twitter pages.
Jenny Kite, senior manager in corporate communications at Japanese pharma company Astellas, says a piece of the webinar that stood out to her was the agency's talk about the future of social media and potential flexibility as advances are made.
While Twitter doesn't currently support certain text formats, such as boldface, this might change.
"As these tools evolve, [the FDA] may modify the guidance to require boxed warnings to be bolded in the tweet, for example," she says.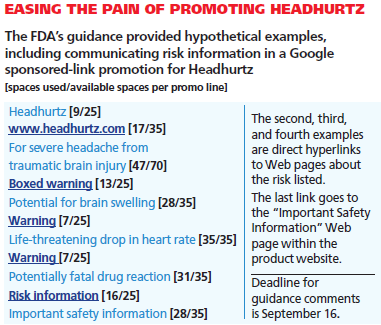 Character limitations
Patients and healthcare providers are accessing information on smartphones and other devices where there are character limitations – including Twitter and mobile ads. The FDA's draft says companies must include risk data when touting a drug or product online, which could include a hyperlink to information.
Jeff Francer, VP and senior counsel at the Pharmaceutical Research and Manufacturers of America trade group, says while it's key for companies to be able to provide "truthful, scientifically accurate, and data-driven information, it's a challenge to provide the myriad benefit and risk information – especially about prescription medicine."
While PhRMA was still reviewing the information when Francer spoke with PRWeek, he noted "the FDA appears to be creating a double standard." He says that while the FDA requires some risk information in a company's tweets, the agency itself does not always follow that proposed protocol in tweets about new medicines.
"In some of its examples, it seems to be suggesting there has to be extensive risk information, which could preclude the use of certain media for certain medicines," says Francer.
Without social media guidance, companies have erred on the conservative side, says David Chadwick, VP of digital health at specialist agency GCI Health.
Chadwick acknowledges that facets of it can be tricky – such as phrasing a banner ad – but he doesn't necessarily share the "gloom and doom" surrounding the draft guidance.
"It's not as bad as the critics are saying," he says. "A lot of the tried-and-true methods in the industry are still valid."
Unbranded communication, for instance, is a way healthcare companies can continue to use restricted-character platforms, he adds.
"There are ways to still talk about the product when you're not talking about the benefit or efficacy," Chadwick says.
Silverman says the guidance can also be a springboard to engage with patients online, allowing people to become more aware of the brand versus just having a familiarity with their products.
Online corrections
Vicky Lewko, SVP and head of digital health at Cohn and Wolfe, says the second piece of guidance – correcting misinformation online – is "encouraging" and could have the largest impact, as the FDA has long been vague about its appropriateness.
Companies have to make sure no information they edit on a third-party website, such as Wikipedia, is promotional or misleading. If a company corrects one piece of wrong information, it doesn't have to comb through an entire website to make sure it corrects it all, says Lewko.
"It's also interesting that if a company has a discussion on its own website, it doesn't have to take something down that it's not responsible for," she says.