When it comes to the sheer power of oratory it does not get much better than this. Prime Minister Narendra Modi's speech on the 15 Aug from the majestic Red Fort rampart in New Delhi was stuff that US President Obama would be proud of. It was refreshing in its style as well as substance. And by the time it was over it left no one in doubt where this man wanted to take India. His speech made such an impact that even his critics in the opposition gave him nine out of 10 on network TV. His fans, off course, were effusive in their praise. #ModiSpeech trended for a full two days on Twitter. Going by what has been said on the media his first Independence Day speech appears to have left an impression both at home and abroad. In my view at least that makes Modi, without a doubt, the best communicator India has had since Jawaharlal Nehru.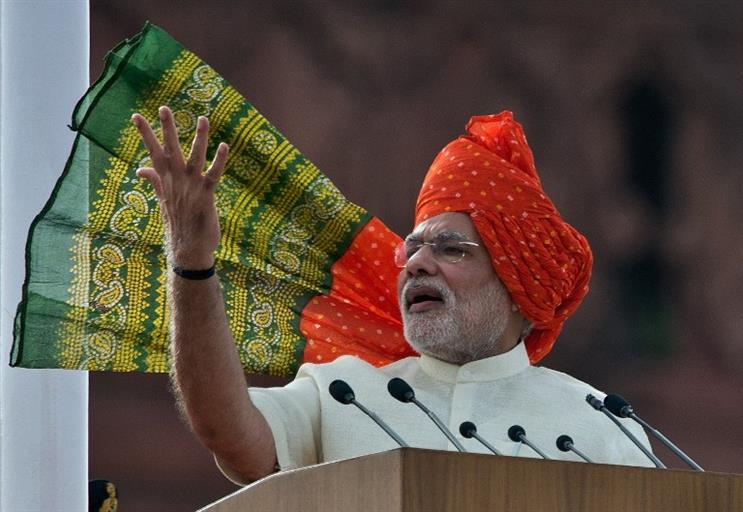 The annual Independence Day addresses of Indian prime ministers in the past have been rather dull uninspiring affairs. They have stood stiff behind a rostrum protected by bulletproof glass and read from a script prepared by civil servants who have never understood the craft of good communication. For someone who has grown up watching this on TV it has been a drill all too familiar. But this time it was something of a break from the past. Modi came sporting a traditional Jodhpuri safa, a colourful headgear commonly donned by a community leader in the western state of Rajasthan, as if to send message that he was in control. He then did something few of his predecessors ever did. He spoke without a script for 70 minutes on a rostrum with no bulletproof glass protection. He did not fumble and he did not hesitate to say things that many would have considered, perhaps inappropriate for a new prime minister to say on the country's national day. "I do not know how my speech is going to be criticised and how will people take it. But this is my heartfelt conviction. I come from a poor family. I have seen poverty. The poor need respect and it begins with cleanliness," he said before announcing a civic campaign that aims at ridding, the dirt and litter that have become common sight in Indian towns, within four years. A stickler for discipline, Modi knows that nothing motivates action better than deadlines. He drew attention to the dismal state of sanitation in the country and set an ambitious target for every school in the country to have separate functioning toilets for boys and girls within one year.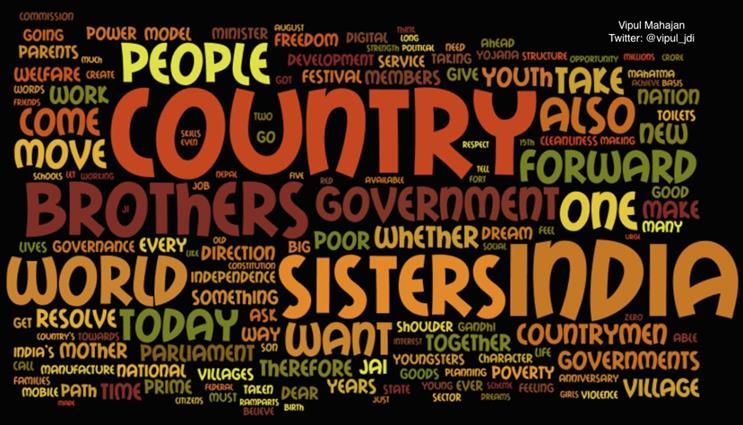 The most frequently used words by the Indian PM during his Indepence Day speech (Analytics/Courtesy: Vipul Mahajan, Yes Bank)
Few who heard him speak were left in any doubt that he was indeed speaking with sincerity. He described himself as the prime "servant" of the country. It was as if he was talking not to entire nation but to the man on the street. This in itself was a break from the past. The speech was also very symbolic. He used the occasion to announce the end of the national planning commission – the last grand vestige of a socialist era resource allocating institution that had long outlived its use. When asked what he thought of Modi's speech Martin Sorrell, CEO of WPP, told an Indian journalist the PM said what the people of India wanted to hear. Since making this maiden speech at the Red Fort Modi has been greeted with loud cheers at every public event in country – much to the consternation of provincial elected leaders, some of who are in the opposition.
The rise of Narendra Modi as the prime minister of India is in itself a compelling narrative . It is a story of triumph over adversity. Once a humble tea seller he has come from relative obscurity to the height of executive power in India on the back of a record of good governance (of Gujarat, which he ran as chief minister before being elected to New Delhi) and a well executed communication strategy. That strategy rests not so much on rhetoric but on Modi's ability to articulate the hopes and aspirations of the last man. So far he seems to be doing a rather good job. Along the way he has won many admirers – even in the opposition benches. His formidable communications team runs a hyperactive social media account – the likes of which India has not seen before. Modi even has his own downloadable mobile app. There remains, however, one little problem. The new man at the helm in Delhi likes to speak in Hindi - the language most widely spoken by Indians. For the international community that has seen Indian leaders communicate in English this would take some gettng used to. But that's OK. After five years of drift India, it seems, may have finally found a new voice in Narendra Modi.